The Most Popular Vodka Brands in the Country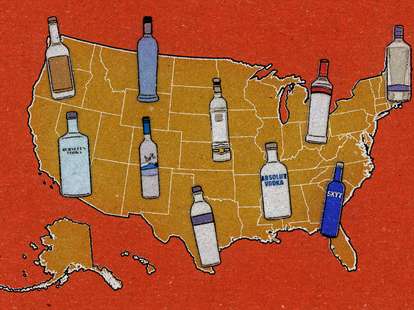 Vodka may be neutral but that doesn't mean every bottle tastes the same. Made with an array of different ingredients, from wheat to corn to grapes, vodkas all have their own particular appeals. And with the category making a comeback—its sales by volume rose 2.4 percent in 2016, according to the Distilled Spirits Council—some of the most popular vodkas in the country are now even more popular, with a few newcomers climbing up the ranks. Here, the 10 most popular vodkas in the country as determined by the number of 9-liter cases sold in 2016, according to Impact Databank as reported by Shanken News Daily.
10. Ketel One: 2.2 million cases
The 100-percent wheat vodka from the Netherlands was introduced to the U.S. in the early 1980s, but it wasn't until the early 2000s that it truly hit it big. Despite being in 10th place on this list, it is one of the most commonly ordered vodkas in bars according to BevSpot, a bar management software company.
9. Grey Goose: 2.6 million cases
Though the Goose took a 2.5-percent dip in sales between 2015 and 2016, the French-made soft winter wheat vodka holds on as one of the country's most beloved vodkas thanks to its clean flavor and silky texture. It comes in just a hair below Ketel One in BevSpot's data.
8. Pinnacle: 2.6 million cases
As we get to Pinnacle, a brand known for its wild flavors like Cinnabon and birthday cake, it should be noted that this data includes flavored vodka sales. So it's no wonder the master of dessert-flavored vodkas made it onto the list.
7. Skyy: 2.8 million cases
Whether it's due to the eye-catching bright blue bottle, the affordable price tag or the nearly completely flavor-free liquid inside the bottle, Skyy has been a U.S. success since its creation in 1992. Though it took a slight dip in sales between 2015 and 2016, it is holding strong.
6. Burnett's: 3 million cases
Another flavored vodka giant, Burnett's makes everything from blue raspberry to cherry cola to limeade vodka. Along with Pinnacle, it has clearly cornered the market on crazy flavored vodkas—and vodka with a seriously low price point. The brand enjoyed a 4-percent bump in sales between 2015 and 2016.
5. Tito's: 3.7 million cases
It may come in at No. 5 on this list, but it is the No. 1 most ordered vodka according to BevSpot. The Texas-made corn vodka also saw a huge 33-percent increase in sales from 2015 to 2016. Considering everything the brand is doing (from donating to hurricane victims to saving dogs to making Moscow Mule-flavored gummy bears), it's no wonder that it is No. 1 by a huge margin on the BevSpot list of most ordered vodkas. And with its affordable price, we wouldn't be shocked to see it move up even higher on this list in the coming years.
4. Absolut: 4.1 million cases
The always chic Swedish brand is one of the main reasons we have a flavored vodka industry today (the company introduced the country to Absolut Peppar, and its Absolut Citron is still the standard for Cosmopolitans), but its flagship, unflavored bottling also continues to attract fans—it also falls into the No. 4 spot on the BevSpot list.
3. Svedka: 4.3 million cases
The vodka of choice for all sexy robots, Svedka saw a sales bump of nearly 3-percent between 2015 and 2016. Affordable and packaged with a clean, appealing design, the futuristic vodka is a freezer staple for many.
2. New Amsterdam: 5 million cases
Along with Tito's, New Amsterdam is one of the vodka industry's fastest growing brands in the U.S. Earning a 15-percent increase in sales between 2015 and 2016, the newcomer from E. & J. Gallo (as in Gallo Winery) has only been around since 2011, but it quickly earned its place behind the bar and in your home.
1. Smirnoff Vodka: 9.3 cases
The fast-growing Tito's and New Amsterdam might be nipping at the industry stalwart's heels, but Smirnoff still manages to hold on to the top spot. Perhaps it's because no Moscow Mule would be right without it, perhaps it's because the brand is constantly coming out with new flavors (including a new line called Sourced made with real fruit juice), or perhaps it's because it's just plain everywhere. Whatever the case, it seems the Russian-sounding brand that's actually made in America is here to stay.