As you may have noticed, things are moving at a pretty fast pace these days. People are talking past each other, and listening skills, it seems, are at an all-time low. In the spirit of getting folks to talk to each other—to have a conversation—we teamed up with Smirnoff and invited a group of people from diverse backgrounds, places, and walks of life to answer a series of fun questions that most everyone will have an opinion about.
Teeing up either/or convos like, Which is better, city life or country life?, Getting up early, or staying out late?, we hoped to see the dynamics, and power, of diversity in action. What common ground would be reached? What would come to light between the differences of opinion? Most important, how much fun could be had as all these people with different perspectives tackled the same topic?
We found these answers and more in a series of videos we shot, capturing the vibrant exchanges. Here, you'll find some of the highlights from the discussions, along with the sensational Smirnoff cocktails that New York City bartender Jon Nutter created for each conversation.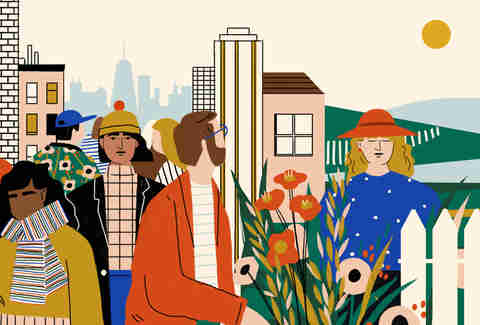 City life versus country life – Here's to community
"When I think of raising a family, I would want to raise it in a close-knit community."
"I feel like you can have that tight-knit community within your little neighborhoods in these pockets of a big city."
Method |
     1. Add Smirnoff No. 21 Vodka, lemon juice, simple syrup and mint leaves to a Collins glass.
     2. Top with crushed ice and press down with muddler so mint rests on bottom of glass.
     3. Fill glass with about three-quarters full with crushed ice.
     4. Add four healthy dashes New Orleans–style bitters to form a bright red band.
     5. Insert straw to briefly swizzle layer of bitters.
     6. Top with additional crushed ice to fill glass.
     7. Garnish with mint sprig into top of crushed ice.
Early Birds versus Night Owls – Here's to living life to the fullest
"I have my time in the morning, and then go out to the world. Every single time I choose to wake up and go to the gym, my morning is amazing, my day is amazing."
"My argument is that I sleep late not because I'm lazy, but because I'm tired from doing so much stuff."
Method |
     1. Add Smirnoff No. 21 Vodka, coffee, maple syrup, and bitters to a shaking tin.
     2. Add ice, shake vigorously, then strain into a Double Rocks glass over fresh ice.
     3. Garnish with an orange twist.
Living in the moment versus documenting everything - Here's to feeling alive
"I didn't have myself on Instagram until four months ago, and I didn't realize people were seeing me as a social pariah."
"When I was younger I was very open on social media, and the older I get, the more I value my privacy."
Method |
     1. Cut half a Meyer lemon into four pieces
     2. Add lemon slices and blackberries to a shaking tin and muddle.
     3. Add Smirnoff No. 21 Vodka honey, and ice.
     4. Briefly shake, and pour entire contents into a Double Rocks glass.
"Staying young" versus growing up - Here's to adulthood your way
"I constantly feel like I'm not grown up enough, and I know everyone is just trying to figure it out."
"I think it's like the pros and cons. You got a curfew … but you always got food. And Christmas was popping, always!"
Method |
     1. Combine Smirnoff No. 21 Vodka, lime juice, bitters and 3 sage sprigs in a shaking tin.
     2. Gently muddle the herbs.
     3. Add ice, shake vigorously, and strain into a Collins glass containing the 3 oz of ginger beer.
     4. Add fresh ice to fill glass.
     5. Garnish with one sprig of sage and serve with a straw.