Note:
We know COVID-19 is impacting travel plans right now. For a little inspiration, we'll continue to share stories from our favorite places around the world. Be sure to check travel restrictions, protocols, and openings before you head out.
It's hard not to crave a visit to BarChef when owner Frankie Solarik describes it as "very warm, candlelit, with a dark, sexy vibe," which is exactly the kind of bar we miss most one year into the pandemic. That ambiance—plus the 10/10 drinks—has landed BarChef on the list of the world's best bars not once, but twice since it opened in 2008.
As the name implies, the goal of this Toronto staple is to bring bartenders and chefs together under one roof to take a culinary approach to mixology. "We have a team of chefs that work in the kitchen, utilizing really progressive culinary techniques like working with liquid nitrogen and dry ice, essential oils, and gelification and stabilization agents," he says. "Essentially, it's almost like molecular gastronomy."
Say no more, I wanted to tell him. The cocktails are literally good on a molecular level.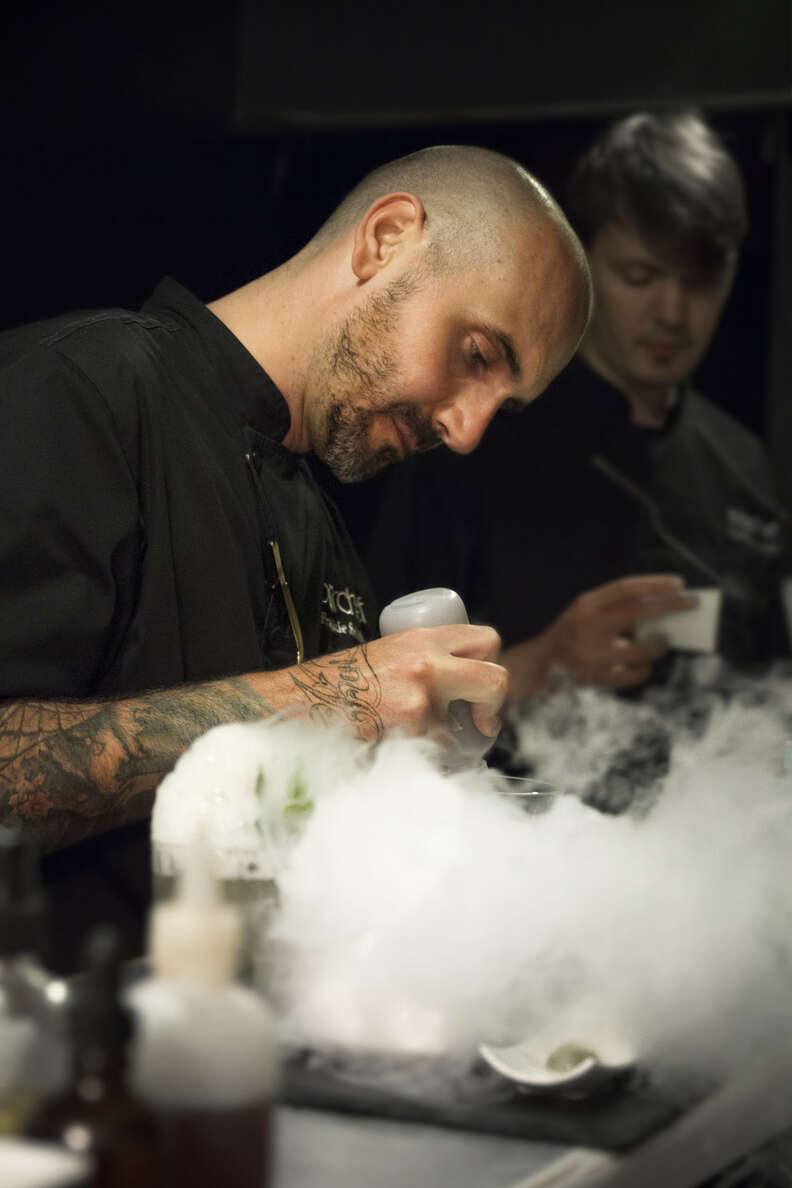 Born in London, Ontario, Solarik has traveled the world teaching mixology seminars. But Toronto has been his home base since 2001—and in that time, he's sampled just about everything the city has to offer.
"There's such a wide range of talent here," says Solarik. "You have talented chefs doing what they love to do in the kitchen, amazing food and drinks, unpretentious spaces, great price points, and a really eclectic mix of options. You can travel around the city and it's like traveling around the world for top-level cuisine and drink."
With intimate speakeasies, dives to end all dives, and late-night Chinese spots that may single-handedly save you from your hangover, the drinking scene is about as diverse as the city itself—which is to say, very. Here's where to go once the sun sets on Toronto, according to one of the city's best mixologists.
"The energy of Bar Raval is great—it's for a younger crowd with a sophisticated palate. It's got wooded tones in the interior with an emphasis on standing and a pintxos-driven food program. The patio gets quite busy in the summertime. They've got spirits-forward cocktails and a solid wine and beer program, which will definitely lead to a fun night! "
"On Ossington, there's a place called Reposado that does really great tequila and mezcal cocktails—it has a huge selection of agave-based drinks. And it's a really cool space: dark, kind of narrow, and quite long. It reminds me of something you'd find in New York for sure."
"Bar Isabel on College Street is well-known for their food. It's a Spanish tapas place with very Catalonian vibes, which is really cool. The cocktail program is well-respected. It's really upbeat with a younger crowd [similar to Bar Raval], and a lot of industry people go there, too."
"Wide Open was actually an alley between two buildings that they put a roof over and then closed up. It's a cool place, the embodiment of a dive bar for sure."
"Also divey. It has a really worn interior, and live music. The whole space kind of feels a little crooked—I think the actual floor has been moved slightly off-kilter!"
"The Drake Hotel is a pretty well-known hotel in the city. There's a really good cocktail program there, as well. Then [in the basement], they have a live music venue called the Drake Underground, where they do a lot of underground hip hop acts."
"Reservoir Lounge is a cool date spot, for sure. It's where I took my wife before we got married on one of our first dates. It's an underground jazz bar with a really cool vibe—nice and dark, full, live jazz, well-made cocktails. It's in a cool area of the city as well, so it's very old-school-Toronto."
"Right near BarChef, there's a spot called Alo. It's a small bar, not a massive space. It's one of the fine dining restaurants in the city, voted number one restaurant in Canada two years in a row. They have a really passionate team behind the bar there, and it's within walking distance, so we find a lot of guests will dine at Alo and then come to BarChef for cocktails afterward."
"This is the place where people go to network in the [mixology] industry. It's a really cool bar that has really great late night food."
"Also right near BarChef, there's Cloak Bar, which is an underground kind of cocktail bar—and a really, really cool place. You have to go down through a basement that transitions into this really beautiful space, so there's a really great contrast between the entrance and the inside of the bar. The bar team, they're talented—they do some pretty cool stuff like well-made classics."
"[On Ossington], there's a place called Gift Shop which is a tiny, speakeasy-like cocktail bar. They can only fit maybe 10 to 12 people in there. It's super small and you have to walk to the back of a barbershop to get there."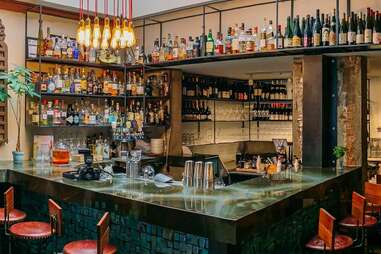 For when you'd rather be eating:

DaiLo
"DaiLo is one of my favorite restaurants in the city, hands down. An amazing complexity of flavors and textures; Asian influences with great use of bright, bold flavors and seasoning. The truffle fried rice is a must-have, as well as their delicious pumpkin dumplings. The interior design is warm and classic College Street: narrow and deep space, banquet seating with a small, cozy patio. Definitely a must-visit when in the city—it's always an amazing night when visiting Chef Nick and Chef Dennis. Tell them Frankie sent you!"
"Most places have to stop serving alcohol after 2 am, but there are a lot of places that stay open. I'd say if you're going to go for late-night food after last call, go to Spadina where there are a lot of really great spots in a concentrated area. There's a place called Taste of China that does awesome late-night Peking duck. There's another called Mother's, and they do great late-night dumplings."
Tiana Attride
is Thrillist's Associate Travel Editor and a pro at sitting in the back of the bar and brooding. Catch her on
Instagram
and
Twitter
.