Courtesy of Clocktower bar
It's no secret that Toronto likes to party. The city has developed into a thriving cultural hub, and it has taken its flirtatious foodie relationship with cocktails to an entirely new level. Every neighbourhood now features a new crop of bars -- from chic vinotheques to glowed-up supper clubs -- and in every one is a group of creatives that are eager to inject fun into your day with a classic nightcap or borderline-harrowing cocktail experience that you're all but certain to enjoy. We're putting the spotlight on the individuals that are adding their own spin to the bar scene -- here are 11 kickass bartenders that have shaped Toronto's drinking scene in 2016.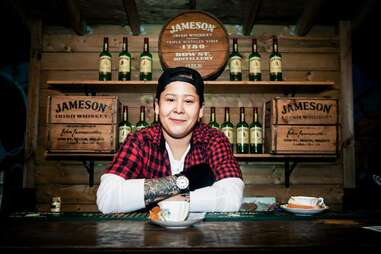 Alana Nogueda
In the past year, Shameful Tiki has become an extension of its Vancouver counterpart: an authentic throwback with Mai Tais that oddly feel like home. A part of that can be attributed to part-owner Alana Nogueda, whose patience and experience (Harbord Room, Brassaii) has created a classic Polynesian cocktail menu that pirouettes around Hurricanes, Painkillers, Navy Grogs, and flaming Mystery Bowls. On any given night, you'll find a new rum-based concoction that elicits creative brilliance and you'll be glad to know it stems from a genuine love for tiki's concept. "My favourite part about working at Shameful Tiki Room is that I get to have fun every day," says Nogueda. "I get to escape from the outside world and take a trip to paradise."

What's your current specialty cocktail?
A drink [a patron] wouldn't normally try. I like to get people out of their comfort zone.

What are some of your favourite ingredients to work with?
Obviously, I love working with rum. That being said, I love working with new ingredients and finding new flavour combinations. Falernum and orgeat are some true tiki favourites.

What do you love the most about Toronto?
The people in this city are incredible. I've met so many people that I believe I will be friends with for the rest of my life. I left Las Vegas and came here alone at 19, and I really found out what it was like to be on my own. The first couple of years were full of struggles, but they made me into a very strong and independent person. I strive for bigger and better things, and this city has given me the opportunity to do so.
Alex Pearce
If you've ever ditched a concert at The Mod Club for a night full of competitive bocce ball, then you more than likely know Alex Pearce. The 25-year-old Jamaican transplant has been on a global grind since his days in Mandeville. A handful of mixology competitions later, he's traded his stint at The Drake Hotel to headline Track & Field's bar program. Here, he's adapted to T&F's hip take on rec rooms and it's all because of the bar's "squad up" mentality and Pearce's honest and unwavering passion to experiment alongside friends. "The beauty about Track & Field is that it's whatever type of bar you'd like it be," says Pearce. "All of the elements are there to make it a chill cocktail boutique. But at the same time, if you're just looking for a place where you can get hyped and dance while pounding lemon drops, then Track's your girl."

What's your current specialty cocktail?
I pour vodka-sodas like a champ. Seriously though, I've made tons of original creations that guests have thoroughly enjoyed and others that have gotten me the win in cocktail competitions. Do I think that after those drinks are taken off a menu they're remembered? No. Do I make a better drink than other bartenders in the city? No. But will I be smiling the entire time I'm at work? Come by [Track & Field] and find out.

What are some of your favourite ingredients to work with?
Rum's my favourite spirit, to work with and to drink. I grew up in the small town of Mandeville, Jamaica, so it's not an exaggeration when I was raised on the stuff. I also love amaros, sherries, and vermouths. They're all ingredients the average guest is unfamiliar with or intimidated by so I try to compliment them with popular flavours. That way I can say, "See, you do like sherry!"

What do you love the most about Toronto?
The summers. Summer in the city is lively, with endless options of activities before or after dark. Toronto is also a city where the community of bartenders is incredibly supportive. It has such a vibrant food and beverage scene and it's accepting of all idiosyncrasies. If you have an idea or an itch for a concept, then try it. It just might work.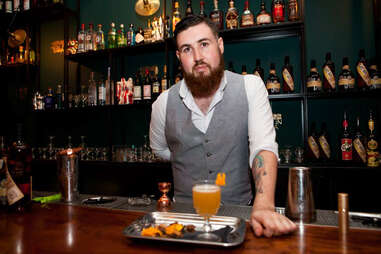 Casey Ryan
Casey Ryan has been working in the restaurant industry for as long as he can remember. He washed dishes during high school, got a job serving during his post-grad studies, and eventually watched his Sunday afternoons in an Australian pub progress into full-blown bartending spots at outposts such as Marben and Geraldine (RIP). Now, he's a part of the A-team at Civil Liberties, a Bloor & Ossington hangout that's used his attention to detail (and flavour profiles) to create a namesake that pushes a freestyle program with more complex libations. Civ Lib's cocktails are inspired by everyone, so grab a friend and get Ryan to stir up something adventurous.

What's your favourite part about working at Civil Liberties?
The sense of community. We have an amazing group of regulars who I now call friends; we get a lot of industry people so I get to see people I otherwise wouldn't have time to visit; and the team is great so I get to go in and do what I love surrounded by great people. The most valuable lesson I've learned is that people go to bars for a lot of different reasons as everyone who comes in is looking for some form of need to be met -- be it a distraction from stress, to socialize with friends or to unwind. Whatever it is, it's our role to empathize and try to meet that need as best as possible. That's been the biggest lesson for me. Either that, or making sure to lock the storeroom as someone will definitely use it as a bathroom.

What are some of your favourite ingredients to work with?
Lately, I've been working a lot with sesame because I like the texture; the same with coffee because it gives a good depth of flavor to drinks and fits the season. I usually introduce it pretty casually as Civil's lack of a cocktail menu gives me a lot more freedom. Then I just chat about the ingredients themselves and what I think they bring to the drink and why I put it in there.

What do you love the most about Toronto?
I love the diversity of Toronto. It's this amazing place where everyone brings in different aspects of their own cultures and it gives you this opportunity to be way more open to way more things It's had a big impact on me. I came here when I was 22 with the intention of living here for six to 12 months -- like having some fun and moving back. I've been here for six years now and I've met some amazing people who continue to inspire me and have made this place home.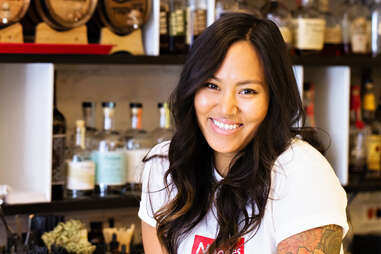 Chantelle Gabino
Chantelle Gabino is a bartender who can challenge your taste buds on any given night. Her love for being behind a bar aided her transition from Mildred's Temple Kitchen to Parts & Labour (and every cocktail competition she could "sink her teeth into"), and now she's the Beverage Director for The Social Group -- which oversees P&L, P&L Catering, Dog & Bear, and the soon-to-open Anne Boleyn. It's a gig that has its demands, but for Gabino, it's one that's allowed her to wear her heart on her sleeve as P&L's new cocktail list is full of absinthe sippers, herbaceous coolers, white negronis, and elegant vices like Lace & Leather -- a Tequila Tromba gem that's made with Marie Duffau Bas Armagnac Napoleon, chili spiced Drambuie, rose, and tobacco tincture.

What's your current specialty cocktail?
My current specialty cocktail is called The Tao, which is Bombay Sapphire East gin, Hakutsuru sake, sencha green tea, aquafaba, coconut syrup, lemongrass and lime leaf, Umami bitters, and palo santo smoked nori. It's a cocktail I made whilst working on a video project in Los Angeles just a few weeks ago with GQ Magazine and Bombay Sapphire. After winning Canada's Most Imaginative Bartender earlier this year, my creativity has gone through the wringer, and this is a drink that summed up the creative scene and imagination that's in LA.

What are some of your favourite ingredients to work with?
Right now, I'm loving the use of aquafaba. It's a great alternative to egg whites, and it's not only vegan-friendly and cost-effective, but it's also delicious. Some customers are turned off to the use of egg whites in cocktails, but it creates a viscosity that is amazing in drinks. Using bean water as an alternative has yet to disappoint.

What do you love the most about Toronto?
By living in a metropolitan area such as Toronto, the biggest "small city" in the country, it forces you to constantly keep shooting for the stars. There are so many talented people in our industry that I'm thankful to call my colleagues and friends; we learn from each other on a regular basis, we compete against each other, and we can sometimes be each other's therapists or shoulder to lean on. But a lot of the time, we inspire each other to do more and to do better.

Originally being from Vancouver, I ran away from home at 17 and moved here after falling in love with the hustle and bustle of the city. It's the single most important decision I've made in my entire life thus far. I'm lucky to still have challenges at my doorstep, but more importantly, that I have the opportunities to prove myself in several different facets of the industry. I may not "succeed" in everything I tackle, but the ability you have to learn from your mistakes is priceless.
Danielle Yoon
For Danielle Yoon, family means everything. Growing up, she spent a significant amount of time as a kid reading cookbooks (not Archie comics) which eventually translated to making caesars and B52s with her dad, using her parents' friends as guinea pigs for cocktail experiments. Now Yoon tends to dinner parties through her very own cocktail catering company, Drinksmith, and slings bevs at Annette Food Market, a Junction local that's embraced her proclivity for teamwork and given her the freedom to create daily features. The latter have rolled out new concepts, trends, and flavors that aren't too esoteric, and in turn, they have helped her maintain a personal connection with AFM's buzzing community. "It can be very easy to fall into a trap where you're just making drinks to please other bartenders," says Yoon. "I want to make drinks our regulars will order over and over again."

What's your current specialty cocktail?
50 First Tinder Dates is one of my current favourites on our list -- sencha-infused beefeater gin, pineapple shrub, and yellow chartreuse rinse. It's a testament to the fact that a cocktail can have depth and complexity with only a few ingredients. Another is the Browned Butter Rum Old Fashioned with browned butter washed Havana Club 7-Year, rosemary syrup, house made bitters, and mini-marshmallows that are skewered on rosemary stalks and then torched. The butter and rum together tastes like caramel -- it's basically just one step removed from it anyway -- and the aroma of the burnt rosemary and toasted marshmallows make it a multi-sensory experience.

What are some of your favourite ingredients to work with?
I take a bit of a culinary approach to my cocktails, so I frequently like to use fresh herbs and spices to build flavours that are reminiscent of dishes I've had here and abroad. I recently built a cocktail menu for a new modern Korean concept on Clinton Street called DOMA and it's based entirely on Korean flavours that I grew up with. I do find it difficult to introduce intense liqueurs to guests, as many of them have an aversion based on prior bad experiences. Like using yellow chartreuse in the 50 First Tinder Dates, for example, can be very polarizing. So I try to introduce the flavours in a subtle way as a rinse or as an atomized overtop as I often use sambuca and anise-based liqueurs in this manner. I also encourage guests to try drinks "risk free" as it were, promising that I will happily make something else for them if they don't like it.

What do you love the most about Toronto?
I enjoy discovering the little communities. I live in Wychwood where I love walking around the neighbourhood, discovering new shops or exploring the market on Saturdays -- we have three of those little book birdhouses within 100 metres of me. I've lived in Toronto for years and I just went to Little India for the first time, and it surprisingly actually reminded me of India. I'm always amazed at how little I know the city. I also have a complicated relationship with Toronto because it can feel like you're constantly competing with others and being challenged. It's a difficult thing to deal with but it also drives you to just be better. There's no growth in complacency. I'm far more open now to new people and experiences; I feel like more often you regret the things that you didn't do, not the ones you did, and that's taken me to some pretty amazing places so far.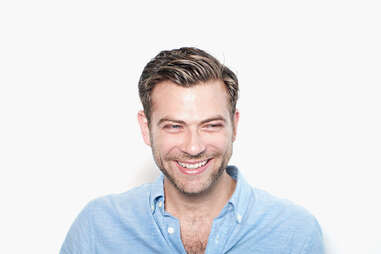 David Greig
Bartender David Greig favours simplicity when it comes to his tonics and libations, but he's not exactly a by-the-books purist. He got his start serving his neighborhood at a pub in London when he was 20 years old, and since then, he's entertained patrons at URSA, Agrikol in Montreal, and L'Abbatoir in Vancouver. Currently, he's the manager of Cocktail Bar, a Black Hoof outpost that's made Dundas West a key spot for Ward 11s (bourbon, pomegranate molasses, tangerine, lemon, and Peychaud's), Absinthe Whips (absinthe, orange, coconut, and pistachio), and underrated wildcards like Big In Japan (scotch, shochu, orgeat, and sesame oil).

What's your current specialty cocktail?
My current favourite is a little daiquiri variation called Spanish Bombs. It's Caña Brava rum, fino sherry, orgeat, and lime juice. Simplicity for me should always be the goal when creating drinks and this one manages to sing using four readily available ingredients.

What are some of your favourite ingredients to work with?
Sherry is an incredible category. As a straight-up substitute for vermouth or as a way to add complexity to shaken drinks, it can be used in a whole range of ways. Apart from that, I love gin. The versatility and styles of drinks that are possible with it is almost endless. It's especially fun turning people onto gin when they claim not to like it, which is usually a side effect that derives from them taking a swig of it from their parents liquor cabinet when they were way too young.

What do you love the most about Toronto?
Toronto has this big-city energy that keeps you hungry but still manages to maintain a sense of community at the same time. The two places I lived before here were London and Vancouver, and I often say that Toronto feels like a good mix of the two. It's somewhere in the middle, both culturally and geographically. The people I've met here have such drive and ambition, it's almost impossible not to attach yourself to it. There's a focus and enthusiasm that only a young city like this can have.
Juliana Wolkowski
Juliana Wolkowski is widely known for being one of Bar Raval's sherry wizards and for being the regional winner in the 2015 Grey Goose Pour Masters competition. In 2016, she developed a reputation for romanticizing the details that are in high-quality spirits and using her craftsmanship to translate those excerpts to her patrons. It's a trait that likely stems from the time she used to spend at her father's pub when she was 6 years old, and through the tutelage of Robin Goodfellow and one awful night at Ursa ("I broke everything and basically sucked"). It's allowed her to create recipes that actually have substance.

What's your current specialty cocktail?
I make a mean Bamboo [sherry, dry vermouth, bitters, twist of lemon].

What are some of your favourite ingredients to work with?
I work pretty closely with sherry, as I am sure you may have garnered stepping into Bar Raval. It's become a little bit of a passion project for myself and our staff.

What do you love the most about Toronto?
I think Toronto, or any larger city, inherently has the notion of eating you up and spitting you out if you let it. And maybe for a while, it does. But I can honestly say that my favorite thing about this city is the people. We have created our own tiny communities and friendship circles, and for that I am so undeniably fortunate. This city has absolutely changed me as I have learned to be more patient and to love things solely for their simplicity. I have also learned that I have the attention span of a gnat and this is the only industry I could possibly survive in.
Owen Walker
Owen Walker is responsible for El Rey's fearless cocktail menu and overall descent into mezcal madness, and thanks to Kensington's "community feels" (and his love for traveling), he's barely scratched the surface. He has spent more than a decade studying the intricacies of spirits and and service; he has tended at spots such as The Spoke Club and Bar Isabel; he's worked with notables such as Grant van Gameren, Michael Webster, Guy Rawlings, and the Als [Alec Collier and Alessandro Pietropaolo]; and now he's now focused on honing his craft. Walker may very well succeed at reigniting your love for tequila through herbs, spices, gomme, and chocolate.

What's your current specialty cocktail?
I have been rocking some spicy stirred cocktails recently. I made one the other day called The Day After Dan which blends Reposado Tequila, Los Arcos amontillado sherry, a housemade apple liqueur, house pimento dram, and Vecchio Del Capo amaro. It's super dry and nutty, and there's a nice kick of spice to round out the drink.

What are some of your favourite ingredients to work with?
New herbs, spices, and culturally relevant ingredients come out of our kitchen all the time and it is such a privilege to get to share those interesting flavours with guests. A simple extrapolation of a classic drink tends to be a comfortable route to introducing a new flavour to a guest and a good example would be transposing Hoja Santa -- an aromatic green used in southern Mexico -- for the mint component in a South Side or a mojito. Then subbing out the gin or rum for tequila or mezcal, of course.

What do you love the most about Toronto?
Toronto is in a constant state of evolution and the general populous is always looking to explore new concepts and ideas. It's never a dull moment. It's had the perfect balance of "big enough to make it happen," yet "small enough not to irreparably discourage." Anything is possible here!
Ryan Macleod
In need of a break from the Downtown cycle? Make the trip over to Summerhill and strike up a conversation with Ryan Macleod, who will be more than happy to chat about wine and surfing while pouring you a stiff drink that's layered with flavours, textures, and a molecular sense of artistry. Macleod's deep dive into cocktails began from an extensive run of working in restaurants (The Emerson, Goods & Provisions). With his transition to the Boxcar Social family, he's had a chance to tap into his inner bar manager. For proof, Clocktower's bar program is rigged with flips, fizzes, and bourbon-based assaults like the #12:51, which salutes The Strokes with a sexed-up mix of grapefruit, yellow chartreuse, ginger beer, and ginger syrup.

What's your current specialty cocktail?
Currently, I am pushing this Beet The Devil cocktail -- it's a mix of bourbon, Mexican cinnamon, beet shrub, Ruby Port, and black walnut. It has so many good layers with the spice, warmth, and earthiness and it fits with what you should be drinking this time of year.

What are some of your favourite ingredients to work with?
I really love working with tertiary ingredients, like amaros and vermouth chartreuses. Everyone gets so crazy about using popular ingredients, but it's more interesting to challenge yourself and work with ingredients that aren't quite as easy to balance out. It might be a little tougher to find that harmony, but when you do, you end up creating something that's fucking delicious.

What do you love the most about Toronto?
It's still a bit of a close drive to Montreal, so go Habs. The city has had a pretty big impact on me though. After being here, I realized that we work in a great industry. I mean, there's tons of talent and personality and a great amount of support from all of us who live here, but we also have access to some pretty cool shit that keeps pushing us forward. Like friendly competition and sometimes not-so-friendly competition. It's made me realize there is a lot to learn and take in everyday, and even though I might not know what the future holds, I should just take it all in and learn as much as possible and have a good time.
Sandy De Almeida
Around these parts, Sandy De Almeida is an old-school savant who is capable of crushing your favourite daiquiri recipe with a classic variation that hones in on the basics. Her veteran stripes were earned through 13 years at the Gladstone Hotel -- where she witnessed Parkdale's boom and the art, music, love, parties, and people that followed -- but they have been validated by her transition to The Drake, which has facilitated her love for cocktails and high volume bartending. She's still a fan of those "fast-paced, keeps-you-young evenings" and it shows as her Raging Bull, Parisian Fizz, and ace-in-the-hole Maharaja have more bite than bark.

What's your current specialty cocktail?
I've always been a fan of the classics. Making someone a great daiquiri or an old fashioned has always been much more satisfying than creating something original. To me, it's the mark of a great bartender. I'd rather give you something I know you want than something I hope you'll like. But that said, I rarely disappoint with Rust & Bone, which is a spirit forward bourbon cocktail that's made with cedar, nonino, and Benedictine.

What are some of your favourite ingredients to work with?
My favorite ingredients to play with are things that are readily available on any back bar. I have hundreds of bottles of bitters on my home bar, but I'll reach for the Angostura every single time because classics are made by being inclusive, not exclusive. How far would the Paper Plane have gotten if it was an infusion? What about the Trinidad Sour or the Penicillin?

Modern day classics that have crossed continents and different communities are all very simple. It doesn't make them less unique or delicious. I'm sure great bartenders of yesteryears, in their day, were also infusing spirits with botanicals. They were probably even barrel-aging. But we wouldn't know it because how could that translate and pick up traction if you can't order it in any old dive bar? I love to be creative with bottles that you find everywhere. How else am I gonna order a good cocktail at any old resort in Mexico?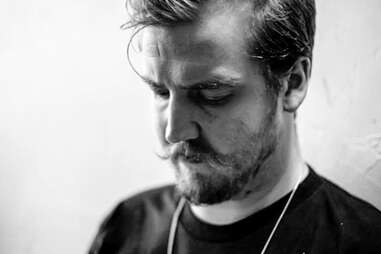 Tyler Newsome
SoHo House Toronto
Soho House Toronto is a members-only club "for the creative soul," and it's the place to go to if you enjoy pairing a fashionable drink with a private rooftop terrace. Bartender Tyler Newsome is partly responsible for the club's modernized hospitality as he takes pride in tweaking the palate of others and making sure trainees know when to use two Kold-Draft ice cubes (and not four). It can be a bit demanding to be a bar manager, especially when one of your standards for house cocktails is as intricate as the Magic Hourglass (tromba blanco, kumquat, lime, xocolatl mole, and soda), but for Newsome, the challenges are just a part of the job. "Early on, my love for flavours and cooking combined and had a baby with the side of me that loves to provide experiences to everyone that walks in the door. Ten years later, I couldn't be happier with what I'm doing."

What's your current specialty cocktail?
I love keeping my cocktails as simple as possible -- showcasing only an ingredient or two. The Silk Road on our current menu is a great example of that. Inspired by Tony Conigliaro's Jasmine Gimlet, it consists of Botanist gin and a chamomile and lemongrass tea cordial, which we finish with a spritz of saffron tincture and lemon oil. If I'm out drinking, I would probably order us both a Cosmopolitan and explain why it's a great cocktail (in my mind).

What are some of your favourite ingredients to work with?
I like to keep the ingredients I use seasonal. It's not about what I like the most, but rather what's great at this moment because when something is at its freshest and most vibrant, it's easy to share and talk passionately about the product. This time of year, I love using pomegranates, kumquats, persimmon, apples, and pears, and also using nuts and smoke in cocktails. The winter season just makes you want to stay inside all night and drink whiskey!

What do you love the most about Toronto?
How awesome our food and drink scene has become. I eat, sleep, and breathe restaurants and local bars. There's no doubt in my mind that the passion I have grown for this industry is directly related to all the amazing chefs, bartenders, cooks, and servers that actually want to create great experiences for the people around them. There are so many inspiring people in this city and watching how quickly it changes really helps to keep me on my feet. Everything can change in an instant. I try to make the most out of every moment and to not take anything too seriously. I do my best to remind people of that whether they're my peers, my staff, or my guests. Great drinks can be inspired without being serious; plus Dad jokes are seriously awesome.
Sign up here for our daily Toronto email and be the first to get all the food/drink/fun in town.
Joshua Khan is a Toronto-based writer who's still searching for the perfect glass of whiskey (and passion fruit punch). Follow him and his other endeavors over at @blaremag.