Fifty years ago Toronto was strapped when it came to beer options, but now there are more than 30 breweries in the city alone. Once upon a time the Liquor Control Board of Ontario (LCBO) guarded against a plethora of craft beers in their stores via a daunting, acronym-ridden bureaucratic application process just to get in their system, let alone on their shelves. That lengthy process still exists, but the LCBO now supports a healthy range of craft brews from Toronto and beyond. The brewers and drinkers of Toronto will no longer be held at bay. Whether you pick up their beer at the LCBO or hit up their taproom for brews from the source, here is a list of breweries that are more than happy to oblige.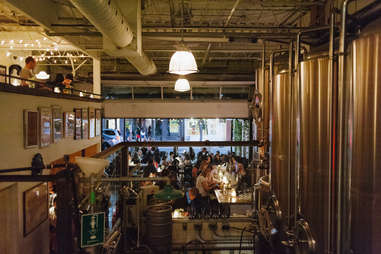 Ossington
Distance from downtown: 12 minutes
Let's get Bellwoods over and done with because we all know they are the reigning MVP of Toronto craft breweries, enticing Ossington hipsters with killer beer, chic pub food, and fairy lights since 2012. The Bellwoods crew have created a Torontonian craft brew empire with two breweries, retail stores, bottle shops, and lovingly handcrafted beers ranging from imperial stouts to hoppy, fruity pale ales. In recent years they've also started to focus on farmhouse ale using wild yeast and bacteria.
Best Brew: Jutsu, an American pale ale made with a blend of two different yeasts. This APA is highly drinkable with low bitterness and refreshing citrus and melon notes; $5 per 500-milliliter bottle.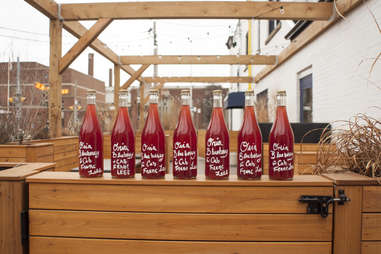 Bloordale Village
Distance from downtown: 17 minutes
Looking for something complex and award-winning to prove your beer connoisseurship to out-of-town friends? Hit up Burdock for great food and balanced, elegant beer inspired by the sophistication of the world of wine. This brewpub regularly churns out beer inspired by foraged, local ingredients and Ontario wineries, and recently began releasing barrel-aged beer. Having brewed dozens of styles, you're guaranteed a unique, flavourful experience with every Burdock brew.
Best Brew: Tuesday is a recurring saison series at Burdock that experiments with different varieties of yeast. Expect a slightly dry-hopped taste with bursts of clove, fresh straw, and pineapple in the latest iteration; $15 for four cans.
Davenport
Distance from downtown: 17 minutes
This family-owned brewery was born out of two brothers' desire for total control over the creative brewing process, and the need to "brew outside the box." What you'll find at Blood Brothers is the adventurous beer drinkers' paradise in a menu packed with experimental flavours, balanced with enough approachable styles for the casual beer drinker to pick up a four-pack and head to the park for some late autumn rays.
Best Brew: You can never go wrong with the golden sour Paradise Lost series (currently pouring Guava in the tap room), but if you came to push the limits of brews outside the box, grab a bottle of White Lies with Riesling, a sour ale brewed with Riesling grapes; $8 per 500-milliliter bottle and $6 for 12 ounces.
Upper Beaches
Distance from downtown: 16 minutes
Godspeed may be housed in a converted dollar store, but don't let external appearances fool you. The interior feels like an upscale restaurant where you might try to impress your out-of-town parents. There are long communal tables, an open kitchen, and a sophisticated menu of Japanese comfort food. Founded by Luc Lafontaine, former head brewer of the Montreal powerhouse Dieu du Ciel!, Godspeed couples Lafontaine's 20 years of brewing experience with Japanese influences to give Toronto some of the best food and beer in the city. Come for the beer and stay for Gyuusuji Doteni, a melt-in-your-mouth miso braised beef stew.
Best Brew: Otsukaresama Dortmunder. A popular and highly drinkable lager that features a combination of spice, citrus, light hops, and malt; $6.25 for 13 ounces or $3.75 per 355-milliliter can.
Hamilton
Distance from downtown: 53 minutes
While not technically in Toronto, if you do find yourself chasing waterfalls in Hamilton, Collective Arts Brewing should be top of your list for refreshments. Founded on the principle that creativity brews great beer, this grassroots brewery fuses craft brewing with the aspiring talents of emerging artists and musicians. Each label is a unique work of art at Collective Arts, as is each beer. Working closely with a family-owned hop farm, Collective Arts carefully curates its hops as you might curate art in a gallery.
Best Brew: Sadly the much-coveted IPA series No. 5 has run the course of all small-batch series, but why not try IPA series No. 6, flavoured with peach puree and a blend of Amarillo and Wai-iti hops; $4.95 per 470-milliliter can.
East York
Distance from downtown: 20 minutes
This rustic-chic taproom and store is the brainchild of a husband and wife duo who champion the mantra "less is more" to make well-balanced beers made for easy drinking. The name Muddy York derives from the disparaging term used to describe 18th-century Toronto. Then known as the settlement of York, or Muddy York, the streets were so muddy they were almost as impassable as the 504 King streetcar during rush hour. Hit up their beer garden before it's time to hibernate in your basement for the winter!
Best Brew: Fox Hunter Dry-Hopped Sour with Kiwi. The Fox Hunter Dry-Hopped Sour was always a winner, but the addition of kiwi gives this light-bodied sour an extra tang that lingers in the mouth; $5 for 12 ounces and $4.50 per 355-milliliter can.
Leslieville
Distance from downtown: 19 minutes
The Jays 2018 season may be a complete throwaway, but this baseball-themed brewery certainly is not. Nestled in residential Leslieville, Left Field has something for every beer drinker -- from sours to IPAs to the classic Eephus Brown Ale, all of which emphasize simple, distinct, and clean taste. They regularly partner with local food trucks and host Blue Jays Trivia night for the superfans out there. As an added bonus, you can get your Left Field fix without ever leaving the comfort of your sofa: Their online shop delivers directly to your home.
Best Brew: Eephus Brown Ale is a creamy, fruity, woody ale perfect for drinking on crisp fall evenings; $3.00 per 355-milliliter can or $11 for a four-pack.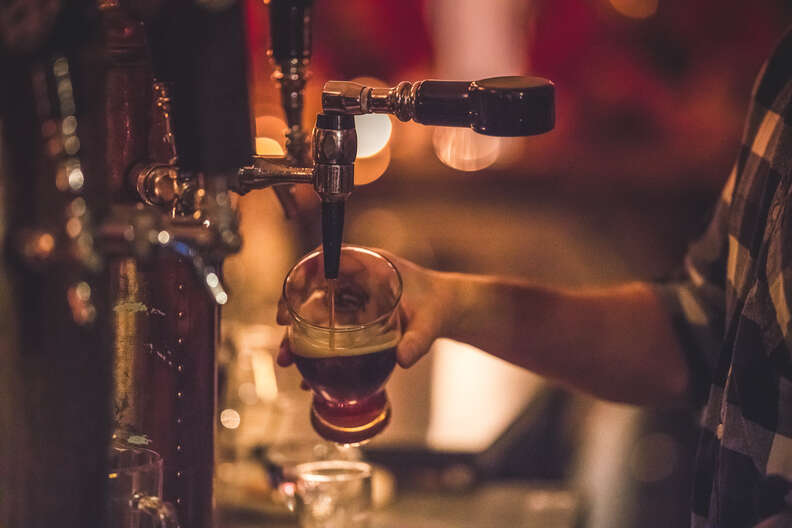 Leslieville
Distance from downtown: 14 minutes
Radical Road fits right in with the cute shops and cafes on Queen Street East with an antique fridge in the bottle shop and a cozy pub feel, complete with Connect 4 and Battleship. This nano-brewery focuses on small-batch brews and lighter drinking options in the outpouring of stouts, porters, and IPAs that's flooded the Toronto craft beer scene in recent years. Go on the brewery tour of this small but mighty facility for just $15, or become brewmaster for the day for $75.
Best Brew: Cucumber Mint Kolsch. This returning favourite is a traditional hazy, pale gold kolsch infused with cucumber and mint, giving it a fresh taste that cleverly masks the 5% ABV; $2.85 per 355-milliliter can.
Roncesvalles
Distance from downtown: 17 minutes
Drinking at Bandit is like being transported to a chic cafe in West Hollywood. Enjoy the garden while the sun lasts, and hang indoors when winter hits to soak up bright wood, white accents, and, of course, fairy lights. The beer at Bandit is as fun and casual as the brewpub's vibe, brewed to the tastes of co-owners and best friends Shehzad Hamza and Stephane Dubois, with frequent changes to the regular lineup of eight beers. Bring some friends, grab a flight, try a plate of their beer-battered deep fried cheese curds, and thank us later.
Best Brew: Wizard of Gose, a fragrant sour with notes of smashed apricot, coriander, and sea salt; $6 per 500-milliliter bottle or $8 per 16-ounce pint.
Sign up here for our daily Toronto email and be the first to get all the food/drink/fun in town.
Sarah Cooper
is a Toronto Thrillist contributor who has never, ever said no to a milkshake IPA. Try not to judge her too hard for standing on chairs in the name of food photography on @theone.whoeats.