Outside of a beer, a cocktail is the best thing to drink, and inside of a beer, it's probably too wet and everything would just get mixed up. But mixing things is what we're here for, so without further ado, here are Toronto's best cocktail spots...

Insomnia Bar
The Annex
The top martini bar for most, Insomnia serves up more than 50 different (reasonably priced!) varieties. The menu includes the aptly named Insomniac -- vodka & coffee liqueur w/ espresso -- while the equally energy-inducing Raging Bull loads raspberry vodka w/ Cassis, Red Bull & cranberry, and the the classic numbers start at a mere $9. The kicker? They serve a mixed menu of Mediterranean, French, and international chow until 2a, seven days a week.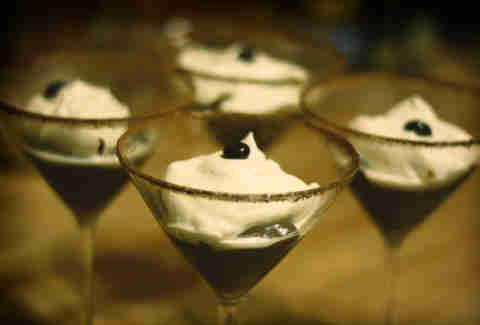 Eat My Martini
Little Italy
In the heart of Little Italy, Eat My Martini has been slinging drinks since 1999. Every weekend it serves $6 martinis and $4 mixed drinks and does it in a low-key, casual environment. If you've already eaten, then try the Chocolate Factory for a delicious, alcohol-heavy dessert of vodka, Malibu, crème de cacao, cream, mango juice, lined with chocolate syrup.
Pravda Vodka Bar
St. Lawrence
If you're looking to cut loose a little early, head here for happy hour from 4 to 7p and order up some drinks for $6.15. We recommend the the Russo-Canadian mix of vodka, rye, and good 'ol maple syrup. Then maybe do some tasting from three different flights of ice-cold, frozen vodka. Then, to curb that buzz, order the cheeseboard. You won't be disappointed.
Hey Lucy
Entertainment District
Wednesday is the day to visit Hey Lucy and knock back half-price martinis for $4.50. The namesake drink is vodka, melon liqueur, and cranberry, while another solid choice is the Vitamin C (vodka, orange, grapefruit, lemon & lime). If you're feeling like some actual nourishment, then follow it all up with some of their wood-fired 'za.
Consort Bar
St. Lawrence Market/Old Town
Located in the gleaming marble halls of the King Edward Hotel, Consort Bar is a plush, ultra-lux den of carpeted comfort. The 'tails roll with the classics, but they also throw out signatures like their pomegranate martini, and the hotel's kitchen services it w/ the likes of lobster sandwiches all night. 

Toca
Entertainment District
Another high-end stop, located in the Ritz Carlton Hotel, Toca provides a great ambience for some mixed-sipping. Try and land a table in the back, slip into the booth, and order a drink from the extensive list that 's had a crazy amount of detail put into it. Their Streetcar, for example, mixes whiskey w/ Earl Grey-infused Cointreau and bergamot-scented sugar.
Library Bar
Financial District
Martini bars in hotels is sort of the trend in Toronto. Maybe it's to keep things classy or maybe it's because it's easy to pass out after a few too many, either way, the Library Bar in one of city's most prestigious hotels, the Fairmont Royal York, is a place you should go. 3oz cocktails start at $14 and bird bath martinis are the standard.
Roof Lounge
Yorkville
If you want to impress a date, THIS is where you take them. The Lounge has a pretty stunning view of the city from its 18th floor panoramic windows. Again, this is a place to drink the classics -- 3oz drinks start at $14 -- try the Green Tea martini.