Craft breweries are nothing new to the streets of the 6ix, but we'll be damned if it isn't time for our city's beermakers to get their dues. Turns out, people are noticing, and for good reason. At any given bar or LCBO, you can find diverse local options for every beer drinker, from hoppy IPAs to Berlin-style wheat beers to the most summery of Belgian saisons. And what's better than a great local beer is a great local brewery to get said local beer poured from the source. In a sea of excellent choices for the even most seasoned drinker, here are the breweries pushing the creative limits of craft beer in Toronto and putting us on the beer map.
Recommended Video
Remember Surge Soda as a Kid? It's probably the drink your parents never wanted you to have
Roncesvalles
Wildlife in TO may be scarce, but if there's an iconic animal in this city, it's this Roncesvalles brewery's namesake critter: the raccoon. This brewpub champions the social aspect of beer drinking with a plant-filled, California-cool open-concept space featuring a mix of tables and plastic picnic benches. Bandit launched with eight signature brews, most notably the polarizing Smoke on the Porter with a rich, peaty finish. It's currently awaiting licensing for the patio on Dundas West, and planning on growing hops in the front garden. Head down before the line up gets out of control, as Bandit doesn't currently have a bottle shop where you can pick up for at-home consumption (but it's also in the works). In the meantime, grab a flight and do not miss the beer-battered cheese curds -- maybe the best fried cheese in Toronto.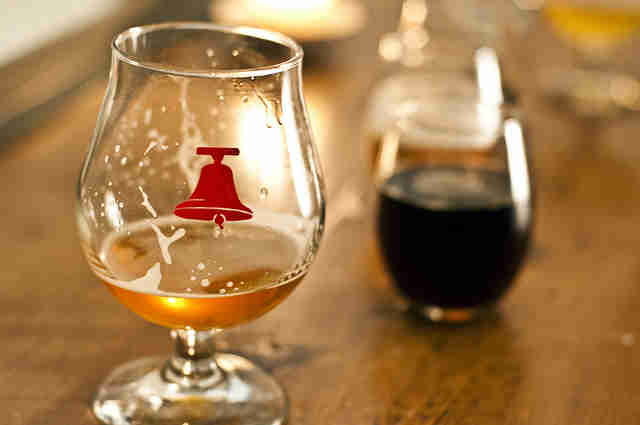 Trinity Bellwoods
Arguably the most popular brewery on this list, quality food and small-batch beer have been Bellwood's mission since opening in 2012. The "Bellwoods Worker Elves" curate your experience through a candle-lit bar setting and patio adorned with fairy lights befitting its bustling Ossington location, as well as a host of custom-designed beer labels and swag. The wait may be long, but your patience will be rewarded with the rotating tap selections and reserve bottles offered exclusively in the brewpub -- a select portion of bottles reserved from previous special batches, available while quantities last. Good news for the impatient beer drinker: Bellwoods will be opening two new locations soon at 950 Dupont Ave and 20 Hafis Rd.
The Junction
Indie Ale House does not mess around when it comes to craft beer and pub food. Owner Jason Fisher's mission is to bring craft beer to the people, championing the idea that you don't have to spend a fortune to drink a really good beer. This popular Junction spot is known for complex flagship beers and rotating taps in off-the-beaten-track styles. Favourites include the Broken Hipster Belgian Wit, the Dead Spadina Monkey sour ale, and the Instigator IPA (the brewmaster's personal favourite). If for some strange reason you aren't sold on the beer, you will be on the food -- think truffled mac & cheese, a sashimi-grade yellowfin tuna taco, and a selection of no-nonsense burgers seared on the flat top for extra caramelization.
The Junction
Found in an industrial area known for its auto-repair shops, Junction Craft Brewing is as unassuming as its beer selection is impressive. This train-themed brewery opened in 2011, and has expanded from its classic Conductor's Craft Ale, a "hopbacked" hybrid ale, to a rotating variety of more than 10, three of which (including Conductor's) are available at your local LCBO. The tap room at Junction Craft Brewing is a simple, train-themed space with utilitarian pricing at $2.25 per 5oz. While this is the one of the largest breweries on here, president Tom Paterson and brewmaster Doug Pengelly are adamant that it isn't size that constitutes a craft brewery, it's commitment to a tradition of unique flavour and technique. Pull up a chair, grab a sample, and get ready to talk beer with the laid-back and accommodating tap-room staff.
Davenport
Blood Brothers Brewing is the pot of gold at the end of the craft beer hunter's rainbow. It appears elusively at bars like Get Well and Tequila Bookworm in small batches and select bottles. Using clues such as the brewery's crafty Instagram account, word of mouth, and an arrow indicating "beer" scrawled on a warehouse wall, the persistent beer seeker can find brothers Dustin and Brayden Jones' hidden Davenport brewery. Resisting categorization and uniformity, Blood Brothers aims to stock an innovative assortment of beers. The bottle shop has just a few styles available for purchase, including the much-coveted Paradise Lost series, a juicy sour finished with anything from fruit to wild yeast, and the Inner IPA, a citrusy, hop-light variety of the West Coast-style IPA. While a Blood Brothers taproom won't be open for a couple months, get your Sherlock Holmes on and hit up the bottle shop or visit one of the stockists -- it'll be worth the sleuthing effort.
Leslieville
Blue Jays fans rejoice: this Leslieville brewery is not only adorably baseball-themed, it also shows every Jays game in the taproom with audio! The husband-and-wife founders brew beer with a single philosophy in mind: distinct, flavourful beer that stands on taste alone. Left Field's starting lineup includes MVPs such as the Eephus brown ale, a rich, nutty ale named for the rare, low-speed junk pitch, and the Maris pale ale, an Earth session beer designed for easy ballpark drinking. Growler owners be forewarned: the tap room unfortunately only sells cans and bottles, and isn't able to fill your growler. The brewery organizes an annual Buffalo Bisons road trip for baseball and beer junkies, and will team up with their esteemed neighbour Pilot Coffee Roasters for Saturday sessions of #beermeetscoffee throughout the summer.
The Junction
Henderson Brewing Co. is the newest kid on the block with its official opening on June 4th, but the namesake derives from Toronto's 200-year-old brewing history. GM Steve Himel wanted to tell the story of Robert Henderson, Toronto's first brewer circa 1800. Robert Henderson's original beer was served to British soldiers, who received a whopping ration of six pints per day. The brewery's flagship, Henderson's Best, is a reimagined, modern-day best bitter of this historic original. In addition to Henderson's Best, UPA (Union Pearson IPA), Food Truck Beer (a light session ale), and an "Ides" (a limited-edition beer released monthly) will regularly be available on tap. Also unique is the Henderson's Best topped with Station Cold Brew -- bringing the best of coffee and beer together in one delicious pint. Snacks and local food trucks (cue the highly drinkable Food Truck session ale) are around too, and even non-beer drinkers have options: Henderson brews its own all-natural root beer.
Wallace Emerson
Founded by two homebrewers turned brewmasters, Halo's tagline is from "basement to brewery." Callum Hay and Eric Portelance, like many of today's Toronto craft-beer pioneers, decided to quit their day jobs and take the plunge to start a brewery. Halo is committed to transparency -- you can follow Halo's story from inception to opening, and all recipes including detailed ingredient lists are available online for home brewers. Halo has stayed true to its basement origins, continuing to brew the "sweet delicious beer unicorn" -- or, beer that isn't readily or easily available in Ontario. The taproom may be small, but its sleek, modern design and unique beer selections make up for its size. Current favourites are the Ion Cannon, a German-style gose with strawberry, kiwi, and coriander, and the Magic Missile dry-hopped pale ale.
Entertainment District
Mascot has a killer rooftop beer garden and scores extra points because of its convenience for the Downtown-dweller. The perfect post-Jays game haunt, Mascot is a balance of hipster and bro -- ideal for summer drinks complete with communal picnic tables and umbrellas. It currently features an eclectic selection of local craft beers on tap, in addition to its own Mascot pilsner, hefeweizen, and coffee porter. The in-house beers are brewed off-site at Duggan's for the time being, but it plans to have tanks set up in the Eatery by the end of summer. The Eatery is headed by Rory McGouran, whose credentials include 416 Snack Bar and the Drake, boasting a menu of sophisticated tapas-style dishes inspired by classic pub favourites.
Stockyards District
Jordan Rainhard is primarily a one-man show as the owner and brewmaster of Rainhard Brewery, winner of the 2015 Golden Tap "Best Newcomer to the Beer Scene." The brewery is somewhat hidden in Toronto's former meatpacking district -- an area of the city where alcohol was banned from 1904 until 1998. (Ouch.) But with a little help from Google Maps, you can easily find the spacious Rainhard taproom and the beautiful wooden bar, handmade and manned by Jordan himself. Rainhard Brewing focuses on hoppy beer with a clean, balanced palate using fresh, local ingredients, and a strict small-batch process. The Kapow! IPA is a signature mix of citrus hops and floral notes, and the True Grit saison/farmhouse ale has been known to trick even the most seasoned beer drinker into believing it's a bonafide Belgian.
Parkdale
Duggan's has been called the only establishment in Parkdale with no aesthetic. But who needs string lights and palm tree wallpaper when you're serving solid beer and providing an outlet for Parkdale-dwellers who are over the one- to two-hour wait at every other bar in the area? Brewmaster Mike Duggan is an award-winning brewing veteran, having co-founded Mill St. and has advised breweries across Ontario on recipe creation. Standard pub fare is up for grabs at this no-frills brewpub, leaving the spotlight on Duggan's beers, all brewed in the basement. With Duggan's experience and knowledge, beers are typically classic and stand-out examples of their respective styles. Hit up the happy hour and grab a flight of the 100 Mile lager, 100 Mile ale, No. 5 Sorachi, and No. 9 IPA.
Bloordale Village
Burdock's isn't just a brewery. It's a brewpub, bar, restaurant, music venue, and champion of local ingredients -- basically everything you want from a night out in Toronto rolled into one. Burdock began brewing its own beer in July 2015, and since then, it's more than proved its brewing chops. Some Burdock highlights include the popular West Coast Pilsner, both west coast in malt from Armstrong, BC, and in nose with hints of pine, and the award-winning Brett Lime, featuring hints of Florida key lime juice. Beyond the beer, Burdock makes sourdough and rye bread in-house, as well as a brussel sprout poutine, so drenched in gravy and cheese curds it's basically not a vegetable anymore. Added bonuses include the patio and a bottle shop that's open till 11pm.
Sign up here for our daily Toronto email and be the first to get all the food/drink/fun in town.