Toronto's 12 best new bars of the year
Patio season may be over, but the drinking of delicious alcoholic beverages somehow still carries on -- and hopefully, it'll happen at these 12 places, because they're the best new watering holes to hit Toronto this year...
Riverside
This is an East end spin-off of crowd favourite County General, where rum-based cocktails and plenty of tasty snacks abound. The straight and narrow can choose from a loaded high-proof spirits list that includes 33 ru(h)ms, 17 bourbons, eight ryes, and more. Because who doesn't want to sip on a flight of five- to 25-years-aged El Dorados between bites of their table-top chicken for two spread?
Riverdale
More than just Greektown, The Danforth can now boast of being home to one of the city's newest craft beer-focused brewpubs. The massive space has a sports bar-esque feel, where you and your -- count them -- 230 closest friends can grab a seat and sample from the 24-tap dispensing house of Ontario beers. There are even beer cocktails, a changing radler- or cider-based slushie, and homemade root beer. Alcoholic slushies! Homemade root beer!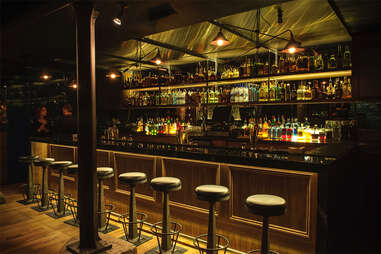 St. Lawrence
Crafted like a gentleman's study full of leather-bound banquettes, stocked walnut bookcases, and bar shelves, this library bar takes every opportunity to pay homage to the 19th-century building's original tenant: D.W. Alexander, a leather and hides tradesman. There's also a DJ booth (we said homage, not replica). Find classic cocktails from the Old Fashioned to the Moscow Mule alongside house creations including a gin-based D.W. Negroni that's available by the glass or bottle.
St. Lawrence
It's a nod to the Prohibition era, where you can find sophisticated bar bites mingling with fun, reimagined riffs of classic cocktails. Most numbers lean heavily towards fruit juices, homemade extracts, syrups, and tinctures. For barrel-aged cocktail fans, there's the three-week-aged E36 Smoked Boulevardier (Maker's Mark, Aperol, Lillet Rouge, smoke tincture) that's balanced, smooth, and dangerous.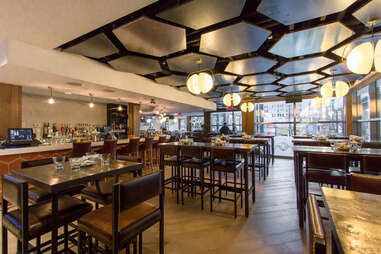 Financial District
There's contemporary bistro fare (think sandwiches, tacos, and buttermilk potato chips with cauliflower hummus), 1920s-style near-sound-proof phone booths for taking private calls, and a 3,500sqft patio (during warmer months) that will keep you warming that seat, but the draw to this Adelaide St watering hole is the extensive selection of libations. Everything from shaken numbers served in Mason jars to coupes filled to the brim with boozy spirit-forward cocktails that use fresh, house-squeezed juices and homemade syrups i.e. the Lansky (Irish whiskey, apricot and lemon juices, house grenadine).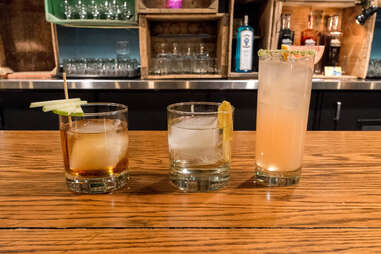 Entertainment District
Love tequila? Then this is the place -- its private tequila tasting room where bar manager and tequila expert Manny Contreras acts as a guide through the bar's 64 blanco, reposado, and añejo tequilas and mezcals -- is for you. Like tequila? There's plenty of tequila-based margaritas and cocktails to wet your whistle with, including the La Condesa that feature's Toronto's own Tromba Blanco with splashes of Lemoncello, grapefruit juice, and citrus salt. Not a tequila fan? Then you've had too many bad tequilas. Judgment aside, this is the home of the #MidnightTaco, so there are numerous other tasty options to satisfy your taste buds with.
Entertainment District
Unlike most snack bars (or bars for that matter), this Downtown space has three floors dedicated towards the pleasure of eating and drinking. Beverage aficionados will appreciate the interesting beers; organic, natural, or sustainable wines curated by master sommelier Bruce Wallner; as well as classic and signature cocktails. Stay on the lower level if you're looking to unwind to casual snacks, tasty tipples, and what's spinning from their in-house DJ. The flavours are uniquely Canadian. Where else can you find Kung Pao Cauliflower next to a mint julep?
Little Italy
Billed as a casual yumcha bar above sister Asian brasserie DaiLo, LoPan serves all day dim sum-inspired snacks like the Big Mac steamed bao and pastrami spring rolls. The same kind of inspiration shines on its cocktails. Its signature Tom Yum Booze (Tanqueray Rangpur gin, lemon grass, Kaffir lime leaf, chili, galangal syrup, and coconut water) is a light and breezy take on the gimlet, while the Dark and Stormy hints at Chinese five spice.
Fashion District
The all-day space services every need: from early morning breakfast with coffee and fresh, homemade Italian pastries; aperitivo hour where all mixed drinks come with a snack-tastic bite; to a late-night cocktail bar. On the weekends there's also brunch, where you can have the Pelo Canino (Ketel One, house tomato juice, house hot sauce), a riff of everyone's favourite, the Caesar, but with a fried pork jowl garnish. Have a lull in your day? You know where to go.
Fashion District
With a crew of experienced bartenders on hand, the focus here is on cocktails, but with a delightfully non-traditional twist. It's not every day that you enter a bar with its own glass-in laboratory complete with a rotovap and centrifuge to make its distillates and extracts, nor one that uses digital meters and scales to measure all of its ingredients. However, at Rush Lane, what you'll get are consistently precise, progressive concoctions that will be anything but ordinary. We're not in Organic Chemistry 101 anymore.
Trinity-Bellwoods
Queen West's newest speakeasy does sell classic cocktails (only $7 a pop!) and over 70 bottled beers, but it's the whimsical and original numbers that are attracting the crowds. Indeed, it's hard to resist names like the Artisanal Middle Finger (that's made with green Chartreuse, concentrated PBR, and decorated with an orange-rind mustache and knock-off Ray Bans) or drinks that promise you Froot Loops milk (Breakfast in Portland). Just follow your nose!
Junction Triangle
Bloor West is speedily becoming the strip where cozy neighbourhood joints are finding a new home. One of the many charmers includes this casual stop, manned by former Reposado and Communist's Daughter alumni. Expect to find a menu-free cocktail list that's supported by a well-stocked back bar packed with quality tequilas and whiskeys; most drinks can be had at $10 and under. There's also a daily changing "punch" that's essentially a jug of booze that you can choose to share with your neighbours or nurse all night.