Proudly slapping the mini-prohibition of the LCBOs right on the face, Toronto's denizens have taken to making the booze themselves, so if you want to drink the city's finest hop juices straight from the source, these are the places to do it, and here's how to take them all in -- going east to west across the city -- in one day.
Stop 1: Mill St Brew Pub or its swanky new beer hall
Start in the historic Distillery District at one of the city's original craft brewers. Try one of 15 craft beers on tap –- from award-winning signatures to seasonal brews –- or jump the gun and do a shot of their traditional German-style Bierschnaps. The dry beer-based spirit is a first for any Canadian micro, and's distilled using North America's only copper pot-still (!). Forget flavourless Everclear, their insane Hopfenschnaps (55% ABV) is like an ice-cold hoppy punch in the face. Open daily.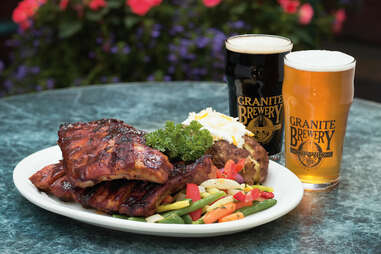 Stop 2: Granite Brewery
Now, continue on to mid-town's Granite Brewery. The family-run institution is an area favourite, and has been making small batch, natural English-style ales for over 20 years. Not convincing enough? Perhaps the promise of Ontario's best cask ale might do the trick; their Hopping Mad's spent the past three years dominating the competition in the Golden Tap Awards. Open daily.
Stop 3: Bar Volo
If you're looking for the province's best selection of beer, then you need to stop at Volo, T-dot's unequivocal beer geek HQ. The bar serves an impressive selection of 125 bottles, plus 13 draughts, w/ three more dedicated to house ales from their on-site nano-brewery. Open Monday to Saturday.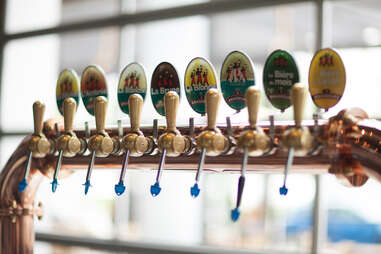 Stop 4: The 3 Brewers
Go no further than Yonge & Dundas for a taste of this French micro-resto's non-pasteurized beers. Well, technically the headquarters are in France, but the beer's actually brewed in-house and includes their seasonal Munich ale. German hops give the light coloured ale a biscuity taste, while the brewer's proprietary yeast gives it a slightly peppery bite. It's here for a month before it's replaced by the Winter Warmer -- a big, malt-forward beer that's got a bitter finish (8-9% ABV). Open daily.
Stop 5: Beer Academy
Now head a block south & east, and peep this this multi-storied space -- part tasting room, part event space and retail shop -- and wish this had been an option for college. Despite the fact that it's a member of the Molson family, the Beer Academy is home to a small-batch brewery, with six of its taps dedicated to hand-crafted ales and lagers that span from classic to unique one-offs and collaboration brews. Open daily.
Stop 6: Steam Whistle Brewing
Then it's off to the shadows of the CN Tower for what's been billed as Canada's premiere Euro-style pilsner. Getting a gold medal at the Canadian Brewing awards doesn't hurt, either. Hit up the sampling bar for a free pour, or if you need to walk off the growing buzz, take a 30 minute tour of the facilities -- aka one of the city's top tourist attractions -- and finish with a bottle that's just come off the line. Open daily.
Stop 7: Amsterdam BrewHouse
Leave it to Toronto's first brewpub to open with 800 seats, two dining rooms, a sports bar, retail store, four patios, and a glass-walled craft brewery inside a massive 14000sqft mega-complex by the waterfront. All of their house beers, including seasonals and small-batch releases, are available on tap, bottles or cans from its three bars. Hungry for more? There are even food and cocktails made with their draught beer. Also, just to reemphasize: three bars. Open daily.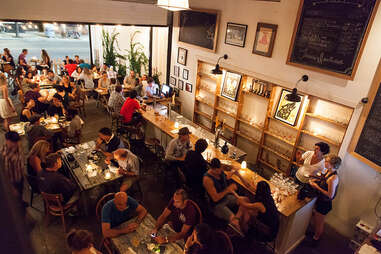 Stop 8: Bellwoods Brewery
Being named one of the world's (yes, the world) best new breweries by RateBeer.com, and carrying collaborative brews like those with Evil Twin Brewing (also one of the best brewers in the world) is certainly not a bad start for this 18-month-old hop-house. The Ossington location is a popular hangout for hipsters and beer aficionados, which might suck when you're trying to find space on the patio, but thankfully, there's also room inside the two story ex-garage under the shadows of the brewery's 20ft-high stainless steel fermentation tanks. Choose from an array of changing house-brewed beers, then pair it with a few bites from their bar menu. Open daily.
Stop 9: Get Well
By now, you're likely feeling it. Thank the sweet merciful Lord that this spot has '80s arcade games, pinball machines, and a boat-load of local barley pops. Have a pint of the cask on tap, the hoppy house Pineball Wizard Pale Ale, spicy Bastard Landlord IPA, or any of their rotating nano-brews between rounds of Pac-Man or Space Invaders. Open daily.
Stop 10: Indie Alehouse
Swing/stagger northwest to this 110-seat upscale pub in the once-dry Junction. The brewery stays true to their moniker, and focuses on making hard-to-find Belgian Sour, Double IPA or English Porter ales. Pick your pint based on flavour profile or cheeky name, from the hoppy and strong Cockpuncher IPA, thirst-quenching and banana-y Broken Hipster Belgian Wit, or the oak barrel-aged, in-your-face-big Jump the Shark, amongst others. Open daily.
Stop 11: Junction Craft Brewing
Even though they're known best for their signature Conductor's Craft Ale (a biscuity flavoured beer that's produced using a hopback mechanism as part of their brewing system), the brewery also produces a host of changing cask-conditioned ales, which are all promoted on the brewery's departures board (conductor, railway references, get it? Yeah, you get it.). Their tap room is open Thurs-Sat.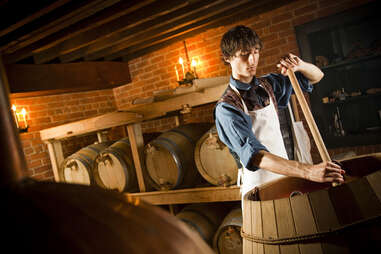 Stop 12: Black Creek Historic Brewery
Breathe deep. Think of your loved one. Now, if you still have the bandwidth for another pint, head over to Black Creek Pioneer Village, which surprisingly puts together some pretty decent beers, using not-so-surprising methods, tools, and recipes from the mid-1800s. Spend the rest of your day in costume making your own growler of Pumpkin or Estate Ale (because frankly, what's 2L more when you've had 11 pints?) with the resident Brewmaster, or skip the labour and take in a pour of their cask beer at cellar temperature (what? That's how they had it in the past??) or chilled at the pub if you're a post-industrial, molly-coddled wuss. Open daily.

On the radar: Kensington Brewing Company
For now, fans of the brewery's Augusta Ale, Watermelon Wheat or Baldwin FishEYE PA will have to stock up at the LCBO. But come Summer, look for their full production brewery and retail space/bar in the market. It's the building that's painted with a giant alien face... so, you can't really miss it.