Two things are certain about Winters in Toronto: it gets so cold people get weirdly patriotic about it, and there's hockey. And for Canada's largest city, both of those things involve Maple Leafs. So whether you're looking to quell any playoffs anxiety, or simply want a little truly Canadian hydration, we've got the cure: a Maple Leaf bar crawl. Like ex-GM Burke, we've got you set for the most epic night you'll remember (or not. It depends on your state of inebriation.).
Stop 1:Real Sports Bar & Grill
Waterfront
Nothing matches the energy of being next to Leafs central, especially if we're talking about the granddaddy of all sports bars. All 25,000sqft of it. If 114 beer taps, 14 award-winning wing flavours, and 11 towering burger stacks is not enough for you, then maybe having access to 199 HD TVs broadcasting every sport played would be appealing. The clincher? A 39ft HD big screen. 39 FOOT.
Stop 2:Earls Kitchen & Bar
Financial District
Earls is at the base of the leaf. More than an after-work watering hole for the finance crowd, it's a buzzing space that's a bit see-and-be-seen. The action might be all indoors right now (their patio is open, obviously, only during the summer months/hours), but that's how you'll catch Kessel's snipe off the rush on one of the wall-mounted TV screens. Play your cards right and you can take advantage of the lounge's happy hour, or the bar's $5 shot & cocktail specials. You'll also find a pineapple & ginger marg, and exclusive-to-Earls Rhino beer, and a kitchen serving signature crispy dry ribs.
Stop 3:Olé Olé Restaurant & Tequila Bar
Old Town
Drown yourself in over 50 tequilas, pitchers of sangria, or Spanish wines out in King St East's lower-leaf tip. If your entourage is big enough, consider taking over one of this Spanish-Mexican resto's four unique rooms, or their pair of lounge bars. The perk? The sometimes event space also gives 10% of every bill to children's charities!
Stop 4:House on Parliament
Cabbagetown
One of Toronto's old standbys, The House on Parliament, is just that -- a house on Parliament St. It's everything you expect from a pub: food that can be eaten with or without cutlery (seriously, the menu's organized by the category of silverware that might or might not be needed), polite service, and a small selection of draft ales and lagers. On the weekends, there's brunch with beermosas and eggs in every style and form.
Stop 5:Foxes Den Bar & Grill
Bay Street Corridor
The top of the leaf is located at the border of Yorkville (surrounded by high-rises, four-star hotels, high-end boutiques, museums, and galleries), the University of Toronto, and Queen's Park. That means on any given night, the room's filled with area residents, students, and members of Provincial Parliament socializing with bar regulars. It's also got surprisingly decent food and 17 drafts on tap. If watching the game isn't your thing (they're also licensed to air UFC fights!), there are bar-top video slots, cheap pool, and darts that'll keep you entertained.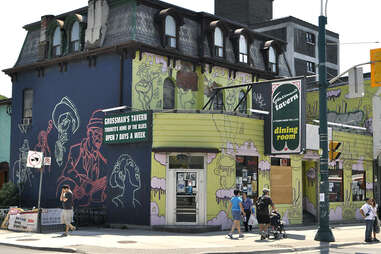 Stop 6:Grossman's Tavern
Chinatown
The city's longest-running live music venue is not only a one-stop fix for cheap beer and all-day breakfasts, but the most likely spot on our crawl that you'll hear this. That's because this self-described "Home of the Blues" plays everything from rock to jazz. The dive bar's main feature is its stage where many acts -- from The Jeff Healey Band, Alannah Myles, Amanda Marshall, Burton Cummings, and even Blue Rodeo -- have cut their teeth.
Stop 7:Bar Hop
Entertainment District
The final point of the maple, the draw at this King St booze-slinger is the rotating selection of 36 craft ales -- mostly local -- flowing from their taps, and about 100 bottles of changing, rare one-offs or seasonal brews. There's also bistro-themed beer-infused bar bites, from shareable snacks to mussels. And then we have dessert: the beer geek approved "beeramisu" which is saturated with roasty Robust Porter.