The seven best patios in Toronto
Toronto's sweet but all-too-brief Summer days are too precious to waste by drinking indoors (or worse yet, not drinking at all! The horror!), which is why we've scoured the beautiful streets of T-dot and assembled this list of its finest patios. It's still warm out, so take a gander while you still can...
1) Sunnyside Pavilion
Parkdale
Watch beautiful people play volleyball while dragon boaters glide along Lake Ontario, as you choose between a menu of frozen daiquiris or a cold Stella on tap at Sunnyside Pavilion. One of Toronto's best kept secrets, this beachfront bar/resto hosts a huge 200+ person patio, which includes a cabana-style lounge. There's food too, with a wood-fired 'za oven churning out grub like a Southern Club sando loaded with bourbon-pulled pork, bacon, and grilled chicken.
2) The Black Bull Tavern
Queen St. West
Sure, the location has a lot to do with this classic making the list, but the truth is, any Torontonian worth their salt has been here at least once. The food is classic pub fare (classic Canadian pub fare, that is; their onion rings are covered in gravy & cheese curds. Woo hoo!), but they've got 14 cold beers on tap (including Mill St. & Steam Whistle), and with its location at the corner of Queen St & Soho, it's one of the premiere people-watching destos in the city.
3) Sweaty Betty's
Queen St. West
This postage stamp of a bar is located at Queen & Ossington and fills up fast most nights, but thanks to a three-ingredient limit on mixed drinks, and a notorious no-bull attitude from the staff, service is quick. The sweet sauna-style patio is decorated with lights and vines, and during the Summer there's a barbecue out there with delicious, scorched meat.
4) Murphy's Law
East End
Located in Toronto's East End, this Irish pub has been converted from an old bank, though now they're destroying your balance via draft Shock Top, Leffe, and Kieths Cascade served on its multiple patios. The menu is packed with wasabi steaks and a half-pound burger topped w/ pork belly & bacon marmalade, and if you're feeling energetic, you can also make the climb to the rooftop patio for a stellar view of Lake Ontario.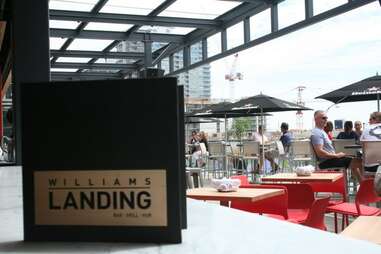 5) Williams Landing
Liberty Village
One of the newest establishments in Liberty Village also offers up one of the best patios in the area (it's partially covered, so it works in the rain too!), and to make it even sweeter, there are 16 beers on tap, 34 wines by the glass, and ten signature 'tails.
6) Dark Horse
Bloor West Village
Confusingly, this entry is absolutely not the dark horse of the bunch -- located on the west end of Bloor West Village, this classic spot's large street-front patio is one of the city's finest, with Red Stripe & Kieths on tap, plus burgers & sandos to soak 'em up.
7) Paupers
Koreatown
This four-story Annex mainstay is crowned with a glorious Christmas light-adorned rooftop patio, so stuff your stocking belly with their prime rib burger or brioche-bunned pulled-BBQ brisket, and wash it all down with their own home-brew blonde ale, plus Boneshakers & Tankhouse.