10 things you didn't know about Steam Whistle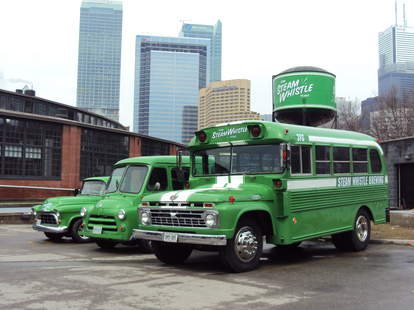 Some things in Toronto are consistent and reliable -- Rob Ford can always be depended on to try and prevent a strike, the Blue Jays pitchers can be depended on for the same thing, and and Steam Whistle, our beloved microbrewery, will always make a good beer. Here're 10 other things you probably didn't know about them:
1. They're never making another beer
Instead of launching a new brew every season, they put all their focus on producing and perfecting just one beer: their premium Bohemian-style pilsner, which, according to the plan, is all they will ever produce.
Steam Whistle
2. The president shut them down
The brewery was closed for three days (that's a quarter of a million beers worth of production time. Thanks Obama!) during the G20 summit when the brewery lawn became the US president/rival brewer's personal landing pad in the Marine One helo.
Steam Whistle Brewery
3. They started out with stuff from Montreal
When operations first got rolling they scored most of their equipment, from fermentation vessels to packaging machines, when a family-run brewery in Montreal (the now defunct Brassau Brewing) went beer-belly-up. Thankfully, every single piece has now been replaced with all-new equipment.
Steam Whistle Brewery
4. ... And everything else is Czech, including the insanely dedicated brewmaster
They built a brewhouse in the Czech Republic and brought it over, they import Czech-grown hops, and they hired a Czech brewmaster, who agreed to the job on the condition that he got a bedroom in the brewery because it's the dream of every man "if the beer never sleeps, neither should he".
5. The founders probably have terrible resumes
Every bottle has a "3FG symbol" embossed into it, which represents the company's original name "Three Fired Guys" -- the trio of founders all got canned (!) when the micro they worked for in the '90s was bought out.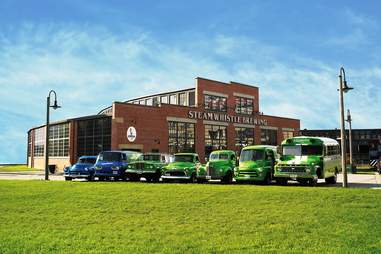 Steam Whistle Brewery
6. They drive, you drink
They've got a fleet of vintage vehicles (the youngest of which is a '68 pickup) that can be spotted making magical beer deliveries around the city. They are Grumpy, Lumpy, Chuckles, Grande Verde, Steam Machine, The Scout, Steam Weaver, Betty, and Retro Electro. 
Steam Whistle Brewery
7. They love to give away free beer
The brewery gives back to more than 800 charitable events across the country each year. Their biggest, though, is the annual Ride to Conquer Cancer, a 200km bike ride between Niagara Falls and Toronto. Last year, the brewery served more than 22000 beers to gloriously rehydrate participants and their supporters at the finish line.
Steam Whistle Brewery
8. They literally picked their building when out for a drive
When looking for a brewhouse, and frustratingly coming up short, two of the then-recently-fired founders decided to just "go for a drive and find something". It totally worked. In fact, the building still has a legit steam whistle on top, which they still use to officially signal the end of the work day.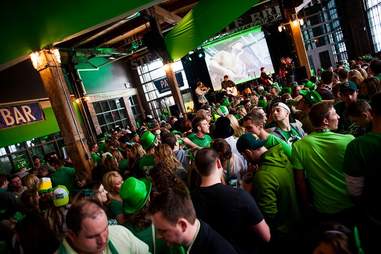 Steam Whistle Brewery
9. The don't just brew beer there
They use the pretty extensive space for a ton of events, and have held actual wrestling matches there.
Steam Whistle Brewery
10. It's not just the bottles that're green
Their building is so enviro-friendly, Chinese state television toured the factory to see how to make things less smoggy in their own country. Beer! The answer is beer!