You don't have to stumble too far to find somewhere to toss a few back in Toronto. Wine bars, beer bars, dive bars, and hidden hole-in-the-wall bars abound, but not every bar matters in a way that makes a real impact beyond providing an opportunity to get sauced. Some though, whether through historic significance, trend setting, or offering drinks that are a cut above, seem to stand out. Here's a look at some of the most important drinking destinations across the city.
Queen West
You can't have a list of important bars in Toronto and not include the Horseshoe. The much-loved institution has been open since 1947 but the property dates back to 1861 when it was a blacksmith shop. You don't come here to eat, you don't come here to watch the game, you come here to drink and listen to music. The Horseshoe is hands down one of the best small venues for catching live shows in Toronto and it consistently packs 'em in for both indie acts and bigger names. The Rolling Stones once played a secret show at the 'Shoe and other names to appear over the years include The Strokes, Wilco, Spoon, The Decemberists, The National, and many, many more.
Church and Wellesley
Beer is the name of the game at Bar Volo, one of the best bars in the city for beer, if not the best. There are nearly 30 rotating regional beers on tap along with six traditional cask-conditioned ales and a large selection of rare bottled beers. Not to mention ciders, over 60 bottles of whiskey, and the roster of impressive ales brewed right in-house. Bar Volo also hosts Cask Days, the largest cask-conditioned ale festival in North America.
Kensington Market
If you want the quintessential dive bar experience in Toronto, Sneaky Dee's is one of the best spots in the city to get it. It's both a restaurant, known citywide for its monster nacho plates and wallet-friendly Tex-Mex, and a live music venue with an upstairs stage that has seen the likes of Arcade Fire and Broken Social Scene. Opened in 1987, Sneaky Dee's will never go out of style, no matter the bar trend of the moment. It's where you go for cheap nachos, good music, and packed parties -- and then a greasy breakfast in the morning to temper the hangover.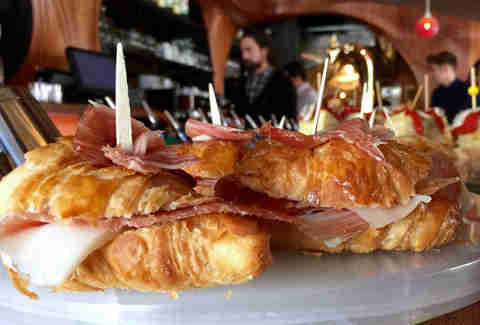 Little Italy
The sister spot to Grant van Gameren's Bar Isabel, Bar Raval instantly became one of the most popular bars in Toronto when it opened earlly this year. With room for only 40, plus several stools at the bar, this place for Basque pintxos and expertly mixed drinks gets tightly packed in the evenings, but that's the idea. If you were in Barcelona you'd be mingling as you nibbled on tapas and sipped cocktails rather than ensconced in a corner table. The bar is modeled after those in Spain where you can stop in for an espresso and a pastry in the morning, swing by after work for a quick bite and cocktail, and then linger long into the evening.
Kensington
Although it hasn't been open very long, just since 2011, Cold Tea did make an impact on the city. Well, it did once more people started finding it. This now-popular watering hole began as a hidden bar that you only knew about if you had a friend who'd stumbled upon it. Tucked away inside Kensington Mall behind a door marked only with a single red light, you'd never know there was anything worth your time inside. Now that the secret is out there are lines to get in and during the summer patio space is at a premium, but Cold Tea gave Toronto a taste for what it's like to be in on a secret. The folks behind the bar know how to mix a killer cocktail and there's a small cart serving dim sum until last call.
Queen West
The Rex has been the go-to spot to see jazz in Toronto for over 40 years. It was recently named one of the top 150 jazz venues in the entire world by DownBeat Magazine and puts on 19 shows every week, which fits with its motto of "More great jazz than anywhere else, all the time." The casual atmosphere and low prices have always made the Rex a consistent bet for a low-key night out in the city and as much as it's a great spot for local jazz, you never know who might pop up on stage. The likes of Wynton Marsalis, Harry Connick Jr., Slide Hampton, and many more greats have graced the stage.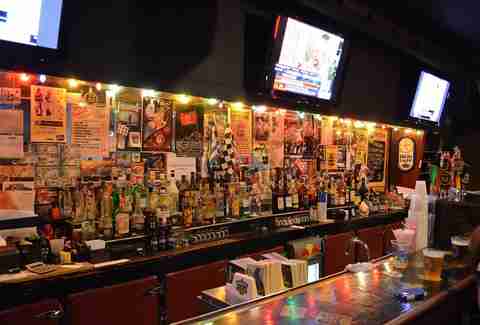 Bloordale Village
The strip of Bloor St between Lansdowne and Dufferin is slowly starting to gentrify and new bars are starting to pop up with some regularity but it's Duffy's that has been slinging beer in Bloordale since the 1940s. It remains a local watering hole through and through, attracting a mix of locals of all ages and backgrounds for cheap drinks and a good selection of craft beer on tap. It's the fifth-oldest bar in Toronto and the longest-operating bar in the area. There's live music seven nights a week, an extensive menu of classic pub eats, and daily drink specials like $4 Caesars on Sundays and pitchers of house beer for $10 on Mondays.
Little Portugal
The tiny blink-and-you'll-miss-it spot at the corner of Dundas and Ossington opened up before there was anything in the now-trendy 'hood but Portuguese sports bars. The sign above the door reads "Nazare Snack Bar" and only a small chalkboard in the window alerts would-be patrons to the bar's true identity. What began as a little spot that only a few in-the-know patrons ventured to is now a true Toronto gem that has managed to remain as unpretentious as ever despite the fact that the area is now one of the busiest for bars in the city.
Palmerston
This members-only cocktail lounge hidden above Sidecar Restaurant boasts one of the best selections of liquors in Toronto with an extensive cocktail program that focuses on recipes that date back a century or more, with some newer concoctions thrown in. The look and feel here is old-fashioned, kind of like an upscale speakeasy. And there are house rules to follow, like no phone calls at the bar, no talking to a lady until spoken to, and our favorite: "Do not ever attempt to order a cosmopolitan. You will be asked, politely, to leave."
Sign up here for our daily Toronto email and be the first to get all the food/drink/fun in town.