The 6 best (mostly) hidden spots in Toronto
We learn when we're young that hiding in secret spots is a lot fun. As we grow older, we learn that drinking beer in those spots is even better. Here are some of the best, offbeat bars in Toronto.
Cold Tea
Kensington
What you're drinking: Literally whatever the barkeep recommends.
To find this spot, cut through the discreet Kensington Mall and keep your ear close to the wall. You'll come across a secret doorway with muffled music and chatter behind it. Open it up and enter the promised land, wherein beer & cocktails can be had. There are no menus, so tell the bartender what you like, and they'll rustle you up something tasty.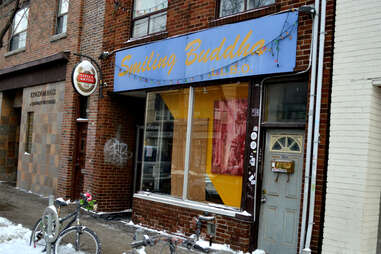 Smiling Buddha
Little Portugal
What you're drinking: A sub-$5 bottle of beer (!)
Smiling Buddha looks anything but smiley from the outside. It's a run-down dive. But it's wonderful. Go there for cheap drinks, and talk to the friendly owners about renting it for a night and hosting your own little soiree.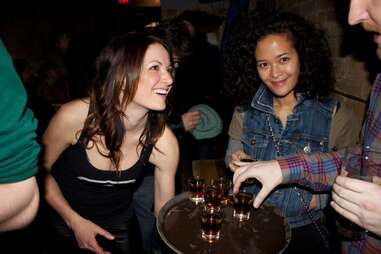 The Hole in the Wall
Annex
What you're drinking: Something from the craft beer list -- Flying Monkeys, or Beau's All Natural are recommended.
This place literally is just a hole in the wall along Dundas St West. You'll find a huge drink list and great food here. It's a long, narrow, dimly lit bar -- and inescapably comfortable. They also bring in live music that fits right in with the mood.
Unlovable
Little Portugal
What you're drinking: One of the tallboys -- the PBR is only $5.
An unmarked basement bar in the west end, Unlovable is actually quite lovable. It's underneath a travel agency and even if you're standing in front of it, you might miss it (just look for the stairs). Inside you'll find a good, dependable beer list and a mid to late '20s hipster crowd.
Green Room
Annex
What you're drinking: A pitcher of Steam Whistle.
Existing in a back alley off Brunswick Ave, Green Room is a cheap place to start or end your night. Don't eat the food, this is strictly a beer chugging affair -- the crowd is mostly students usefully exploiting their loans.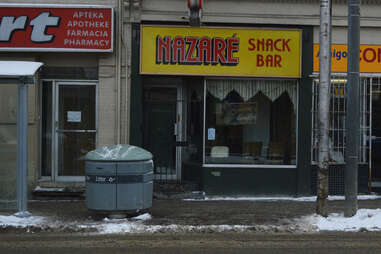 Communist's Daughter
Little Portugal
What you're drinking: Creemore Springs.
Granted, Communist's Daughter has blossomed into one of the more popular bars in the west end of the city, but it's still a great retreat to mingle with a laid-back crowd, and it's still basically hidden. Don't let the "Snack Bar" sign fool you, follow the smell of the booze.