Despite the presence of the Great Lakes, Torontonians still find the need to quench their thirst elsewhere, and thankfully there's no shortage of qualified whistle-wetting destinations. Taking on the boundless options, we bravely sifted through the dives, back alleys, suit & tie lounges, and endless patios to scope out the eight most awesome drinkeries in town: 
Recommended Video
Thrillist's Best (and the Rest): What You Actually Need to Know About Natural Wine
1) SPiN Toronto 461 King St W; 416.599.7746
If you're into taking shots while you're taking shots, then hit up Spin. They've taken 12k sqft of space and filled it with a dozen ping pong tables and two bars, putting out cocktails, draft beers, and tallboys of Muskoka Cream Ale. Smack-dab in the heart of King West, the massive space frequently doubles as a DJ'd nightclub, too.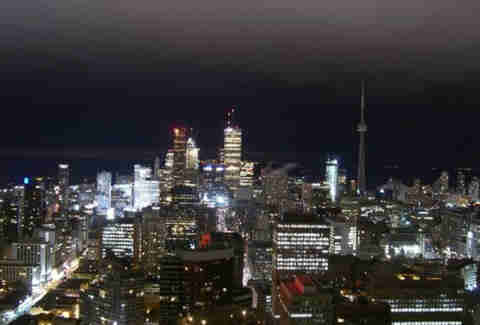 2) Panorama Lounge 55 Bloor St W; 416.967.0000
Packing one of the best views in the city from its 51st floor location on top of the Manulife Centre, Panorama throws out a sleek modern vibe with well-crafted cocktails (incl. a menu of frozens) and tap beers (like Hogaarden and Steam Whistle) that you can drink while looking out over Lake Ontario. 
3) Horseshoe Tavern 370 Queen St W; 416.598.4753
The Horseshoe may sound like the perfect place to get lucky, but it's far more than that -- in fact, seniority alone makes this bar worth the visit, never mind the countless iconic acts that have graced the stage of this Queen West institution. Since its opening in 1947, the spot's seen Stompin' Tom Connors, The Police, Blue Rodeo (!), The Barenaked Ladies, Rheostatics, The Strokes, and Joel Plasket, to name a few. The relaxed front bar often hosts neighborhood regulars, with the back bar taking the big name acts. 
4) The Drake Hotel 1150 Queen St W; 416.531.5042
A legendary landmark in the city, The Drake wraps up a café, resto, lounge, club, and the hotel itself into one package. The real gem, though, is the rooftop patio bar, serving up a great view of the Queen West district along with drinks like Shock Top Belgian ale, drafts from local micro brewery Mill Street, and a Negroni from their barrel-aged cocktail list. 
5) Sneaky Dee's 431 College St; 416.603.3090
Announcing itself as the iconic dive in TO, Dee's dark space is totally covered in graffiti and has two floors for live shows, DJ's, dancing, and $3 beers. They're extremely well regarded in the local music scene, their nacho plates are the stuff of legend, and they're totally featured in Scott Pilgrim.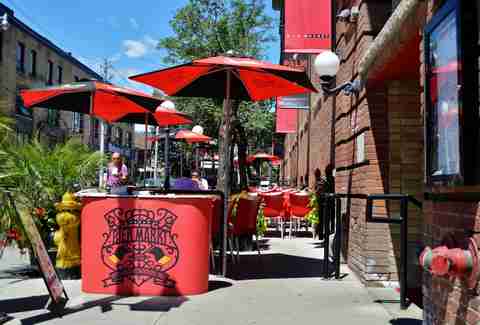 6) Bier Markt 58 The Esplanade; 416.862.7575 
Proudly boasting one of the most extensive beer menus in the city -- over 150 brands from 30 countries -- Markt serves them all via a special three-gas blend used to push the brews from keg to tap, meaning it "never comes into contact with oxygen" (which is ironic seeing as you'll likely be inhaling it). The space itself has an old-world Belgian feel too, w/ brass fittings sitting alongside bentwood chairs, and a dark, class-laden atmosphere.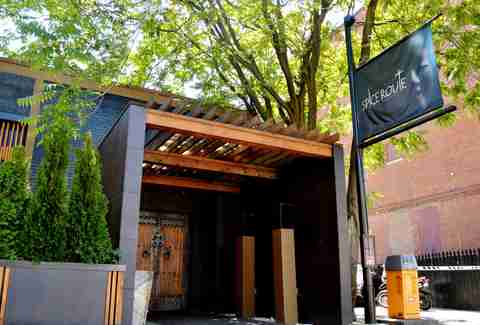 7) Spice Route 499 King St W; 416.849.1808
In the heart of King West, this Asian bistro bar offers a beautiful, lush, and shaded patio w/ impressive Asian-style stone & wood decor inside. Drinks range from the cross-pollinated Mango Tamarind Martini to their premium "Dragon Slayer" sake.  
8) Get Well 1181 Dundas W; 647.351.2337
Get Well pairs the great advice imparted by its name with reasonable prices, lots of space & seating, quirky artwork, and old school arcade machines (Tetris, pinball, etc.) that're all free to play. The craft beer menu is extensive, and even includes a house cask number. Located in Dundas West, you're also surrounded by other bars which're also deserving of your attention, incl. The Communist's Daughter, Red Light, and The Garrison, all only steps away.