These are Toronto's Bad Decision Bars
The Bad Decision Bar: part place, part state of mind, it's the spot where "one last drink before home" converts to slamming entire pizza slices in one bite between chugging beers, making out with dangerously cold-sore-ridden strangers, and helping put Mr. Jagermeister's kids through college. Toronto has at least eight, and here they are:

The Brunswick House
The Annex
The Brunny is, perhaps, one of the most shameful establishments in the city. Gross, sweaty pelvic thrust-dancing is the norm here. Be prepared to wade through a sea of college kids sharing their first beers ("I don't feel drunk at ALL man!"). Don't ever, EVER wear open-toe sandals here.
Sam Riches
Crown and Tiger
Kensington Market
$10 pitchers, cheap shots, greasy, over-fried bar food, and an unwritten three drink minimum... to go in.

The Madison
The Annex
If you think the massive patio is anything other than a projectile vomit target range, then you simply haven't been here. 
Sam Riches
Wide Open
Entertainment District
Things that will be wide open: your eyes when you see the $2.75 happy hour beer specials, then your wallet, then your attitude towards public urination. 
Cabin Five
Entertainment District
Part of the problem here is that the music is surprisingly not horrible and it's generally not annoyingly packed, but they still act like it is, so both you and your liver end up believing them.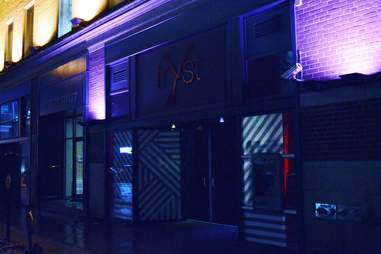 Sam Riches
Tryst
Entertainment District
Be prepared to bro out and be wary of creepy groin rubbers. It's dark. The music is top 40 and overall, it's kind of scary. Also, it's called "Tryst", which is like catnip for people who make poor life choices.
Dance Cave
The Annex
Your most horribly awkward dance moves are welcomed here with open, flailing arms. The dance floor is huge and packed and everyone is gyrating like a fish on a boat deck.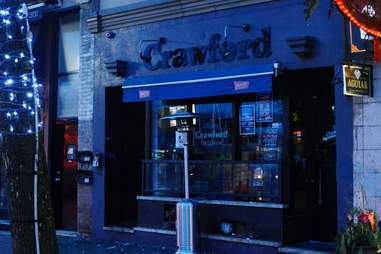 Sam Riches
Crawford
Little Italy
In the basement, the lights dim, the music is cranked, and cheap drinks and weird dancing is apparently mandatory. It's backlit, so when you spill a drink on yourself it's like your own personal light show.