Your guide to the Bier Markt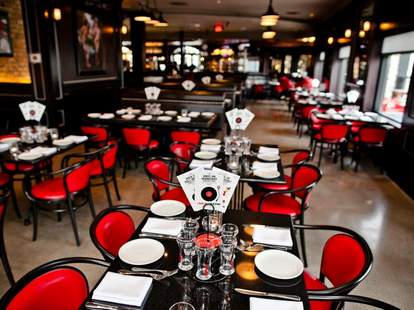 If you want to get a decent beer in Toronto, you can't go wrong at the Bier Markt: a place so tanked-up with suds, they can't even spell "beer" correctly. However, with a menu that's 30 pages long and features over 150 globe-spanning brews, navigating it can be kinda' tricky if you don't know what you're doing. Thankfully, we sat down with operations manager Dan Schmidt to help guide us through the barley-based chaos.
The Strongest
The La Trappe Quadrupel: at 10 percent alcohol, it takes the cake. It's brewed by monks in the Netherlands, so make sure you don't develop a habit.
The Cheapest
Weighing in at a mere $5.75 a pint, the most modestly-priced barley pop is the Stiegl Radler, which is cut 50/50 with grapefruit juice. Schmidt tells us it's great with brunch "so you don't look like a drunk". Right, look like.

The Most Expensive
The outlier at the other end of the scale is the Rogue selection, from Ashland, OR. The BM brings in four different Rogue offerings each year on a rotating tap, and each runs you $10 and change -- currently on tap is the OREgasmic Ale.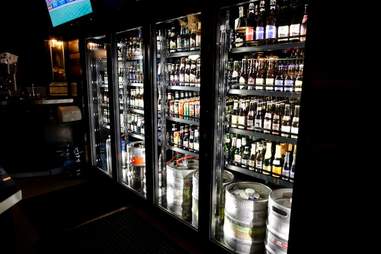 Bier Markt
Farthest Traveled
Showing off their truly globe-spanning credentials, they're slinging Sinha Stout (which means "lion" in Sanskrit) all the way from Sri Lanka, which if you do the maths, is almost exactly on the other side of the globe.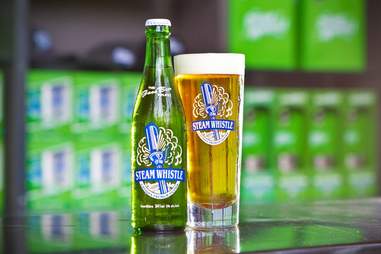 Steam Whistle
Local Flavor
They're slinging Steam Whistle on draft, which was brewed less than a mile from both their King West & Esplanade locations.
Recommendations
Dan's a big fan of the Pilsner Urqell; "at 4.5 percent, you can drink it all day, and it's arguably the first blonde beer ever made". Dan also really likes Hasseroder, "which is a classic German Pils-style beer from the Hasseroder lager yeast strain".

Beer Cocktail?
Yes, they have beer 'tails. Schmidt recommends the Swedish Mojito: a blend of Somersby hard apple cider, house-made strawberry coulis, fresh mint, and Swedish berries.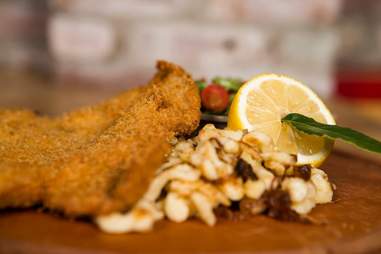 Bier Markt
Beer Pairings
BM also does (delicious) food, which includes a smoked meat poutine. Although you could legitimately stop reading right there, Dan's also put together some handy pairing suggestions if you're having a brew with each course. Hitting the apps, their mushroom soup goes down nicely with some Palm amber ale; moving up to mains, this chicken schnitzel will soak up a Pilsner Urquell nicely; and for dessert, the chocolate mousse cake needs some Sinha Stout to wash it down.