Meet Möet Hennessy's First Premium Tequila
Möet Hennessy has built a legacy as one of the world's most esteemed spirits conglomerates, boasting a portfolio of carefully curated luxury labels like Glenmorangie, Ruinart and more. So it came as a surprise to some when they recently unveiled their latest venture: a premium tequila brand dubbed Volcan De Mi Tierra.
While the trend of high-end tequila has been on the rise in recent years, the Möet Hennessy masterminds knew their debut in the space needed a different and authentic approach. According to Trent Fraser, the brand's CEO and president, "We set out to build something for generations to come. Our mission was never to simply create a tequila, but to show the world what tequila is capable of."
Ian Centrone
Instead of taking the easy route and acquiring an existing brand, Fraser and his team spent years ideating, researching and scouting potential locations to serve as the home base for this massive (yet small-scale) undertaking. To bring the dream to life, they ultimately partnered with Don Juan Gallardo, a Mexican businessman with deep ties in the region.
Together, they landed on a small distillery in Jalisco, an area revered for its premium blue agave. In a serendipitous twist of fate, the location just so happened to sit in Jalisco's lowlands at the base of aptly named Volcan Tequila, or Tequila Volcano. In more ways than one, the coincidence helped shape the brand's burgeoning identity.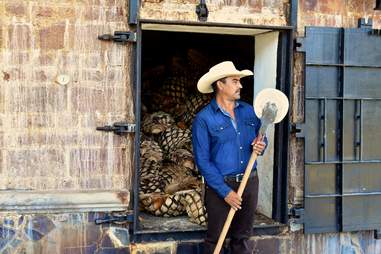 Ian Centrone
Apart from offering a brilliant brand narrative, the land's volcanic roots also lend a unique advantage on a chemical level. The volcano's eruption 200,000 years prior infused the soil with volcanic ash and rich minerals. This is in part what differentiates the spirit from the competition.
While most tequila companies are narrowly focused on the Mexican highlands, Volcan De Mi Tierra uses a proprietary blend of pure blue agave harvested from both the high and lowlands, resulting in an unmatched, multifaceted flavor profile. The difference can be tasted in both of the brand's current expressions: Blanco and Cristalino.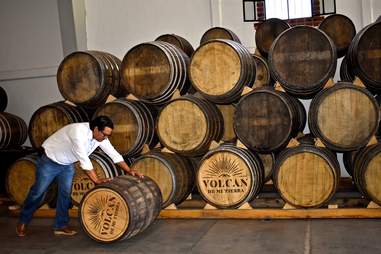 Ian Centrone
The Blanco variety is produced using a majority of lowland agave, whose piñas are slow-roasted in a stone oven for more than 30 hours before being crushed by a massive volcanic stone and distilled on site. The handcrafted process imparts a more fruit-forward flavor in comparison to its companion expression, with hints of citrus, cherry and pear. The Cristalino blend undergoes an additional aging method, spending months in oak barrels to impart an element of consistency and bold, smooth flavors like caramel and vanilla with hints of chocolate.
Everything from roasting, aging, bottling and labeling takes place onsite at their distilling facility, which blends time-honored techniques with modern-day innovations. The process is labor-intensive, but true to the brand's handcrafted methodology and worlds away from the processes utilized by other industry juggernauts.
Ian Centrone
Quietly rolled out a few months ago in the U.S. and in Mexico, the bottles can be found today sitting pretty in a handful of cosmopolitan hotspots, such as New York's Chinese Tuxedo, Chateau Marmont in West Hollywood and Faena Hotel Miami Beach. Tequila aficionados looking to introduce Volcan De Mi Tierra to their personal collections can purchase the bottles at distributors like Sherry-Lehmann Wine & Spirits in Manhattan and Wally's Wine & Spirits on the West Coast. Both expressions can be sipped neat, over ice or in your favorite tequila-based tipple (although we recommend enjoying them as standalone spirits).
What lies ahead for Möet Hennessy's latest endeavor remains a bit of a mystery. As interest grows, various international markets are vying to be considered as candidates for the brand's global expansion, but only time will tell where Volcan De Mi Tierra rolls out next. The team is also reportedly experimenting with additional innovations for a potential new offering, which would launch in 2019. Until then, we recommend embracing the brand's ethos and raising a glass "to the moment."