Drinking Cocktails in Outer Space at barmini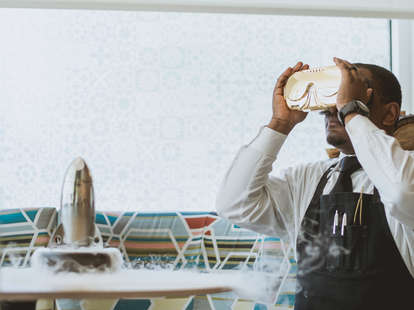 Jenny Dorsey
Jenny Dorsey
It was only a matter of time until augmented reality (AR) and virtual reality (VR) found their way into the mixology world. Savvy consumers, for whom hidden speakeasies and themed bars are passé, are now looking for more interactivity, theater and next-level technology alongside their cocktail pours.
For many customers, AR/VR remains a new experience, giving bars experimenting with the technology the option to introduce it through relatively simple setups. Last year, Michelin-starred City Social in London added augmented visuals to their cocktails, entertaining patrons with scenes like a mini virtual Marilyn Monroe sipping on a smaller replica of the guest's drink while blowing kisses. This type of "marker-based AR" is essentially the new-age version of a QR code, using a design "target"—drink coasters, in this case—to activate the visuals via a mobile app. However, as "markerless AR"—AR that detects real-time environments and activates in proper spatial context without targets—gains momentum, multi-layered scenes or even mini-games that extend beyond the immediate vicinity of the drink will become feasible.
On the VR side, Chicago's Baptiste & Bottle premiered its "The Macallan Rare Journey" tasting flight last year with 360-degree video footage explaining the scotch brand's roots. London's One Aldwych offered a similar experience, providing scenery of the Scottish Highlands alongside a Dalmore-based cocktail. Currently, 360-degree video remains the most practical option for bars experimenting with VR as it can be deployed with a phone-based headset, but the new wave of powerful headsets with remote controllers could change that. Future cocktail menus may even offer guests a virtual choose-your-own-adventure, so each patron's experience can be wildly different even if they happen in the same space.
If centrifuges and rotary evaporators can become regular fixtures at a high quality cocktail bar, it's not too wild to think AR and VR will become more common. To see the latest in AR/VR cocktails, I traveled to Washington D.C. to visit two experimental cocktail bars: Jose Andres' barmini and technology-forward gallery Artechouse.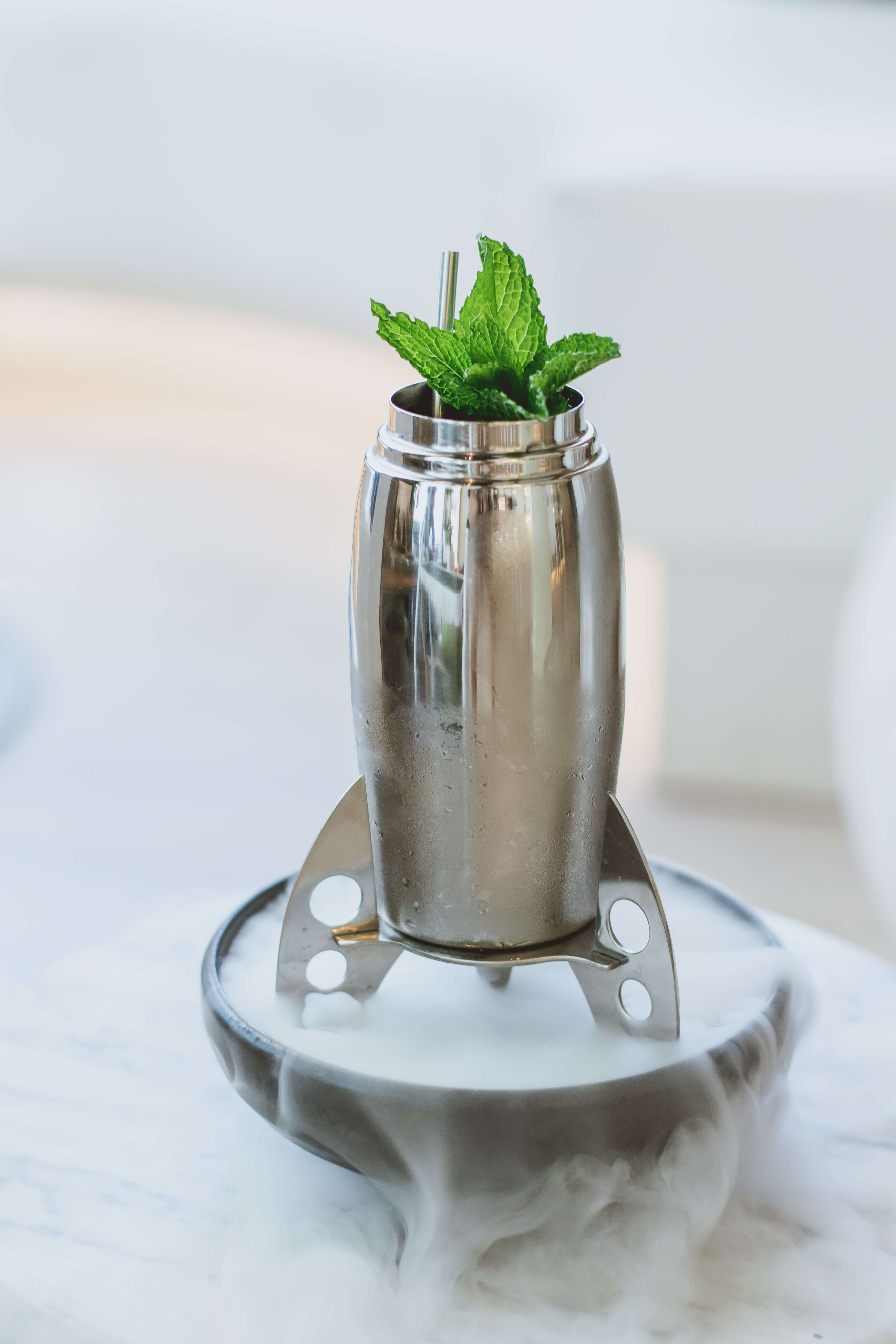 Stepping into barmini, the first thing I notice is their rabbit chair. Posed opposite a hanging egg seat, it's grey and furry, with an oval-sized white pouch for a belly and long ears extending above the backrest. "It's part of a limited set," says Maria Guerrero, barmini's marketing manager. The chair fits in slyly with the rest of barmini's décor, a balance of demure elegance and silly fun; delicate, long-stemmed fluted glasses sit next to stacks of Pokémon cards and towers of Legos. The current cocktail flight is titled "Nostalgia" and draws inspiration from childhood toys and the feeling of innocent wonder. There's a drink served alongside a paper rabbit pulled from a hat, which then disappears in a flash of fire; another creation is topped with a giant smoke-filled bubble as ode to the Pokémon Squirtle's water-based powers.
The impressive length of the full menu—some 200 or so beverages—gives the barmini mixologists a solid foundation to continuously mix, match and tweak their revolving cocktail flights. As head mixologist Al Thompson says, "No cocktail is ever really finished." His latest foray has been testing guests' appetites for virtual reality with a longstanding menu favorite, the Apollo, a vodka-based cocktail with ginger, lemon, St-Germain, imbue (a bittersweet vermouth from Oregon) and mint. While the rocket-themed cocktail has been on the menu since day one, its presentation has changed dramatically since then. It's now housed in a sleek, silver rocket ship, perched atop a bowl of dry ice that is dissolved dramatically upon serving, sending out billowing tendrils. "We kept thinking, how can we replicate the fumes and fire of an actual rocket taking off?" Thompson says. "Our goal is always to put customers in that moment so they truly connect with the cocktail."
It's time for me to experience the new 360-degree video addition first hand, so I scoot into the round corner booth. Thompson hands me a pair of ludicrously large, gold VR goggles to strap on. Inside, I find myself at the base of a rocket launch at NASA. The countdown is on, and when it hits zero, I'm hurtling into space. Moments later, I'm viewing the Earth from afar. Orbiting satellites pass through my periphery, and as I shift my head to follow them I sense Thompson motioning that, "It's time." Once the cocktail arrives, its thick plume of smoke draws my attention back into the stratosphere, and I take off my goggles in time to see drink be uncapped.
Timing is the most complicated part of the experience, something Al says the team is still working on perfecting. Some guests may not give a consistent cue—turning noticeably to the left—that tells barmini's mixologists it's time to dissolve the dry ice. Right now the Apollo cocktail with the full 360 experience is available by request only, but it is expected to be on the menu in its entirety soon. The barmini team is also finalizing which custom production studio to work with, so future VR cocktails are certainly in motion. "Our rooftop is in the perfect location to see almost all the sights of D.C.—except for all the buildings in the way," Maria says. "What if guests could take a virtual tour of the city, seeing all the sights around us, learning more of the history of each place while enjoying cocktails?" If that cocktail flight is as fun as the current menu, it may just become the best way to explore our nation's capital.
Standing at the center of Artechouse's Sakura Yume exhibit, a celebration of D.C.'s cherry blossom season, felt a little like dunking my head inside a giant goldfish bowl. Three 20-foot, floor-to-ceiling walls hold a panorama of larger-than-life floating sakura flowers and koi fish, all drifting breezily against a deep blue backdrop. Despite the digital nature of these projections, the atmosphere feels soothingly natural, inviting visitors to burrow into one of the many bean-bag chairs and relax. If you, like me, want to be an active participant, there's an option for that too: 3-D cameras are outfitted on each wall to detect individual movements, enabling each visitor to raise their hand and harness little beams of light to bounce across the room.
Artechouse prides itself on creating interactive installations that allow visitors to shape the experience around them. The adjacent installations from other artist teams are similarly interactive, with depth-sensing cameras giving visitors the power to feed virtual koi fish, spur a cherry tree to bloom, light up physical paper lanterns and paint rainbow swirls on an interactive dining table. The previous exhibit, "Spirit of Fall," gave visitors the power to add virtual thunder and rain against a backdrop of autumn leaves, as well as decorate each maple leaf as their own to be digitally archived.
The bar at Artechouse mirrors the essence of the exhibit with a full AR cocktail menu, each drink conveying a different storyline that adheres to the theme of Sakura Yume. Bloom, a gin-based Sour with grenadine and egg white, uses a custom edible paper design to activate virtual cherry blossoms that bloom and fade along the rim of the coupe. Tidal Basin is a shochu-based drink with grapefruit, ginger and tonic; it comes topped with rosemary foam. The AR scene here—a Japanese couple sitting on a bench beneath cherry trees waiting for the bus—is triggered by a custom-printed drink coaster. As the guest watches, a small dog runs by, flowers rustle and fall with the wind, and finally the bus pulls up. The visuals are impossibly intricate—I was especially charmed by the tiny signpost with detailed, colored lines reminiscent of the D.C. metro.
AR has cemented itself as part of Artechouse's repertoire, with augmented visuals starting from outside the gallery space and continuing into the cocktails. "We first experimented with AR in our November exhibit [The Spirit of Fall]," says Lena Galperina, Artechouse's guest experience manager and one of its first employees. "Guests loved it so much, we decided to keep adding more." The turnaround time to open new installations is tight—only a week and a half—so the artists, developers and mixologists all work with a clear vision as to what visuals are to be set in place, and why it is important for the theme. "We don't add AR to something just to do it," Galperina says. "We feel strongly the art we create needs to make sense and have an impact."