How to Be at Happy Hour for 10 Straight Hours in DC
What if happy hour was TEN TIMES as long as its promise of 60 sweet sweet minutes of cheap drinks and food specials? That can happen for you, if you stick to Downtown DC on a Friday night. We've lined up your itinerary -- get ready to hit a different spot every hour for ten straight hours.
Downtown
Start off at the buzzy 45-seat bar on the first floor of Mango Tree in CityCenterDC. The new Thai titan opted to keep things simple by pricing everything at $6. Margaritas, sangria, wine by the glass, Tiger beer... it's all six bucks. So too are happy hour bites, like Northeastern sausage, chili flake calamari, and vegetable spring rolls.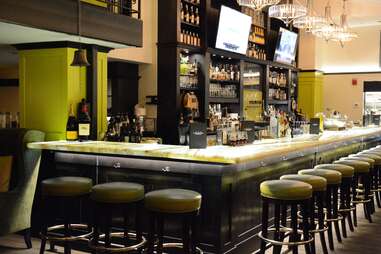 Downtown
Settle onto a stool at this lime green lair for $5 wine, beer, and rail drinks or a $6 cocktail that's consistently rotating. Whatever it is, it'll pair well with $1.25 East Coast oysters with all of the fixings or dollar clams. In addition to the happy hour specials, there's a "bill of bar fare" eight lines deep boasting affordable bar snacks, like cast iron-aged Italian provolone with peppers and grilled bread ($10); shaved coppa ham with pickled eggs ($7); or Hamburg sliders with sweet onion and cheddar ($7). Think of this as your chance to try something other than Boss's legendary fried chicken.
Chinatown
Jump start stop number three with a gourmet boilermaker consisting of draft Sapporo and a shot of shōchū for $6.50. Just don't embarrass yourself by dropping your shot into your beer while chanting. There's no such thing as a shōchū bomb (yet!). Move on to discounted nibbles ($2-$5), like carrot fritters, chicken karaage, and beef tongue skewers. Order edamame for the wet noodle in your friend group. Then, an eight-ounce carafe of Sho Chiku Bai, Daikaya's house sake.
Chinatown
What's that? You're fading? Man up, happy hour cowboy, because the sun has barely set. Drop down into Denson Liquor Bar for the next installment of discounted bivalves. A half dozen runs $8; a full dozen, $15. Wash them down with $6 beer and wine, or more impressively, $9 cocktails that typically run closer to $14. Eight oysters and a Negroni in, you'll feel recharged.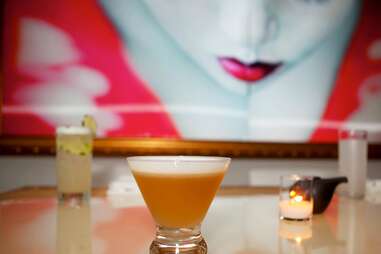 Penn Quarter
On to SEI for imaginative $6 bar food and sushi, like wasabi guacamole, kobe sliders, and hand rolls. It's a bit bright in there, so be prepared to find out what your friends really look like after four hours of happy hour gluttony. Drink-wise, you'll find $7 cocktails like The Silver Samurai, or the "Faux Punishment," which thankfully predated Fifty Shades of Grey.
Downtown
Think of this like halftime. The only thing you need to worry about is ordering cheap beer and people-watching. The Bottom Line offers "beat the clock" happy hour on Fridays, meaning beer starts dirt-cheap and escalates hourly to... still dirt-cheap. During your visit from 8-9pm, Miller Lite bottles are $2. At this point in the night, you'll understand that whole "less filling" side of the argument.
Chinatown
These. Prices. Are. Insane. Especially at such a prime hour as 9pm. Would you like a bowl of black mussels or Kobe beef-style carpaccio for $4.99? Yeah, we thought so. If you're craving something warm and gooey, there are also $3.99 pretzels with cheese sauce or a $5.99 blackened chicken quesadilla. Drink specials are generous too: $4.50 domestic drafts; $5 import and craft drafts; $4 well spirits; $6 wine; $6 margaritas and mojitos; and finally, $7 martinis (of the '90s cosmo, appletini, lemon drop variety).
Downtown
Use this as your last chance to fill up on something substantial, because these snacks are pretty much designed for someone that's been sipping since 3pm: bacon popcorn & candied peanuts; duck fat fries with truffle aioli; fried pickles with Cajun remoulade; and skillet fried shishito peppers. They're all $7-8. Select craft beers are available for $5, or you can get a beer and a shot for $7.
Downtown
Get in your last half-priced aphrodisiacs at Old Ebbitt Grill while turning the conversation to the historic gravitas of the establishment. Ask, exactly how many marathon happy hour soldiers have come before us to slurp oysters? They're half price, and you'll occasionally find other raw bar specials.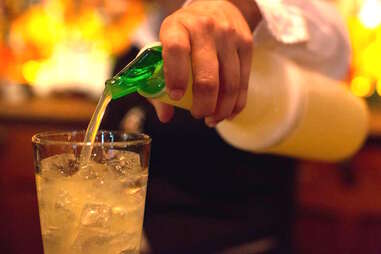 Chinatown
Consider this your happy hour nightcap. The edges of the room are fuzzy, you've learned more about your friends in 10 hours than you ever thought possible, and all you want is one more drink to toast your success. Get it at Clyde's Gallery Place, where mixed drinks are $5, along with some wine -- if that's your kind of thing. Congratulations, you made it.
Sign up here for our daily DC email and be the first to get all the food/drink/fun in town.