10 Local Beers to Drink Before You Die (or Leave DC)
Hardywood Park Craft Brewing
Do you have a DC beer bucket list? You do now! We asked 10 brewers, beer writers, beer directors, bar owners, and the like to name their all-time favorite local beers for the benefit of the thirsty masses. See which local suds they never pass up -- it should cure your case of local beer FOMO now that there are so many options. ("Local" is being defined as DC, MD, and VA.)

Hardywood Park Craft Brewing Cream Ale
4.4%
Richmond, VA
"A legendary American beer invention." That's what Garrett Peck calls cream ales. "They're crisp and slightly citrusy, not unlike a Kölsch, yet they're relegated to relative obscurity today. It's a fine session beer," says the beer author. Hardywood's take comes in a can as a nod to Richmond's claim to fame of introducing the world to canned beer. First released in May 2013, Hardywood's homage to Krueger Brewing Company's cream ale is unfiltered, smooth, and super-refreshing. Garrett points out that the forthcoming Portner Brewhouse in Alexandria plans to make a cream ale when it opens.
Port City Brewing Porter
7.2%
Alexandria, VA
This chocolate bomb is a favorite of two brewery owners who know good beer when they see it. Dave Coleman, Co-owner of 3 Stars Brewing Company, says, "This local take on a traditional porter is smooth, creamy, and filled with tons of roast for a great sip." Also dishing high praise: Julie Verratti, Co-owner of Denizens Brewing Co. "This is one of the best porters I've had. I love the well-rounded dark and sweet malt flavor."
DC Brau On The Wings of Armageddon
9.2%
Northeast DC
What makes this imperial IPA special is the single hop blend, "Falconer's Flight," named after the late trailblazing brewer Glen Hay Falconer. Area hopheads think it's tasty. Dave Coleman says "it's a great double IPA with big hop character and a nice finish." And James Barnes, homebrewer and co-author of BrewDC, agrees. "Sure, the canned IPA hype-culture gets a little tiresome, but once you sip past the fanaticism you'll find that OTWOA is a very respectable example of the double IPA style."
Atlas Brew Works Rowdy
6.2%
Northeast, DC
Rowdy is a deep ruby ale that's aggressively flavored thanks to the inclusion of three types of hops and a grain bill that includes rye. Garrett Peck, author of Capital Beer: A Heady History of Brewing in Washington, DC, digs it. "You don't see many rye-based beers out there; this one has a nice spiciness to it." He recommends using it to wash down your chili dog and Good Humor ice cream bar at a baseball game. Bill DeBaun, co-editor of DCbeer is excited about rye. "The resurgence of rye as a spirit has a counterpart in this Ivy City brew; a spicy, full-mouth feel is partnered with a wallop of grapefruit and resin notes."
Port City Brewing Optimal Wit
4.9%
Alexandria, VA
This Belgian-style witbier is the brewery's flagship beer for a reason. Derek Terrell, owner of My Local Homebrew Shop in Falls Church, fancies the "mild tartness that balances the malt sweetness perfectly -- and the blend of spices makes the whole beer pop." Talk about local -- the beer is brewed with Virginia-grown wheat (plus Spanish orange peels and coriander!). "Sometimes we need a break from the bitter," says James Barnes. "It's a great sessionable beer for the summer months," admits the otherwise hop-obsessed beer geek.
Hellbender Brewing Company Southern Torrent Saison
5.5%
Northeast, DC
There's no "Summertime Sadness" in this tall-drink-of-water summer ale once the oppressive humidity hits, thanks to its refreshing, crisp, and floral characteristics. Amy Bowman, Owner of craft beer bar The Black Squirrel, thinks it's nearly nirvana. "The city's newest brewery has delivered the perfect saison to address our sultry summers: it's bone-dry with hints of pear and apple and a bit of funk." She calls it highly drinkable, and we're not arguing.
Bluejacket Swirl Sour Strawberry Brown
8.6%
Southeast, DC
"The aroma reminds me of 1980s plastic toys I grew up with that smell like strawberry shortcake," says Julie Verratti. "The sourness on the palate is the perfect reminder that I'm an adult now." The reddish-brown ale tastes like strawberries because it's brewed with 120lbs of them after hanging out in Bluejacket's sour tank. "I had it recently and I can't stop thinking about it," she says. It's on draft at the Navy Yard brewpub.
3 Stars Brewing Company Southern Belle
8.7%
Northwest, DC
"This classy lady is the belle of the ball: dark, rich, and a little nutty," says Nahem Simon, Beer Director at Jack Rose Dining Saloon. Southern Belle actually forms the base of Jack Rose's proprietary bourbon barrel-aged collaboration brew, The Queen of The Damned. SB is an imperial brown ale that tastes a bit like roasted coffee, plus toasted pecan and oak, thanks to the incorporation of flaked oats. 3 Stars recommends pairing it with everything from funky cheese to pie.

Devils Backbone Brewing Company Schwartz Bier
5.1%
Roseland, VA
Jon Arroyo, Beverage Director at Founding Farmers, gets fanatical about Devils Backbone. "I love their consistency in overall quality -- their Schwartz Bier was the first DBB beer I ever tasted and it was love at first sip because of its nice lager yeast, great mouth feel, and excellent dry finish." Perhaps that's why the German black beer took gold in 2012 and 2013 at the Virginia Craft Brewers Fest.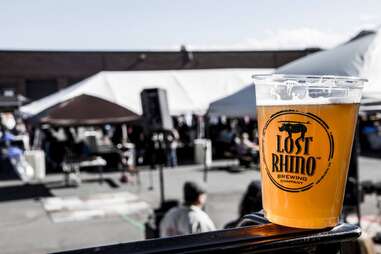 Lost Rhino Brewing Company Rhino Chasers Pilsner
5.6%
Ashburn, VA
You should feel like you're diving into early morning surf with your first sip of Rhino Chasers Bohemian-style Pilsner. Ben Matz, Bar Manager at Eat The Rich, appreciates its ability awaken the senses. "It has clean maltiness, plus citrusy characteristics, earthy bitterness, and a crisp finish, making it the perfect beer to drink at 4am." Mind you, Matz tends bar until late in the evening. The Lost Rhino team recommends drinking it alongside everything from chicken tandoori to fried oysters.
Sign up here for our daily DC email and be the first to get all the food/drink/fun in town.