10 Things You Didn't Know About Natty Boh
Patricia Williams
Patricia Williams
Natty Boh is the little beer from Baltimore with the big cult following. These iconic suds have created some of the most loyal fans alive for the past 129 years. Prove you're part of the club by spouting some serious knowledge next time you're in Bohtimore, or just about any decent DC bar.
1. It'll always belong to Maryland, even when it doesn't
Even though it's no longer brewed in the Land of Pleasant Living, 90 percent of Boh is consumed in (former) Ray Lewis territory -- usually accompanied by crabs. We now have Pabst to thank for keeping the dream alive; they bought the brand in 1999.
2. You can thank them for the six-pack
National Brewing Company is responsible for the way you drink beer today. When they rolled out six-packs of Natty Boh cans in the 1940s, they became the very first brewer to dole beer out by the half dozen. Eight would've been WAY too intense.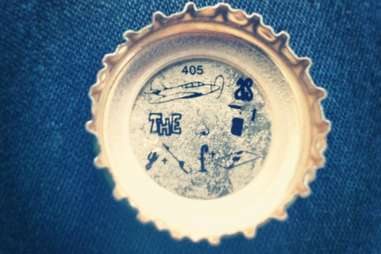 3. Their old-school puzzles have a new-school app
Each bottle of Boh tastes great AND prods your brain. Under the cap, you'll find 413 unique rebus puzzles that have remained unchanged since the '70s. Can't solve yours? There's an app for that. Or, there will be. Soon, you'll be able to plug in your puzzle number on the go. For now, visit this solver site.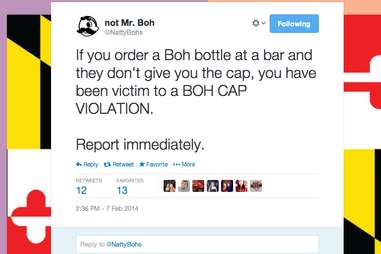 4. Bars need to know how to serve it properly
One of the biggest crimes in Charm City (hyperbole?) is failing to provide a bar patron with their Natty Boh bottle cap. No cap = no puzzle = not cool. The term for this is a Bohviolation, and one local Bohmaniac will DM warnings to Boh violating bars from his handle, @NattyBohs. You should too.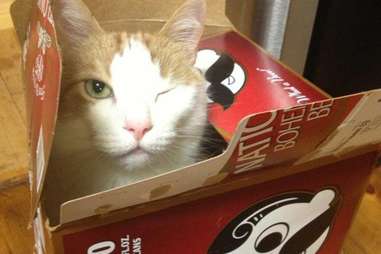 5. No, the artist didn't get lazy
Like any legend, there are several stories about why the mustachioed mascot Mr. Boh only has one eye. Most subscribe to the theory that "Gunther's got it." Gunther beer was Natty Boh's top competitor in the post-prohibition days of the 1930s.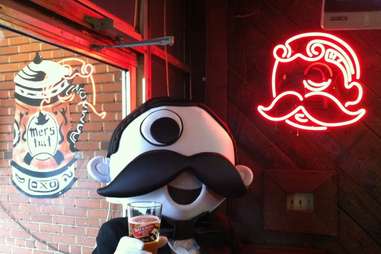 6. For more than a decade, you couldn't get it on draft
In 1996, Boh stopped being sold in kegs. For 15 years, no tap in America dispensed Boh on draft. That changed one momentous day in 2011 when Nacho Mama's in Canton became one of the first to tap a Boh keg on February 3rd. Today, the Elvis-obsessed, Mexican restaurant is still an unofficial keeper of the Natty Boh brand.
7. A Bohmantic proposal is possible
If you want to bring some serious Bohmance to your marriage proposal, it can be done. A dude recently gained access to the roof of the iconic Natty Boh Tower in Brewers Hill, toting candles and all. We like to think that's where Mr. Boh proposed to his gal Salie from Utz chips.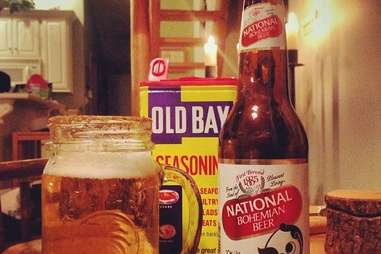 8. It goes great with Old Bay
You Got Crabs? That's the name of a special at Red Derby. Have one by chasing a shot of Old Bay vodka with a cold Boh. Elsewhere, try a Boh-tini made with crabmeat, a Natty Boh, and an Old Bay rim. Supreme pros drink Kosher Bohs -- a hat tip to the Pikesville, MD Jewish community. Crack open a can, pour in as much Pikesville Rye as possible and then coat the entire can with Old Bay.
9. There's an EXTRA badass way to drink it
Not into all those cocktails? Take a knee and shotgun a Natty Boh instead. It's called an Omar, thanks to the to the heat-packing character on The Wire. As of this month, thirsty Boh drinkers can attempt to Omar a "Big Boh", the new 24oz can.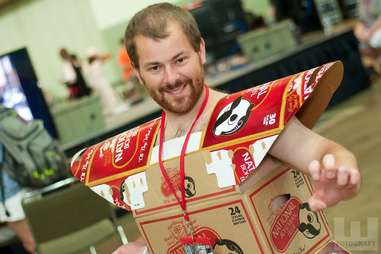 10. It has its own language
Natty Boh drinkers (like Michael Phelps and Jason La Canfora) are dedicated. They get inked, order Boh when there are 200 beers on tap, and even speak their own language... Like these movie titles from Twitter: Last of the Bohecians, There Will Be Bohs, Boh'rn Identity, The Big Le-Boh-ski, or Bohback Mountain. Share your own Bohisms (or any other fond Boh memories you might have) in the comments.
Sign up here for our daily DC email and be the first to get all the food/drink/fun in town.