10 DC-Area Chefs Name Their Favorite Dive Bar
The chefs we trust to cook our food should also be trusted to guide us to the best places to blow off steam without annoying things like mixologists, secret doors, or weirdos from out of town. We asked 10 for their go-to dives, and it should come as no surprise that they're directing you to establishments that specialize in beer-and-shot combos and no bull.
Chef Mike Friedman of The Red Hen and forthcoming restaurant All Purpose
His pick: Boundary Stone (address & info)
Bloomingdale
What it is: A neighborhood bar named after the mile markers that once shaped DC that's easygoing and big on brown liquor and beer.
Why he digs it: "It's rare that I get out to tie one on these days, but if I do, I'm a big fan of beloved watering hole, Boundary Stone," Mike tells us. "I consider The Stone far from a dive bar because of its great whiskey program, awesome food, and one of the best jukeboxes in town. But for me, the true definition of a dive bar is a small pub where people can drink and have a great time, and Boundary Stone fits that bill." Mike bellies up to the bar to order a shot of whiskey and a Guinness to go with the bleu burger or he gets the wings and washes them down with a draft. "The best part is I can still get home before my wife starts to worry."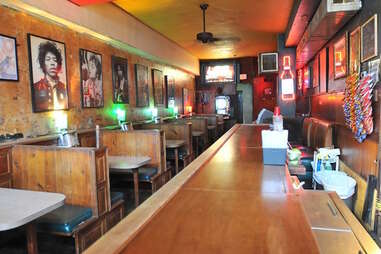 His pick: The Raven Bar & Grill (address and info)
Mount Pleasant
What it is: An iconic no-frills dive older than most of its customers where the drinks are dirt cheap, and the only food you'll find is a bag of Utz chips.
Why he digs it: John was introduced to The Raven in 1998 when he was living on Irving St. "It was the perfect watering hole for a line cook in his early 20s because it was open early, Seagram's 7 & 7UPs were $5, and the jukebox was $1 for five songs," he says. "It was the kind of place that was friendly enough, yet you wouldn't run into huge groups of overly happy and loud people."
His pick: Showtime Lounge (address and info)
Bloomingdale
What it is: A cash-only, dog-friendly dive serving beer-and-shot combos whose most charming attribute is its house funk band starring an octogenarian.
Why he digs it: Rob says he loves the grungy feel to it created by low lighting, cheap drinks, and the "kinda sweaty" atmosphere created when it's busy. "It's just a great place to go if you want to get hammered for $25 over the course of an hour or less," he says. "The crowd is generally young hipster types from in and around the neighborhood, but the spot is becoming more and more popular by the day." He's ordering a Natty Boh or Genesee Cream Ale with a shot of cheap whiskey for $5. You also can't miss out on Granny and the Boys on Sunday nights.
His pick: Ivy and Coney (address & info)
Shaw
What it is: A Chicago- and Detroit-themed dive with a heavy emphasis on sports, booze, and ballpark eats that isn't afraid to pour Malört for the uninitiated.
Why he digs it: "It's one of my favorite no-frills watering holes," Nick tells us. "It's easy to miss the green door when walking down 7th Street, so keep your eyes peeled for this low-key spot. I like to post up on a night off for a cold beer and a ballpark-style dog for next to nothing." He even provides this tip: "It's cash only, so don't forget your dolla bills!"
His pick: DC9 (address & info)
U Street
What it is: A nightclub that cranks out live music, juicy burgers, and cheap, stiff drinks without the triple-popped collar pretentious crowd.
Why he digs it: Nathan's a big music fan, that's why one of his spots is called B Side. He tells us he swings by DC9 en route to a show at the 9:30 Club for a couple of Heinekens. "The jukebox and the laid-back vibe are major draws," he says.
HIs pick: O'Shaughnessy's Pub (address & info)
Old Town Alexandria
What it is: A Cheers-like, laid-back den with pool tables, live bands, an interesting cast of characters, and Jewish deli food from downstairs.
Why he digs it: Harper picks O'Shaughnessy's if he's going to get wild. "You can still smoke in there, they have three pool tables in the back, and a good jukebox, not to mention cheap pitchers and cheap whiskey shots." He says the crowd is made up of Alexandria locals and "a bunch of poor line cooks drinking away their last $10 on a pitcher."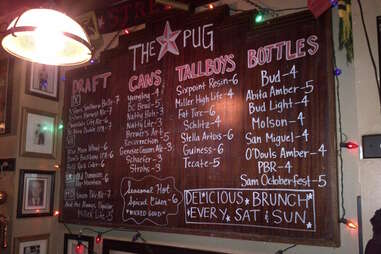 Her pick: The Pug (address & info)
H Street NE
What it is: A cash-only dive with a sense of humor, barely playable board games, Rock'em Sock'em Robots, and rules like "relax," "behave," and "no politics."
Why she digs it: "I love that the walls are covered in knickknacks and memorabilia, and it always feels welcoming," Marjorie tells us. She lives down the street so that helps too. "The best thing to order at any good dive is a beer and a shot; I go for Jameson and a Narragansett."
His pick: Art's Tavern (address & info)
Falls Church
What it is: A pub offering all the staples: trivia, karaoke, game day specials, burgers, and chili mac.
Why he digs it: "Art's is the kind of neighborhood bar that is typical in other parts of the country, but rare in this area," Victor tells us. "It has genuinely nice people and live music and is just a really comfortable and friendly spot to grab a domestic draft after a crazy dinner rush at Taco Bamba." He also likes the darts and local sports on TV.
His pick: The Saloon (address & info)
U Street
What it is: A multi-floor dive with a big heart, German beers, and a lot of rules (the best of which is no standing).
Why he digs it: Russell says The Saloon is his favorite bar, though he's not sure it's all that divey (it's pretty clean after all). "The owner doesn't bother with trying to please everyone, but every year he closes for a few weeks and goes to build a school for a community in need with a percentage of his earnings," he says. The bar is actually considered a non-profit. "The beer selection is fine, and the food is all it needs to be -- I'm a creature of habit and usually keep it simple by ordering a Kasteel Tripel and some nuts."
His pick: The Codmother (address & info)
U Street
What it is: A sweaty cave filled with hormones and high energy that's not afraid to put out a sign that proclaims "three steps down to what some call the shittiest bar in DC."
Why he digs it: "There's nothing better for a tired, stinky chef than to go to a quiet, dark, and underground dive," Travis says. "Except, when said bar has shot-and-beer combos for like six or seven bucks. The bartenders don't bother you if you don't bother them, but they are quick with a drink when you nod." He calls the crowd typically very easygoing, and digs that you're encouraged to write on the walls and "be yourself."
Sign up here for our daily DC email and be the first to get all the food/drink/fun in town.