All the Best Wine Bars in DC
Hey you. You there drinking the $14 Old Fashioned while complaining about how expensive wine bars are. DC has really stepped up its wine game, and here's why you should be paying attention: first of all, there are usually women there. Second, even the priciest spots offer sweet deals. And third, since we're number one at drinking wine in the nation, you should probably do it somewhere cooler than your English basement apartment. Do it at DC's 13 best wine bars.
Laura Hayes/Thrillist
<em>Dupont Circle</em><br />
Use your next meal in the enchanting Iron Gate garden and carriageway to explore Greek wine, especially if you spot wine director Brent Kroll walking the floor. The guy talks about wines from Greece with the passion of a veteran sports announcer calling Game 7 of the World Series. Brent's wine list helped Iron Gate land a spot on &nbsp;<em>Wine Enthusiast</em>'s list of "America's 100 Best Wine Restaurants" for <a href="http://www.winemag.com/100-Best-Wine-Restaurants-2015/Iron-Gate&quot; target="_blank">good reason</a>. It also took the best wine program title at the 2015 RAMMYs. Wines from nine regions of Greece are featured, as well as highlights from other parts of the world. As an added bonus, there are about 80 bottles available for $50 or less.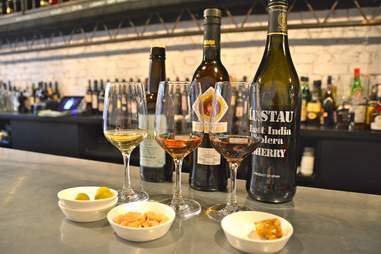 Laura Hayes/Thrillist
<em>Shaw</em><br />
Sherry is more than that stuff mom cooks with or that stuff on grandma's breath before noon. It's wine. Fortified wine, which means more buzz for your buck. Let the Mockingbird Hill staff help you figure out if you like a dry fino, nutty amontillado, or rich oloroso. Or, just try them all until you find your sherry match made in Shaw. But be careful, there are 90+ sherries to choose from in 16 distinct styles. Sherry flights, playful sherry cocktails, and even sherry Tiki drinks are also available. Food-wise, you're ordering the ham sampler and toasted bread with tomatoes and garlic.
Courtesy of Proof
<em>Chinatown</em><br />
Running your eyes over every offering on Proof's <a href="http://www.binwise.com/winelists/proof-dc-bottle-wine-list.html&quot; target="_blank">online wine list</a> requires as many scrolls of the page as a search for K-Cups on Amazon.com. It's that impressive. Additionally, the Chinatown anchor restaurant has all the bells and whistles of a top wine bar. An Enomatic wine system allows Proof to keep its 40 wines by the glass super fresh, while the use of the Coravin device means wine director Joe Quinn can offer rare wines like 2007 Château Rayas Châteauneuf-du-Pape by the glass. No worries if the words "Châteauneuf-du-Pape" make your wallet start to quiver -- pop by Proof for happy hour when a rotating selection of red and white wines are available for just $5 a glass.
Laura Hayes/Thrillist
<em>Bloomingdale</em><br />
Adventurous wine drinkers will find a home in The Red Hen's quirky wine list curated by sommelier Sebastian Zutant. Think orange wines and selections from up-and-coming regions like Georgia and Slovenia. If you haven't tried orange wine, this is the place to experience the punch of flavor for the first time. Sebastian has a passion for wines that are as natural as possible, meaning they're wildly fermented, unfined, and unfiltered. We'd like to think they come with less of a hangover too.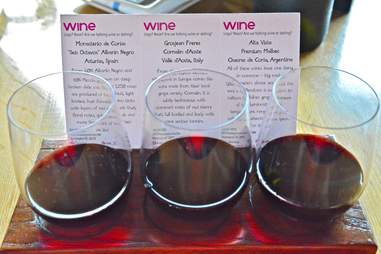 Laura Hayes/Thrillist
<em>Georgetown</em><br />
Bring that friend of yours who's obsessed with all things local (hint: she's probably smudged with soil and wearing TOMS) because ENO Wine Bar is a locavore's dream with 27 wines from DC, Maryland, and Virginia including 2014 Early Mountain pinot gris on tap. But local wines are only a fraction of the bar's thick wine list of 44 wines by the glass and 233 wines by the bottle. ENO also stands out because it serves education along with wine through frequent "Enoversity" classes and it also throws some killer events (check the website regularly). While there's really no bad seat in the house, peek into the brand-new 16-seat lounge called The Cellar on your next visit.
Moshe Zusman Photography
<em>14th Street</em><br />
Cork's biggest strength is consistency -- it hasn't gone off message since the doors opened and it began serving Old World wines with food that begs to be savored alongside a glass of vino (looking at you,&nbsp;<a href="http://www.thrillist.com/eat/washington-dc/signature-local-dishes-resta…; target="_blank">avocado toast</a>). Just don't act snobby if you don't see a lot of name-dropped labels, part of Cork's charm is its mantra of serving wines from small, off-the-beaten-path producers who dig sustainable and organic farming. This also helps keep the price-point down so you can try several different styles, perhaps in one of the bar's four flights. Co-owner Diane Gross says the bar just updated its wine list with fresh selections from Spain and Italy.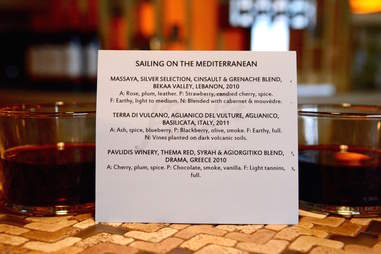 Laura Hayes/Thrillist
<em>Chinatown</em><br />
There are no geographic allegiances at Flight Wine Bar. Rather, the wine list reads like an atlas with offerings from Hungary, Serbia, Macedonia, Lebanon, and beyond. It should be a dead giveaway that flights are a big part of the wine program here, and they're anything but boring. We dig "Not Your Grandma's Chardonnay," and &nbsp;"Hipster Schmipster." The latter is a customized flight based on your preferences, so go ahead and let your server be your personal wine concierge. Visit on Mondays for all-day happy hour or on Wednesdays when Kabir Amir and Swati Bose pick a hidden gem and offer the bottle at 35% off. The goal is to encourage people to be adventurous without committing to the full bottle price.
Laura Hayes/Thrillist
<em>Cleveland Park</em><br />
Maybe you've been hitting Ripple up for its legendary grilled cheese bar, but don't overlook the restaurant's standout wine program created by wine director Danny Fisher. The dude is a savant. Sure his list sees some heavy dollar signs -- like a collection of grower Champagnes worthy of major celebrations and three digits -- but there is also an emphasis on what Danny calls "real wine made by real people for less than $50 a bottle." Also explore a little during happy hour, when nearly every by-the-glass offering is half price, including two orange wines if that's your thing.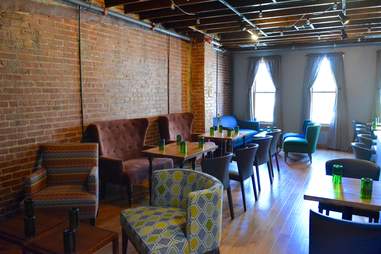 Laura Hayes/Thrillist
<em>H Street NE</em><br />
This charmer continues to innovate and find new ways to get affordable wine into your hands. Build your own "Standby Flight" by selecting three wines to try for $15, for example, or start your week with "Heavy Pour Mondays" when standard servings are supersized. The wine list may not read like a novel, but it has a nice mix of Old World and New World styles (including Virginia!) with a few varietals you may have never pronounced before like Cannonau, Albariño, or Vouvray. Also visit on "Decanter Wednesdays" when the staff decants a real beauty and offers various-sized pours throughout the night. Finally, you don't want to miss the "50 Shades of Rosé" program before the cold kicks in. Dominatrix jokes not encouraged.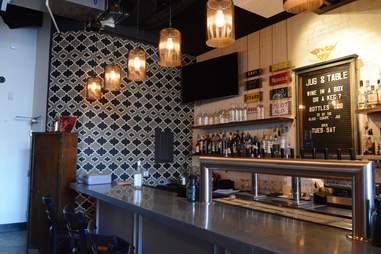 Laura Hayes/Thrillist
<em>Adams Morgan</em><br />
Wine and music go together like little blue pills and empty nesters -- both set the scene for amorous encounters. Fortunately, newcomer Jug &amp; Table focuses on the first winning combo instead of the weird one by incorporating music into its wine program. Vinyl is typically spinning, and the wine list is divided up into categories like "Guns and Rosés." Sommelier Theo Rutherford's playlist, errr, wine list, leans heavy on California, Spain, France, and Italy and you can opt to sip your wine in four sizes: a standard glass, half-liter pour, bottle, or jug. Jug prices range from $50-$90, except during happy hour when one is offered for $25. Snack on pressed sandwiches like the "Greek" with halloumi, chevre, roast lamb, red pepper, and mint.
Courteys of Vinoteca
<em>U Street</em><br />
At most restaurants you can review the wines by the glass in the time it takes to hiccup. Vinoteca is different. Eighty percent of the wine list is available by the glass, so those fearing commitment will feel at ease. Vinoteca also stands out because it offers seasonal wine classes most Tuesdays covering different varietals and regions, which include food pairings and a $5 gift card. Earning Vinoteca even more cool points is DAILY happy hour from 5-7pm when 15 wines are priced at $5 a glass. Outdoor bocce doesn't hurt either.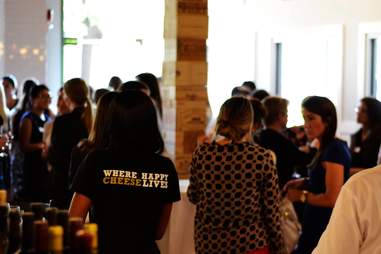 Courtesy of Sona Creamery & Wine Bar
<em>Eastern Market</em><br />
Married co-owners Conan and Genevieve O'Sullivan hail from the Pacific Northwest, that's why you'll see a bevvy of Washington State and Oregon wines on the list. We also tell you this so you can go easy on the Super Bowl jokes. One big Sona perk is a generously long happy hour than runs from 3-8pm seven days a week. Genevieve says they do this to "fit the Hill lifestyle," which probably means people need wine to survive politics. Don't leave without trying the mac &amp; cheese-stuffed grilled cheese paired with an Oregon pinot noir.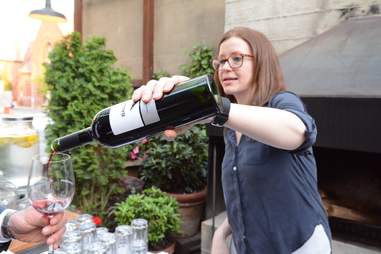 Laura Hayes/Thrillist
<em>Logan Circle</em><br />
Barcelona Wine Bar has a reputation for having a buzzy bar scene and solid tapas, but the party atmosphere is backed by a very serious Spanish wine program. In fact, Spanish wine aficionados could visit Barcelona every day for 234 straight days and try a different wine on each visit. Though, we'd avoid the one that costs $680 because that's nearly a ticket to Madrid. Consider starting or ending a meal with sherry (there are six styles available) and definitely visit Monday-Friday during 4-6pm "social hour" for $4 tapas, $5 glasses of wine, and $20 pitchers of sangria.<br />
<br />
<em><a class="vortex-open" data-campaign="2848" href="https://signup.thrillist.com/&quot; target="_blank">Sign up here</a> for our daily DC email and be the first to get all the food/drink/fun in town.<br />
<br />
<a href="http://thrillist.com/authors/laura-hayes&quot; target="_blank">Laura Hayes</a></em> <em>is a DC dining writer and photographer covering all things edible.&nbsp;Follow her:&nbsp;<a href="https://twitter.com/btmenu&quot; target="_blank">@BTMenu</a>.</em>