Don't Miss These New DC-Area Happy Hours
Rough day? Red Line got you down? Boss schedule you in three hours of meetings about planning future meetings, in which you'll be planning meetings? Are your presidential hopes growing dimmer by the day?
Fear not! There are a host of new places to blow off steam when the clock strikes 4pm (if you work for Uncle Sam) or 6pm (if you work on K St). Most are fresh new spots, while a few are old favorites that have recently sweetened the deal.
Michael Schlow/Thrillist
Who wouldn't want to attend a happy hour dubbed "the cocktail party"? Especially when it doesn't require a wardrobe change. The name is a reference to the good vibes Chef Michael Schlow remembers from his parents' dinner parties growing up, when nostalgic dishes like deviled eggs would make an appearance. Shoulder pads and sweet mustaches probably appeared too. Visit the new Dupont hotspot weekdays from 4-7pm to try 11 hors d'oeuvres and $6 cocktails from Christine Kim, including martinis, Manhattans, and gimlets. Also: $4 drafts.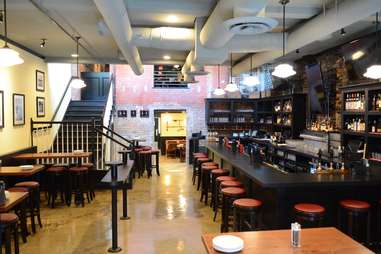 Laura Hayes/Thrillist
The move: making your way to Mad Fox Taproom post work on a Wednesday. That way you can take advantage of the 4-7pm happy hour AND order the epic burger of the week. A recent contender, the "Faded, Fat and Fancy," combined a house-ground burger patty, pulled pork, Korean BBQ sauce, cheddar cheese, fried pickles, and Irish whiskey mayo on a buttered croissant. Drink specials include $2 off drafts, $5 select wines, and $6 rail drinks. The other move: go on Sunday when there are $5 beer flights (four 4oz pours) available from 3-7pm.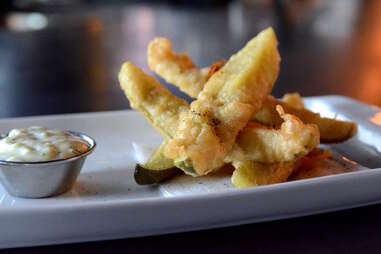 Laura Hayes/Thrillist
Bar Deco has two floors that deserve your attention -- the third floor bar and the fourth floor roof deck. One is an industrial-chic place to catch a game, the other is one of the hottest outdoor spots in the city. Cash in on happy hour specials in both of these locales weekdays from 4-7pm. Drafts, house wines, and rail drinks are all $5, but more importantly fried pickles are $6. Other nibbles include Sicilian wings cooked by a Sicilian chef for $10, grilled octopus for $11, and bacon sliders for $13. Visit before the whole city is obsessed.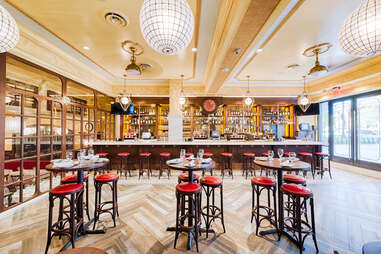 Chris & Don MacAskill/Courtesy of L'Hommage
Inject your post-work malaise with a shot of France at newcomer L'Hommage Bistro Francais, especially if you're the kind of person who gets giddy over happy hour food specials, because there are a dozen of them. They range from one-bite wonders like Basque candied walnuts ($5.50) to a "knuckle sandwich," which fortunately amounts to poached lobster on a brioche bun ($9.50) instead of that thing bullies threatened to give out in the '50s. There are also tartines and sausages. Drink specials include $2 draft beers, $5 draft wines, $6 rail cocktails, and a $6 rotating cocktail of the day. Weekday happy hour runs from 4-7pm.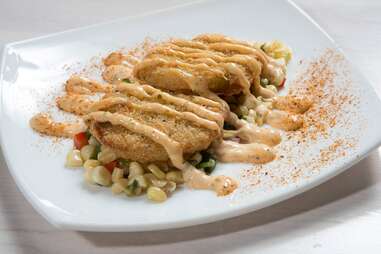 Courtesy of Blackwall Hitch
If there's one word to describe Blackwall Hitch, it's "handsome." Every detail of the massive space on the water from the crow's nest to the Led Zeppelin lyrics tattooed on the wall contributes to making this a nautical environment you want to spend time in. Especially when food and drink happy hour specials are so substantial. Buffalo shrimp tacos, fried green tomatoes, pan-seared scallops, and calamari are all $6. Wash down the discounted bites with $3 domestic drafts, $4 craft drafts, $5 glasses of wine, and $4 rail cocktails. Happy hour runs weekdays from 3-7pm in the main bar.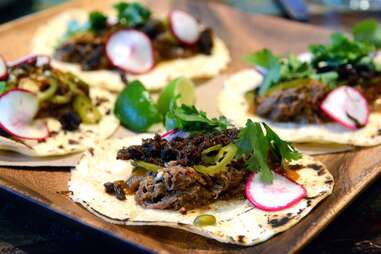 Laura Hayes/Thrillist
Before you prematurely freak out, we know Tico isn't brand new. But its "Margarita Mondays & More" sure is, and you're going to care about it a lot because there's something about $4 fried chicken tacos on a Monday evening that sounds just right. Also on special: a host of small plates, a standout bacon cheeseburger, beer, wine, and cocktails until close. If you happen to be dining in the dining room on a Monday evening, you can also get $30 pitchers of all draft cocktails.
Laura Hayes/Thrillist
The Source is also bringing some joy to the suckfest known as Mondays with its brand-new "dumpling Mondays" happy hour that lasts from 4pm until close. Peruse a list of the restaurant's greatest meat pocket hits and make some draft picks because they're only $5 (one order comes with about five dumplings). Options include garlic chive crystal dumplings, chili dan dan chicken dumplings, and shrimp & lobster spring rolls. The Source recently got a major makeover, so it's time to pay it a visit anyway.
Courtesy of Succotash
Celebrity chef Edward Lee's National Harbor restaurant is now open and serving dollar smoked chicken wings during happy hour. It's also slinging $8 pimento fundido, $7 pulled pork sandwiches, and $1.50 Rappahannock oysters on the half-shell with watermelon mignonette. Drink reduced-price drafts and wines by the glass, plus some mighty fine cocktails like a pitcher of "Belle's Punch" for $25 or $5 milk punch made boozy with bourbon, rum, Averna, Carpano Antica, and Creole bitters. Happy hour runs weekdays from 4-7pm.
Courtesy of The Ritz-Carlton, Washington, D.C.
Experience swank for less at Quadrant inside the Ritz-Carlton in West End. The sexy lounge offers weekday happy hour from 5:30-6:30pm and it's not above dishing out waffle-fry nachos with sour cream, bacon, spring onions, and cheese or a simple but tasty heirloom tomato flatbread. Beer, cider, and prosecco on draft are all discounted, as are two happy hour wines -- a sauvignon blanc and a malbec.
Courtesy of Ankara
New Turkish restaurant Ankara transformed the former Levante's space into something fantastic and the location is clutch. If you're feeling bold during happy hour, sip some raki -- it's just three bucks so if you don't love it you can move back to beer. Other specials include half off select drafts, $3 wine, and $18 pitchers of sangria. You'll also be able to scoop into some dips with warm pide bread for $4 or try skewered chicken with rice for $7. Weekday happy hour runs from 5-7pm.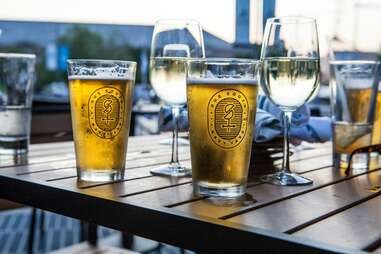 Courtesy of Due South
At Due South, the happy hour specials are all in liquid form. Namely, weekdays from 3-6pm you can get $2 off draft beer or sip on $5 house wines and $6 well drinks. That being said, no one is stopping you from a post-work splurge on some Southern-inspired eats like broiled oysters with Tabasco shallot Parmesan butter; "squash puppies" with roasted jalapeño aioli; or the signature Nashville hot fried chicken thigh sandwich.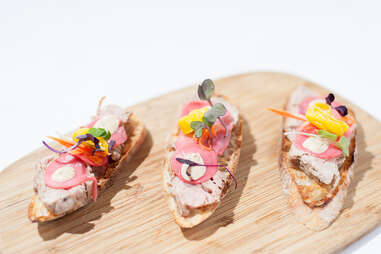 Courtesy of L'Enfant Café
You're allowed to go to L'Enfant for reasons other than its naughty, boisterous brunch. For starters, it just launched a brand-new happy hour featuring rotating food specials for $5 or less, like mini French bread pizza, gougères, and olive tapenade. Drink specials include $5 Belgian drafts, select wines, and highball cocktails. Visit weekdays from 5:30-7:30pm.
Laura Hayes/Thrillist
Penn Commons is really happy -- happier than Alex Ovechkin with a bowl of borscht after a win. That's because the restaurant abutting the Verizon Center recently decided to offer happy hour all night long starting at 4pm. It features $5 14oz drafts and $8 22oz drafts, and other $5 drink specials. You'll want to pad your stomach with a $3 hot pretzel baguette served with beer mustard butter. Twelve flat screens sweeten the deal for sports fans.

Sign up here for our daily DC email and be the first to get all the food/drink/fun in town.
Laura Hayes is a DC-based food and drink writer who rarely cheats on Sushi Taro's happy hour, though these sound pretty good. Follow her adventures: @BTMenu.