Get not-gross 'tail in AdMo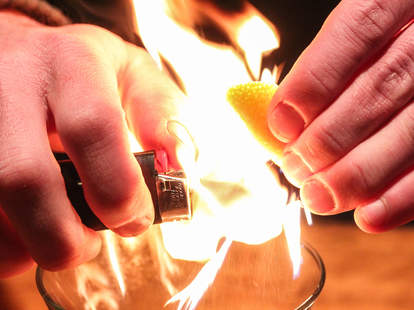 Adams Morgan: booze, booze everywhere, and not a drop to drink (...at least not without making a "that's sort of gross" face afterwards). Unless of course you drift into Bourbon, whose fresh cocktails are all ponderously named after Anchorman, but stay classy nonetheless
Behold the Papa Burgundy, a mixture of Rittenhouse bonded rye stirred with Dolin Rouge, Amaro Averna, Peychaud's Bitters, burnt orange, and a housemade bourbon syrup so tasty, you'll want to drink 1001, 1002, 1003..
The Ms. Corningstone mixes Philadelphia's Bluecoat Gin with young genever, Dolin Blanc, a Lillet rinse, both celery & lemon bitters, and a basil/ white pepper syrup. She smells like cinnamon! (Actually, like gin, but still.
Become anything but a saint with the Dorothy Mantooth: smoked rosemary, Lairds Applejack brandy, Mount Gay rum, and house apple syrup
Broken into light, medium, dark, sweet, bitter, and sour, the 20 newest handles cover it all, and go deep with two brews carried nowhere else in the country: Schloss Eggenberg Helles Lager (left) and Huyghe St. Idesbald Dubbel (right). This marks the first time anything deep has happened in Adams Morgan, ever.