While the Civil Cigar Lounge may be tucked away in the pavilion known as Chevy Chase, this place isn't joking around: the 93-seat cigar lounge and retail shop is from the W. Curtis Draper gentlemen (3rd oldest tobacconists in the US!) and dead serious about serving small plates prepared in Bryan Voltaggio's RANGE next door. Upon entry, you'll notice the 500sqft retail shop with "world-class" smoking accessories and a glass-encased selection of cigars that range from mild body, to medium body, to Linda Tripp (um, heavy). They've carefully curated a whole bunch of cigars from Nicaragua, Honduras, and the Dominican Republic, meaning places that have the best smokes also have serious Presidente issues. After buying that stog, you could stuff it in one of 125 lease-able humidified cedar cigar lockers for safekeeping, or light it up and head out to the... ... lounge area with big 'ole leather wingback club chairs and a state-of-the-art ventilation system that filters and replaces 100% of the air every two minutes, so it's gone in like two Nic Cage heist films. Pair that puff piece w/ one of their eight signature dranks, like this Smoked Manhattan w/ Knob Creek, Vermouth, a maraschino cherry, and a glass rinsed with smoked bourbon. Or, if cigar puffing makes you hungry, just grab a small plate like this yellow fin tuna tartare with avocado and a soy-lime vinaigrette that's no joke, mostly because it's actually a salad dressing.
Recommended Video
The Definitive Eggnog Recipe You Need for the Holidays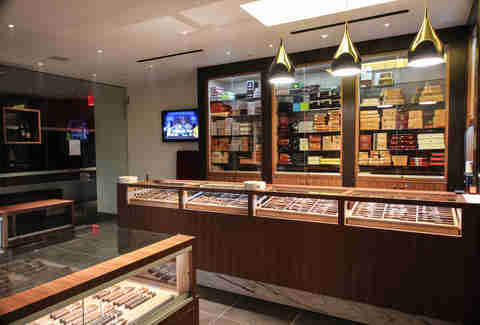 Previous Venue
Next Venue
Venue Description
1. Civil Cigar Lounge
5335 Wisconsin Ave NW, Washington, DC 20015
A high-end cigar and cocktail lounge, Civil Cigar serves small plates from neighboring innovative eatery RANGE, owned by renowned chef Bryan Voltaggio. An endless list of cigars from Nicaragua, Honduras, and the Dominican Republic are carefully selected by the owners, two men from the W. Curtis Draper Tobacconist.