New spots to hit, with or without the Tide pen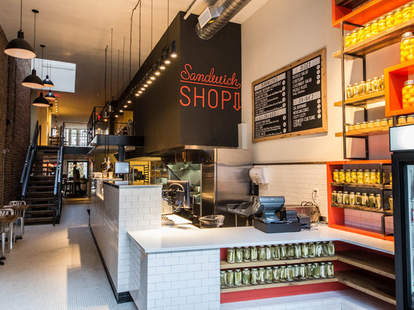 Stock up on Tide pens, because DC got a ton of new spots last year. Check out what our council of culinary craftspeople thought were 2012's best new joints
Jon Mathieson, Executive Chef at BLT Steak "Green Pig Bistro and Mintwood Place.
Erik Bruner-Yang, Owner/Chef at Toki Underground "Suna, Shawafel, Artifact Coffee in Baltimore.
Jade Aldrighette, Bartender at The Passenger "Rappahannock Oyster Bar! Union Market in general, really. A&D Neighborhood Bar. I love Ali and Dan and am stoked for their new place.
Dave Coleman, co-founder of 3 Stars Brewing Company "Several spots have shined for me in 2012, amongst them are El Chucho and Kangaroo Boxing Club, both great additions to the 11th St. Corridor. Also, all of Union Market, especially Rappahannock River Oysters, has definitely been a highlight for the year.
Svetlana Legetic, Coach Taylor at Brightest Young Things "I loved: Mintwood Place (very good happy hour for wine lovers to boot), Rasika West End was a great special occasions place and we're pretty jazzed A&D just opened next door to BYT offices. Also -- Satellite Room, apparently I am there a lot.
Teddy Folkman, Executive Chef/Owner of Granville Moore's "Toki Underground, Pearl Dive/Oyster Palace, The Pig.
Joe Ambrose, Bar Manager at P.O.V. "Range, in Friendship Heights, Bryan Voltaggio on food and Owen Thomson on the drink side, sick combo.
Wes Morton, Executive Chef at Art and Soul "Toki Underground, Mintwood Place, DGS Deli's back bar, El Chucho
Logan Cox, Executive Chef at Ripple "My buddy, Johnny Spero's place Suna, Brenden L'Etoile's food at Chez Billy, and all of the places on 11th St. in Colombia Heights.
Missy Frederick, Editor for Eater Washington DC "Izakaya Seki and Mintwood Place, plus Room 11 if you consider it 'new' with the expansion.
Rob Yealu, Chief Mixologist at The Federalist "I also always seem to have a great time at Boundary Stone in Bloomingdale. I love this place! Beautifully stocked bar (read whiskey) and really cool bartenders. I can sit at one of the booths or a bar (both are great); it's generally busy but not too crowded so the vibe is good but not so loud that you can't talk to your friends. Plus it's three blocks from my house so the walk home is quick. A huge plus after enjoying a couple rounds.
Nahem Simon, Beer Director for Jack Rose Dining Saloon "The Wise Owl Club Barber Shop & Pleasant Pops.
Violeta Edelman, Co-owner of Dolcezza Artisanal Gelato "Union Market and DGS, finally DC has a legit delicatessen."