These Ivy City Distilleries Are Leading DC's Spirits Renaissance
During Prohibition, bathtub gin and speakeasies weren't the only ways Washington citizens flouted laws banning alcohol. Congressmen found another illicit method to procure liquor: a bootlegger known as The Man in the Green Hat. A dapper gentleman recognized by his emerald felt hat, George Cassiday would smuggle bottles of booze into House and Senate offices in a large leather briefcase throughout the '20s.
Nearly a century later, when Michael Lowe and John Uselton set out to start the first distillery in Washington since the dry era, Cassiday and his trademark topper lent the perfect moniker -- Green Hat Gin. In addition to gin being a quintessential cocktail spirit, it was also a pragmatic choice, because unlike whiskey, which needs to age for years, gin can go from grain to bottle in a few weeks. "It's a fairly quick turnaround, which means, assuming you can sell the gin, you can pay the rent," Lowe says.
After apprenticing at a distillery in Spokane, Washington, they began looking for a DC home for their operation -- and landed in Ivy City, a historically black community located in Northeast Washington that is home to numerous warehouses. Though the neighborhood had been in decline since the 1970s, marked by the closing of the historic Alexander Crummel School, over the past 10 years it has drawn the attention of developers, with the opening of the Hecht Warehouse apartments, buzzy restaurants like The Tavern at Ivy City Smokehouse and Gravitas, and concert venues like City Winery.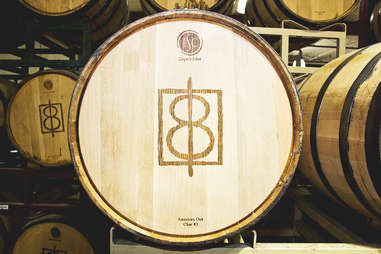 "Ivy City was the closest in the area that had industrial zoning," Lowe explains. "There's not much [space like that] in DC."
It turned out to be a trendsetting move. Since Green Hat Gin fired up the still in 2012, three other distillers (soon to be four) have joined them in Ivy City, drawn by the neighborhood's abundance of warehouse space. Sandy Wood and Alex Laufer, co-founders of One Eight Distilling, opened their doors in 2015; Jos. A. Magnus & Co. was resurrected by the distiller's great-grandson and a team of whiskey experts later that year; and in 2016, co-founders Pia Carusone and Rachel Gardner welcomed the public to Republic Restoratives.
The warehouse district is now ground zero for DC's growing spirits industry where crawling from distillery to distillery has become a popular weekend pastime. Here, drinkers have the chance to meet some of the city's makers on tours, sample the spirits during tastings, and drink handcrafted cocktails at each of the in-house bars. When planning your own Ivy City spirits tour, here's what you need to know.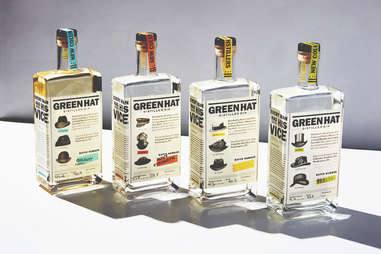 NEW COLUMBIA DISTILLERS
Address: 1832 Fenwick Street NE
Hours: Saturday 1-4pm
What to order: A negroni. This is the only spot in town -- and likely the country -- where you can get the classic Italian cocktail with all house-made ingredients.
Gin haters, don't dismiss Green Hat Gin. "It's because we've come up with some nice recipes that appeal to people who may or may not like London Dry style gins, that we've found our place in the market," Lowe, the co-founder, says. They've dialed back the piney juniper and let other botanicals shine in varieties like Spring/Summer Gin and Aronia Gin. Their Classic Gin has notes of celery seed, sage leaf, lemongrass, and citrus peel. The distillery also partnered with restaurateur Peter Pastan and bar director Kat Hamidi (both of Etto, 2 Amys) to produce Capitoline Vermouth, a line of dry, rosé, and white bottlings.
Address: 1135 Okie Street NE
Hours: Saturday 1-10pm, Sunday 2-6pm
What to order: That weekend's variation on a Manhattan (like one featuring Banane du Brésil liqueur).
Named for Article 1, Section 8 of the Constitution (which established a district to serve the nation's capital, among other things), One Eight is all about that #MadeInDC pride. While some distilleries use smaller barrels so that whiskey develops color and oak flavor in a shorter time (though experts question the quality of these spirits), "We didn't want to cut corners with our own whiskey," Wood, the co-founder, explains. Instead, One Eight put whiskey away and waited. Now, they're selling their own rye (as of 2016) and bourbon (as of 2017) in their "District Made" line -- both of which were the first to be distilled, aged, and bottled in DC since Prohibition.
Address: 2052 West Virginia Avenue NE
Hours: Thursday 4-10pm, Friday 4pm-12am, Saturday 12pm-12am, Sunday 12-7pm
What to order: An old fashioned, to showcase the distillery's trademark bourbons.
Jimmy Turner was cleaning out his mother's house when he found a 100-plus-year-old bottle of bourbon from his great-grandfather's Joseph Magnus Distillery, which opened in 1892 in Cincinnati, Ohio, and thrived until Prohibition forced it to close. Turner picked up the torch, inviting master blender Nancy Fraley to find the right mix of bourbons to recreate the original. "Side by side, the color and the nose are pretty shockingly similar," Nicole Hassoun, their master distiller of gin and vodka, attests. That blend is now the flagship spirit: triple-cask finished Joseph Magnus Straight Bourbon. While Magnus waits on the whiskey they've distilled in-house to age long enough, Hassoun is also making clear spirits, including two gins created with Middle Eastern spice blends: Vigilant Gin (distilled with za'atar) and Navy Strength (distilled with harissa).
Address: 1369 New York Avenue NE
Hours: Thursday-Friday 5-11pm, Saturday 12-11pm, Sunday 12-5pm
What to order: Cocktail purist David Strauss helped create the bar program, so go for a simple cocktail like a martini that lets the spirit shine.
It took a crowdfunding campaign (raising nearly $120,000) to get this distillery off the ground, but within a few years, its founders were gifting their first bottle of Rodham Rye to Hillary Rodham Clinton herself. Business at Republic Restoratives is booming, with four distinct brands and a chic, glass-walled tasting room and event space that hosts weddings attended by the likes of Michelle Obama. Their most popular spirit, Civic Vodka, is made at the distillery, while Borough Bourbon is a curated product -- which smells like rum but drinks like bourbon, thanks to being finished in Barbados rum casks. They also make the city's first brandy, an apple brandy that uses cider from an orchard in Adams County, Pennsylvania.
DC SPIRITS RISING
Ivy City's distilleries are prospering in this advantageous setup, which means several are looking to expand. New Columbia is increasing their production space to include more storage, a larger bar, and outdoor seating. One Eight is undergoing renovations to triple production (as a result, tours are temporarily suspended). And as those two grow their footprints, Don Ciccio & Figli is moving into a building in Ivy City that will double their space and quintuple production.
Don Ciccio owner Francesco Amodeo opened his Italian liqueur distillery in 2012 in Manor Park, but as demand for the artisanal spirits made from his grandfather's recipes increased (they now ship nationwide and to three countries), they outgrew their current facility. The new location will include a spacious tasting room and bar where guests can sample cocktail flights of classic cordials like limoncello or more adventurous amari and aperitivi like Amaro delle Sirene and Cinque Aperitivo.
These craft distilleries aren't just taking over more physical space -- they're growing in caché, too. Ivy City's restaurants embrace the spirits on their cocktail menus, and local bottles are behind bars and on shelves across the city and in states as far as Florida and California. Each distiller regularly brings home medals from the American Distilling Institute spirits competition, the American Craft Spirits Awards, and the San Francisco World Spirits Competition.
It's a big change from six years ago, when Lowe, the Green Hat Gin co-founder, recalls being met with skepticism when first distributing his liquor. "At the very beginning it was like, 'You do what? Is that legal? You're making this in DC?'" he says. "We did a lot of knocking on doors."
Lowe and his fellow pioneers helped build awareness about the city's distilling scene -- and inspired others to follow suit. "They showed that… enough people will care that it's worth taking a stab at it, the risk," says Lukas Smith, the herbalist at Cotton and Reed rum distillery, which opened in 2016 in Union Market. Later this month, bartender Todd Thrasher is set to debut the rum-focused Potomac Distilling Company (complete with Tiki bar) at The Wharf.
As craft distilling's popularity also grows nationwide, Washington's spirits are beginning to get noticed. "DC's distilling scene is still local at this point, but I don't think we're far off from making it to the national level," Thrasher says. "I hope to help raise that bar." Bill Thomas, whiskey expert and owner of Jack Rose Dining Saloon, stopped carrying most new distilleries from other cities because he saw them trying to be profitable, not great. "What we have here is a bunch of young distilleries that look like they're on a fairly good path," he says. "We could easily be in the top 10, simply because I believe in the people."