7 DC theaters you can actually booze in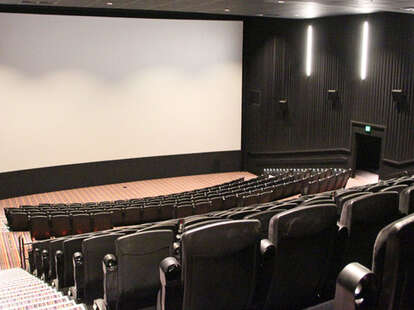 The idea of sitting through 127 hours of James Franco without booze, again, can really lead a man to drink. So, the next time you get duped into seeing such a flick, be sure you can appropriately slam brews throughout by going to one of these seven slosh-encouraging cinemas:
West End Cinema
West End
Playing a whole range of independent, foreign, and documentary films, this place's got the West End Cinema Film Lover's Club, which you'll want to join to get free passes, discounts on movie tickets and treats, and advance notice on special events. And, if that doesn't do it for you, their full bar and draft list of Stella, Leffe Blond, and Hoegaarden should.
The Angelika Film Center & Cafe
Fairfax
This little angel-ika of a theater features eight auditoriums w/ floor-to-ceiling screens projecting indie flicks, which you can criticize and judge while sitting in "plush velour" chairs with cup holders perfectly suited to hold craft beers like Port City Optimal Wit, Bell's Amber, etc..
Avalon Theatre
Chevy Chase
This spot was originally opened in February of 1923 and called the "Chevy Chase Theatre", though you'll be the one getting lampooned if you ask, "Yo bro, where's Percy Jackson: Sea of Monsters?", as this is an independent, nonprofit theater where sophisticated bros enjoy local crafts like Flying Dog, Dogfish Head, and Starr Hill.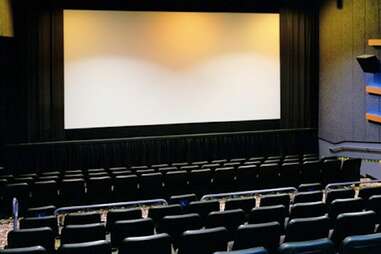 E Street Cinema
Downtown
The only downtown theater playing independent/foreign language/documentary films on eight luxury screens, E Street also classes it up with signature cocktails like the District Rickey w/ Green Hat gin/lime/soda, and a bourbon/Grand Marnier/orange bitters Better Than Fiction.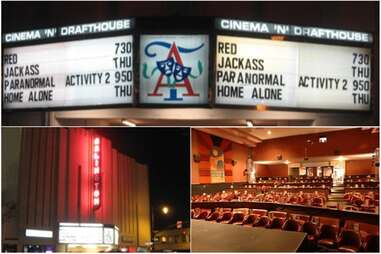 Arlington Cinema & Drafthouse
Arlington
Since 1985, the AC&D has been a unique combination of full restaurant, movie theater, and live entertainment. Here, you'll plop down into an oversized chair, drink pitchers of draft suds, pity-laugh at comedians, and catch movies for $2, or how much they might have cost in 1985.
Bethesda Row Cinema
Bethesda
The newly renovated Landmark theatre now boasts state-of-the-art features like a satellite feed for live events, digital projection, and RealD 3D. All of which will get REALLY interesting after you order a beverage off their secret menu, like the bourbon, muddled mint, lemon, and ginger ale "Summer Secret". Okay, sorry, that's now ruined, but the drink is still delicious.
Club Cinema at AMC
Friendship Heights
You'll actually want to be all up in this club, considering it's actually a bar between two auditoriums where everyone hangs out throwing back high balls (full liquor license!) and beers (it just felt like we should have something in parentheses here!) both before and after the movie.