12 reasons Dram & Grain is THE DC bar for cocktails right now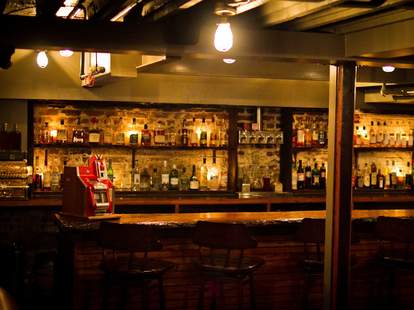 When you're talking about a hidden whiskey den with a secret society air about it, it can be difficult to stop at just 12 pressing reasons to go drink there. But, we know you're pressed for time, what with all that whiskey you need to be drinking, so here's the cream of the crop as to why you should, nay MUST visit Dram & Grain, a 20-seat bar that offers 7, 9, and 11pm seatings on Saturdays only.
1. You're drinking in an underground lair
When you arrive at Jack Rose, you'll walk with "I'm the man" confidence (not to be confused with Amanda Bynesian "She's The Man" confidence) to the back of the bar before weaving your way through behind-the-scenes areas and down flights of stairs. Waiting for you at the end is a cozy den appointed with copious leather, wood, and whiskey-lined walls.
Laura Hayes
2. The bartenders carry burner phones
The two-man mixologist team behind Dram & Grain, Trevor Frye and Nick Lowe, will take your reservations themselves. But, you have to send in your request via text, which they'll get on a House of Cards-style burner phone. The number? Sorry, you can only get that from a business card. But don't call them mixologists, they hate that.
Laura Hayes
3. You're a sucker for anything free. Don't lie.
It's a nice touch to be handed a zesty welcome punch -- on the house -- upon making your grand entrance. Pace yourself though, you have 1.5 hours to work your way through the a la carte cocktail menu with 15 nearly inconceivable signature drinks, plus some classics. Snacks like fried pickles should help keep you upright.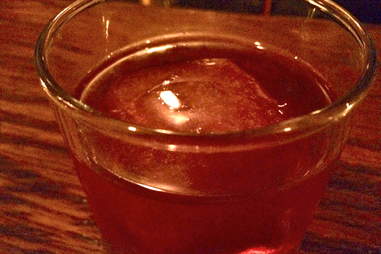 Laura Hayes
4. Get two drinks for the price of one...
… but not the way you think. The Maiden Voyage morphs from a Sazerac into a Vieux Carre by way of a melting ice cube made of Benedictine, vermouth, and bitters. If you prefer a Vieux Carre, try stirring the Sazerac vigorously to speed up the transformation.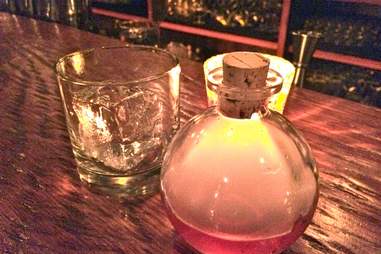 Laura Hayes
5. Yell "Omaha" like Peyton and get a cold-smoked cocktail
Trevor brought his Ode to Omaha cocktail recipe back from The Berry & Rye bar in Nebraska. Watch as wood chips are lit ablaze, causing smoke to travel down a tube and into an orb containing Thomas Tew Rum, blackberry cinnamon syrup, and Jerry Thomas Bitters. He'll cork it for you so you can ogle your potion before pouring it into a glass.
Dram & Grain
6. They make a spirit that can't be found in America
Tripping over a decanter or two is not uncommon in Trevor's house. That's because he cooks up his own Amer Picon, a French liqueur that can't be found in the US of A. His version, Amer D&G, takes nine weeks to make, starting with creating an orange tincture from 100 proof vodka and five cups of orange peels.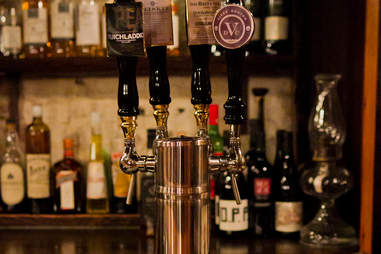 Dram & Grain
7. There's whiskey, ON DRAFT
If you prefer your whiskey without any additional shenanigans, a nitrogen-propelled whiskey draft system can deliver four different whiskeys straight to your Glencairn glass. The four whiskeys rotate, and are most commonly taken in flight form.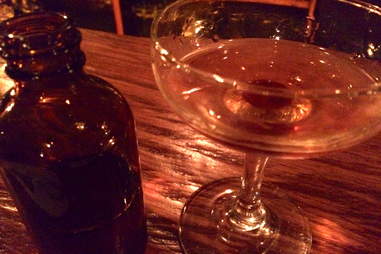 Laura Hayes
8. There's always a sidecar, like this apothecary bottle
Dram & Grain does bottled cocktails too, like the booze-forward Mother in Law, made with Willet Bourbon, Combier D'Orange, maraschino, Amer D&G, Angostura, and Peychaud's. It comes with an apothecary bottle sidecar. The glass vessel is a hat tip to how the original cocktail was stored in a decanter.
Laura Hayes
9. Tequila and hops, together at last
The Hoppin Chihuahua combines a frothy tequila and egg white mixture with candied hops that only LOOK illegal, and adds spray-on hops aromatics. These aren't just any hops -- they hail from the homebrew shop at 3 Star Brewing Company.
Laura Hayes
10. Whiskey freaks will find something they like
They try to price their beverages to move, saying D&G is a library, not a museum. But whiskey freaks will find some wallet-shocking rarities like a 1917 bottle from Kentucky or a 1922 bottle from Baltimore. Sample these few pre-prohibition beauties for $88 an ounce.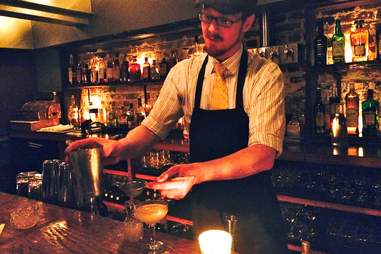 Laura Hayes
11. They shame vodka drinkers
You'll only find one lonesome vodka drink on a list of otherwise brown liquor based all-stars. How do they steer you away from the clear stuff? By calling the cocktail Training Wheels. We dare you to say that out loud.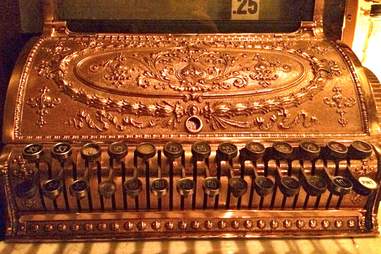 Laura Hayes
12. Pay with cash to hear Pink Floyd
Experience a little Dark Side of the Rainbow thanks to an old school cash register located in the corner of the bar. The "cha-ching" sound it makes is EXACTLY akin to the moment when "Money" comes on and Oz blooms into full color.