With a name like Bar Charley's, you'd expect a menu to be filled with milk steaks, but, instead, the Dupont/ADMO spot from the El Chucho Cocina Superior crew is rocking an insanely eclectic mix of cocktails ranging from Orange Crushes to duck-fat-washed St. Germain drinks.
Recommended Video
The Definitive Eggnog Recipe You Need for the Holidays
There are actually five steps to this Stepdad, starting with the torching of a cedar plank.
Step #2 of the Stepdad is trapping the smoke coming off the plank. They do this for you, as it's a super-dangerous job, okay?
Round three with your Stepdad luckily doesn't involve your allowance. Instead, it's when they mix tobacco bittters, black iced tea, and Kelt VSOP in a tiny pitcher.
Last, you'll want to flip your Stepdad smoke glass, drop in the cube, and pour the contents over the ice.
The owner calls it the Stepdad because it smells of tobacco and booze. Sounds like he may have had a rough childhood.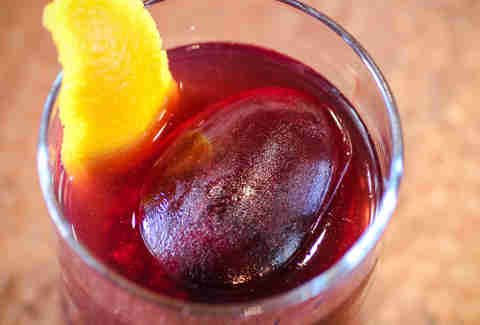 Making fun of the horrible direction the Old Fashioned went in the '80s, this '80s Old Fashioned has housemade carbonated orange syrup, bourbon, and a big ole cherry ice cube.
Two types of bitters, three types of liquor (bourbon/rye/rum), and one duck-fat-washed St. Germain all make up the Quack-Quack-erac.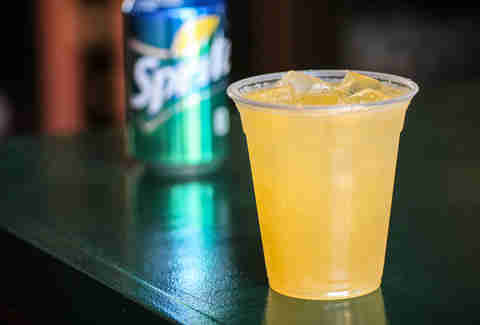 There're no Seacrets about this classic Orange Crush that uses fresh-squeezed-daily orange juice and is served in a keg cup.
Like sushi in a glass, but with booze, the Jiro Dreams of Sidebar is a combo of housemade wasabi syrup, ginger, Shochu, and rice wine vinegar that's garnished w/ nori.
There're also two tiki drinks on tap, like the Suffering Bastard w/ bourbon, gin, ginger, lime, Angostura bitters, soda, and mint that should be enjoyed on the patio soon, as it may not always be sunny out there for long.
Previous Venue
Next Venue
Venue Description
1. Bar Charley
1825 18th St, NW, Washington, DC 20009
This Adams Morgan spot specializes in variations on cocktail classics, including 15 different Manhattan recipes. Many of the bar's drinks cost $10 or less, including the rotating draft Tiki cocktails for under $8. While you wouldn't necessarily come here for the food, shareable bites like flatbreads and fries are worthy orders.