The best beer bars in 10 different DC neighborhoods
Want a nice craft beer? That should be easy enough, even the humblest dive bar can't seem to get by these days without at least offering a little something for the craft crowd. But where does one find the BEST craft beers? That's a taller order, which you'll find much easier with this guide to the best beer bars* in 10 of DC's most popular neighborhoods.
*Before your beer-fueled anger flares up, please note that we've excluded brewpubs because they're a different category altogether.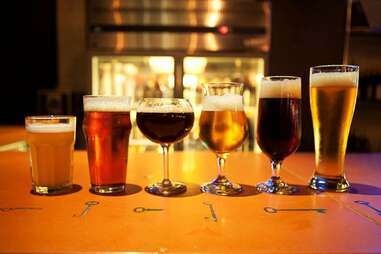 ChurchKey (info and address)
Logan Circle
ChurchKey is still the top craft beer behemoth of Logan Circle (and quite possibly all of DC). More than 50 drafts are divided by flavor profile and are ready for your consumption by four-ounce tasters or full pours. Bring your reading glasses, or better yet a monocle, to tackle the bottle menu -- it's 29 pages long. For best results, follow CK on Twitter for real-time updates on what they're tapping.
Burger, Tap & Shake / District Commons
Foggy Bottom
Feeling charitable? The first Monday of every month, these neighboring spots enlist the help of the thirsty masses to clear out the mile-long beer lines before they're refilled the following day. All drafts are $3 until the kegs kick. Even though they have fun picks like Rogue "Good Chit" Pilsner and Speakeasy Big Daddy IPA, they claim the Allagash White always kicks first.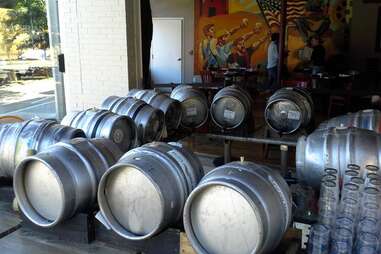 Meridian Pint (info and address)
Columbia Heights
Looking to brag on social media that you were the first to try something? Pull up a bar stool at Meridian Pint because they're way on top of new releases. Their 24 draft beers change as often as your Facebook status and hail almost exclusively from DC, MD, and VA. Then, there are about 140 bottles to tempt you.
Smoke & Barrel (info and address)
Adams Morgan
The beer program at S&B also leans local -- like the Lost Rhino Saison d'Anomalie that even utilizes malt from nearby Copper Fox Distillery. But, they're not afraid to cross state lines for something cool like Off Color Dino'Smores. A former Goose Island guy created this campy beer that incorporates graham cracker, cocoa nibs, and vanilla. Too out there for you? Find something straightforward on a list of 23 drafts, 18 bottles, and eight cans.
Jackpot (info and address)
Chinatown
Cha-ching! Get it? You have a new place to drink craft beer in Chinatown. You know these skilled beer selectors from Ironhorse and Laughing Man. The difference is you still have a chance to snag a seat at this new, somewhat austere basement bar that plays '90s music with pride. The brew list is ever changing, but odds are there will be some Ommegang, Rogue, Founders, Goose Island, and Devil's Backbone.
Birreria Paradiso (info and address)
Georgetown
To reach beer paradise, just walk down a flight of stairs inside the Georgetown location of Pizzeria Paradiso. The original beer list there was drawn up by a pro -- Thor Cheston -- who recently opened his own brewpub, Right Proper. Be sure to try The Moon -- a pale wheat saison brewed with sour oranges. It's the first in a nine-part series of collaboration brews with 3 Stars.
Smith Commons (info and address)
H Street
Smith Commons stands out from the pack because of its extensive offerings of large format bottles like Firestone Walker Sucaba (a barrel-aged barley wine) that weighs in with a 12.5% ABV. They also spread the regional love by offering drafts from nine different states. The best day to imbibe might be #Common Mondays, when happy hour lasts all night long on the second floor with special beer promotions.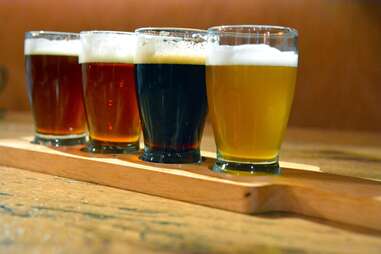 City Tap House (info and address)
Mt. Vernon Square
Calling all Paul McCartney and Stevie Wonder fans. City Tap House will serve you 3 Stars Ebony & Ivory -- a casked version of their Southern Belle Brown Ale spiked with cocoa nibs and vanilla bean. So smooth. The newcomer to the craft beer scene has about 40 drafts organized by categories like this one: Bitters, Browns, Scottish & Barley Wines. Yea, that's just one category.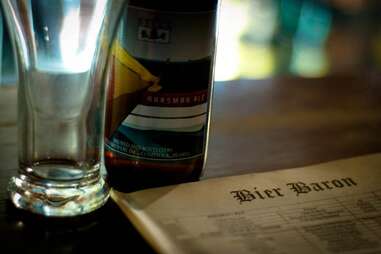 The Bier Baron Tavern (info and address)
Dupont Circle
Even their slogan, "Over 600 Beers from Around the World", is exhausting and intoxicating. Thus, you're going to need multiple trips and plenty of friends to explore their menu, which reads like a newspaper. You might remember this underground lair by its former name -- The Brickskeller. Bonus: they're likely to serve up burlesque or a live band with their blonde ales.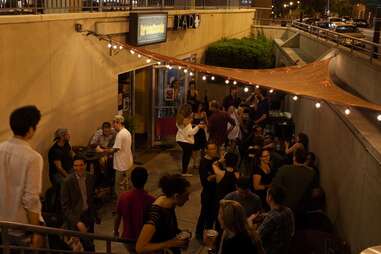 Breadsoda (info and address)
Glover Park
Billiards, craft beer, and an Austin Powers shag-pad atmosphere sound good? Pay a visit to Breadsoda, which boasts a beer list of about 50 drafts, bottles, and cans (a few of them being of the domestic macro variety, but it's all good). Pay special attention to crafty cans like Ten FIDY Imperial Stout from Oskar Blues. Breadsoda's out to prove cans aren't just for lagers. Tell your friends the name's a nod to prohibition-era beer made with baking soda.