Hurricane slushies & pork belly mac 'n cheese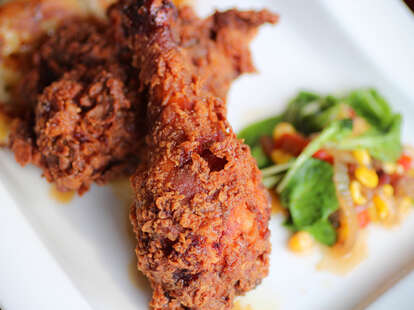 Attention ADMO Tea Partiers: please put down your signs and your hilarious hats. It turns out the Fed that's moving into the old Saki space is only taking over the neighborhood's bar & food scene with Southern-comfort cuisine and a list of craft cocktails curated by the Wilder Bros (Black Jack/ Mussel Bar).
Every 'tail incorporates at least one housemade element, like this Fernet Con Coca made with their own Mexican cola, Hellfire bitters, and topped with -- oh snap -- ginger soft serve.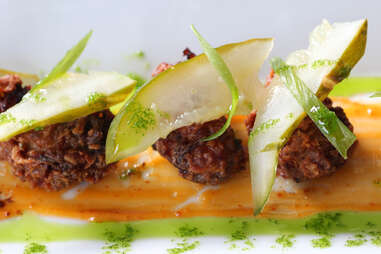 Five fried oysters sit on a smoked chipotle sauce. And then they get sat on by housemade pickles. It's all very sexy.
One of two slushies, the Mexican Standoff is the last thing you want in an actual Mexican standoff because A) it's not a sweet Colt revolver with a flashy holster, and B) even if the Tanteo cocoa shot the Kalani liqueur, that would merely free up the cream soda to then go and shoot the cocoa, because Mexican standoffs are complicated and teach us that, in a confrontation among three mutually hostile participants, the first to shoot is at a tactical disadvantage. Wait, what are we talking about again?
Now that you know a little something about standoffs and feel smart and handsome, fill your belly with their cured pork belly and Vermont white cheddar mac 'n cheese.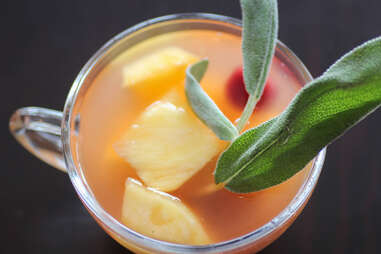 Saunter over to their cocktail list and pick from seven winners, like this Sauternes punch filled with pisco, Luxardo maraschino, orange Curacao, and Peychaud's bitters.
That cocktail should pair nicely with these pan-seared scallops avec sweet-corn hoe cakes & caramelized apple-smoked bacon cream sauce. And best of all, it'll only cost you one Washington above a Hamilton.