Hey. Hey, you. Shhhhh. We want to help you find your way into this bar, so listen closely. First, you'll have to hike your grass skirt up the stairs, then head past the bar and the bathrooms, and finally go through the employees-only-looking doors, and there you'll find their extremely secret Tiki hut, layered tropically in bamboo, luau-grass, and "Tiki god" masks, which you'll be praying to later to help you navigate your way back out after a few Beachcomber classics.
Here's the tropical flare-bedecked space that you'll want to hit up during the "Tiki Thursdays" happy hour (5-10p), when all the Polynesian drinks are half-off.
Like Chaz Bono, the chalkboard menu is subject to change.
Tiki-Wiki: Bahia
It's open season on this cream of coconut, white rum, and fresh pineapple juice drink.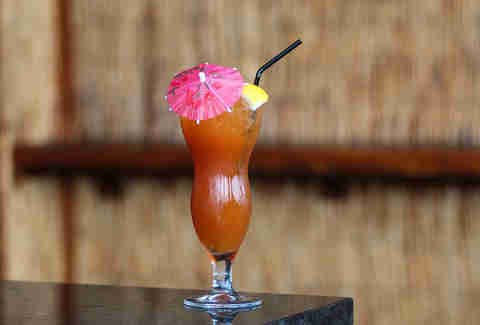 Tiki-Wiki: Zombie
According to the internet, Donn Beach originally whipped this number up to get a hungover customer through a business meeting. We suggest you always drink a concoction with light rum, 151, orange Curacao, citrus juices, and Angostura bitters before any meeting. But we're not businessmen, so you better ask your parents.
Tiki-Wiki: Tijuana Tiki
What do you get when you mix silver tequila, Smith and Cross rum, ginger beer, passion fruit syrup, and orgeat? Oh wait, that's not a joke punchline. It's just this drink.
Tiki-Wiki: Blackheart's Punch
This is either what Nicolas Cage avoided at every turn in the classic '97 film Ghostrider or a drink w/ rum, housemade cinnamon syrup, and fresh lime juice. Actually, both are correct.
Tiki-Wiki: Honi Honi
Order up this mermaid mug of bourbon, orange Curacao, fresh lime juice, orgeat, and simple syrup, and you'll immediately break into song and ABBA dance. Then you should show yourself to the door.