The best DC bars for March Madness
March Madness means big questions: will your team peak when it counts? Who's worthy of winning your bracket? Will Jim Boeheim keep it together? Can you stream the game at work without getting caught? Can't help you there, but once you've realized you should just ditch work, here are the places you should go drink and gorge in front of an endless sea of flat-screens.
If you want to go big: Penn Social
Chinatown/Gallery Place
If you wanted to watch on a 40" Sony, you would have stayed home. So embrace the "bigger is better" mantra and grab a spot in front of the 22ft movie screen at Penn Social… or one of the nine 15ft screens spread across two floors. During the tournament, they'll have $3 Miller Lite pints and $12 pitchers, plus a special Miller Fortune release party on March 20th.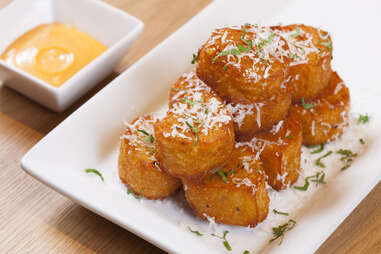 If you're a foodie along for the ride: Bracket Room
Arlington, VA
Park yourself at Bracket Room if you care a little about basketball and a LOT about food. They sling out everything from big boy potato tots to lamb lollipops. If a win or loss (or commercial break!) calls for shots, there are 64 to choose from, and if you enter their shooters bracket on social media you could have a shot named after you AND win a gift card. With a name like Bracket Room, you better believe they have flat-screens in the bathrooms.
If you want to pour your own beer: Redline
Chinatown/Gallery Place
Scoring a tap table at Redline means avoiding the indignities of clamoring for a beer at the bar and watching the bartender continually pass you over in favor of better looking people. Just refill at will. Libations also include specialty shots like the Alley-oop Oatmeal Cookie and 4 Point Play. March Madness action will be broadcast on 50 TVs and one huge projection screen. Those into table taps can also check out Meridian Pint.
If you're a patio enthusiast: Lou's City Bar
Columbia Heights
In case we get a taste of Spring, you may want some fresh air as you prepare to bask in the glow of victory. The folks at Lou's City Bar will bring $20 buckets of Coors Light or $15 pitchers of Miller Light right to your table on the TV-equipped patio. Inside they have more HGTVs than Georgetown wins this season and a 140'' HD projector screen. Oh, there are also deep-fried Oreo cookies for sadness eating after big losses.
If you want to make some new friends: Ventnor Sports Cafe
Adams Morgan
There's something special about this little charmer of a bar. It's definitely not the sheer number of flat-screens or roomy seating. People just dig the atmosphere and ubiquitous free popcorn. It's hard to leave without at least one new friend, even if they do root for UNC or 'Cuse, who have their very own bar specials during March Madness. Solidify your new bond over bottomless mimosas Friday-Sunday or a whole lot of craft beer any day.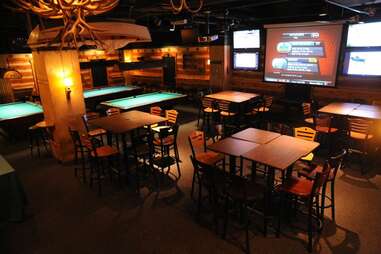 If you have ADD issues: Buffalo Billiards
Dupont Circle
Cure halftime jitters by channeling all that energy towards playing darts, ping-pong, foosball, shuffleboard, skeeball, or pool at Buffalo Billiards. Before you know it, your team will be back on the court and some dude will be yelling DOWN IN FRONT because you can't sit still, again. How hard it is to see a 10ft screen? There are five of them, plus 62 flat-screens.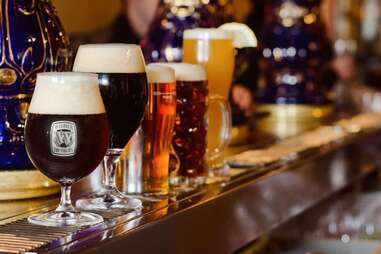 If domestic buckets don't do the trick like they used to: Union Pub
Capitol Hill
Those who feel they've graduated from light beer can find a good game-watching home at Union Pub. There are 43 different beers to choose from, not to mention mini corn dogs and five different styles of wings to enjoy while you watch the tournament on 25 big-screen TVs.
If you love Cinderella stories: Ivy and Coney
Shaw
This nicely upholstered Chicago/Detroit "dive bar" is no sprawling sports pub. It can't compete with flat-screen front-runners or unreal drink specials, making it a bit of an underdog. But who needs specials when everything -- literally EVERYTHING -- in the establishment costs less than $6? Head here if you want to try two different dogs and hide from the typical March Madness fan who indoor claps and wears face paint.