There is a time and a place for fancy cocktails and craft beer, but let's face it: drinking in DC can be absurdly expensive. And sometimes, going to the bar is about drinking for as little money as possible. That's the glory of the cheap beer-and-a-shot pairing, usually nothing more than a quick hit of booze washed down with some refreshing light beer. But while most dive bars stick to basics like Natty Boh or PBR paired with rail whiskey, some bars in the area are stepping up their quality and getting more creative with their combos, pairing the kind of beers you really sip and consider with liquors that you actually drink for the taste. We've rounded up the best of both worlds here, so no matter what your taste or budget this weekend, you can knock back a beer and a shot at one of the best places in the district.
14th St
Left Door is one of DC's hottest new cocktail bars, and it also serves an off-menu beer-and-a-shot combo for $9. It's ultimately the bartender's choice, and things can switch up, but expect something along the lines of a Tiger lager and a pour of Old Overholt whiskey... or something similar.
Petworth
The beer-and-a-shot combos at this casual neighborhood pub draw in thirsty regulars for everything from bar trivia to patio drinking. The $6 Bo-Beam combo pairs a can of Baltimore favorite Natty Boh with a pour of Jim Beam. More discerning drinkers can try the gentleman's combo: a bottle of Yuengling paired with a shot of Clontarf Irish whiskey ($8). There's a full menu of creative and tasty bar food, too -- (heyyy, grilled shishito peppers) -- which you'll undoubtedly need, after a few of these.
U Street
As the name suggests, this lively basement dive features killer fish & chips, sticky floors, good music, and plenty of cheap beer. Codmother doesn't serve light brews, so the $6 combo pairs a generous pour of basic rail whiskey with a can of PBR, Natty Boh, or Genesee Cream Ale.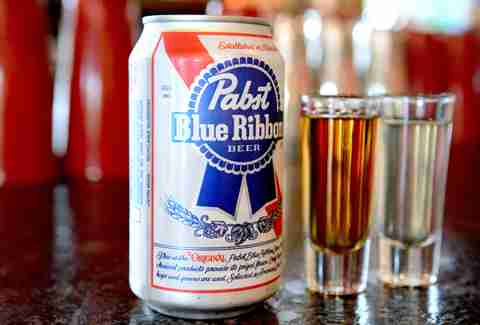 Navy Yard
The cocktail list at this casual American restaurant near Nationals Park includes the 909 Triple Play ($9), which consists of a three-pronged punch: George Dickel Whisky, a can of PBR, and a shot of pickle juice. The aptly named drink is perfect for a Nationals pregame session... or a post-game drink.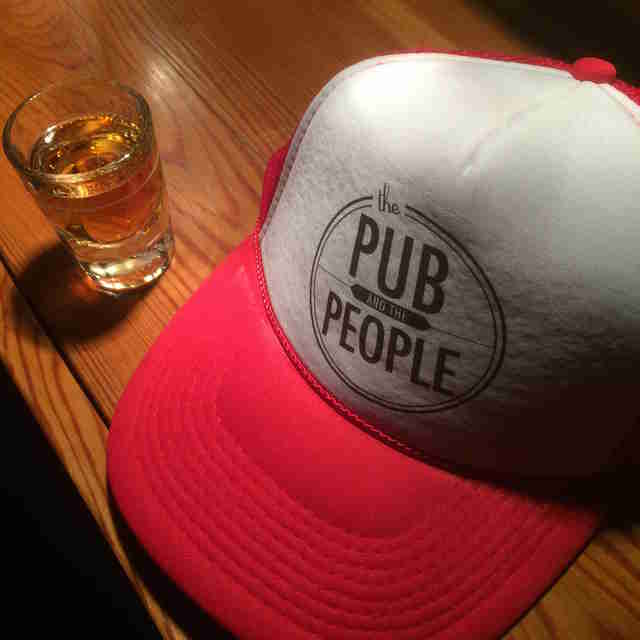 Bloomingdale
Despite the fact that its menu is graced with items like duck confit, this North Capitol St gastropub and cocktail bar still has something to offer budget-conscious booze drinkers. Case in point: the $6 "Family Banquet" combo of Coors Banquet beer and Old Grand-Dad bourbon. The cheapest beers on the menu run $4 a pop on their own, so going for the pair isn't really a hard choice to make (but was it ever going to be?).
Bloomingdale
Showtime is one of the city's most beloved dive bars, and might even be one of the best in the country. The go-to drink at this cash-only watering hole is the timeless $5 "Comb'oh" -- a can of Natty Boh and a whiskey back. For a dollar more, you can grab a shot of tequila and wash it back with a Tecate.
Adams Morgan
Whiskey rightfully takes center stage at Jack Rose, but the beer program is solid as well. They offer several high-end boilermaker pairings with flavor, not value, in mind. Among the choices is the Harvey Fry ($14), which matches a 12oz IPA with 1oz of cask-strength Islay Scotch. There's also the Hasta La Vista ($10) combo, featuring a 16oz Stiegl Radler and a 1 oz shot of Cabeza Tequila Blanco.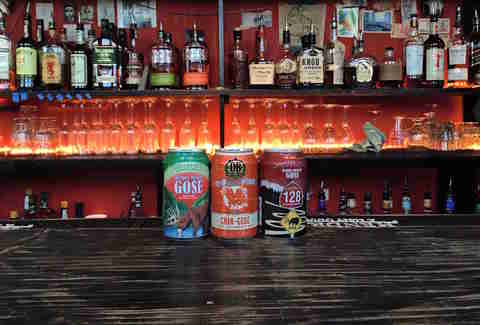 Mount Pleasant
The Red Derby has an entire section of its menu dedicated to beer & shot combinations, and it goes beyond (far, far beyond) cheap beer and whiskey. Some of the more affordable options include $6 for a Tecate and a tequila, $7 for a Natty Boh and a Bulleit, and $9 for a Dale's Pale Ale and a pour of Old Overholt. On the higher end is an $11 pairing of Guinness and Jameson, and even $12 for a DC Brau Corruption and a cognac (which might just be the fanciest boilermaker ever?).
Bloomingdale
Late nights at the neighborhood Boundary Stone mean a can of DC Brau Public and a shot of Jameson for $8. This high-end boilermaker is available Sunday-Thursday from midnight to close, making it a solid option for a nightcap during the week.
Petworth
DC Reynolds has a relaxed atmosphere and spacious back patio, which is ideal for enjoying one of its three special beer-and-a-shot combos. The P2 ($7) is a shot of Powers Irish whiskey served with a standard-issue PBR can. If you want to get fancy, order up the "Sweet and Smooth" combo, which consists of a shot of Jameson Caskmates and Duck-Rabbit Milk Stout ($10), or the "Refreshing and Mello" pair: Traverse City bourbon with a Denizens pilsner back ($10). And in news that's equal parts terrifying and amazing, this special is also buy-one-get-one daily from 5-9pm. We challenge you not to get utterly soused.
Shaw
Oysters and a rock 'n' roll soundtrack are iconic aspects of this Shaw raw bar and seafood spot from mixologist and restaurateur Derek Brown. But don't overlook the menu's combo selections. Wash down dinner with a "Broh'sville" -- a can of Natty Boh and a shot of Pikesville Rye ($7) – or go for "America's Main Street," a Yuengling and Old Overholt ($8). The bar also slings the H St. Bohemian, which is a PBR tallboy and Mexican Fernet combo ($12). Plus: oyster shooters, y'all.
Sign up here for our daily DC email and be the first to get all the food/drink/fun in town.