The Best Batch Cocktail for Tailgating in Washington DC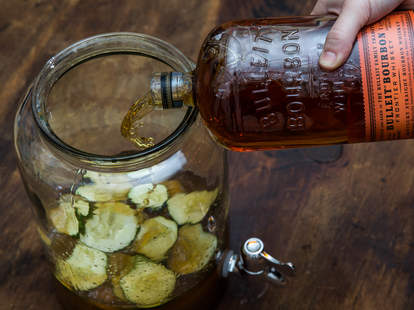 Anthony Humphreys/Thrillist
No parking lot bash is complete without a tasty beverage. And no matter what local team you're rooting for, it's worth packing the ingredients to make this killer creation courtesy of DC bartender Rachel Sergi. The best part? It's perfect for batches, meaning the kind of quantities needed to keep the party going into the 4th quarter and beyond.
Anthony Humphreys/Thrillist
Burgundy Brawler

Yield: Serves 35
INGREDIENTS:
30oz Bulleit Bourbon (you will need 2 bottles in order to get to 30oz. Each bottle contains 25.4oz).
10oz Pimm's #1
10oz cucumber syrup* (recipe below)
15oz fresh lemon juice
3 1/8tsp Fee Brothers Cranberry Bitters
60oz lemon-lime soda
1 whole cucumber -- peeled and diced (approximately 2 cups)
1 small pinch of salt
1 large saucepan
6c cane sugar
4.5c water
DIRECTIONS:
For the cucumber syrup: Add sugar, salt and water to saucepan and bring to boil. Reduce heat to simmer and add cucumbers. Allow to simmer slowly for 15 minutes.
Be careful doing next step: Strain syrup into plastic vessel using a large mesh strainer (chinoise) to remove cucumber flesh. Allow to cool then place in quart containers marked with the item's name and date. Store in refrigerator.
For the cocktail: Add all ingredients, except for soda, into a gallon container. Once at the ballpark and ready to dispense, add the soda and pour over ice into your tailgating red plastic solo cup.
Add yellow/gold straw (or red and white striped one) and lemon wheel.