The best coffee shop in 13 DC 'hoods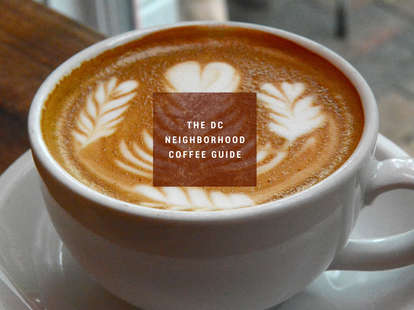 Laura Hayes
Laura Hayes
Freak over single-origin expertise? Dig an expertly crafted blend? Just want to know where you can park it for a few hours over something caffeinated? No matter what your coffee needs, DC's burgeoning bean scene has you covered. Here's the best spot to fuel up in 13 DC neighborhoods: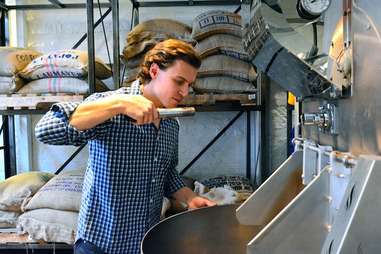 Shaw
Compass Coffee (address and info)
Sip on something that was roasted 5ft from you at Compass Coffee. It doesn't get more local than that. Compass comes from the minds of two former Marines who drank their fair share of "motor oil"-like coffee on deployments. You'll often find them in their lab, perfecting their next blend (if they're not in Costa Rica hand-selecting beans). Currently, there are nine blends planned, named either with military innuendos or hat-tips to the neighborhood. Stop in for a quick drip of one of their blends, or for an extended (date-worthy) experience, get a single-origin cup brewed on the Chemex.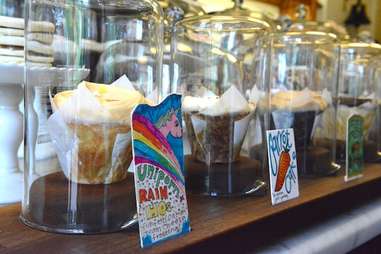 Georgetown
Baked and Wired (address and info)
One step into this pot pun-loving establishment, and you're hit with treats FOR DAYS. Like the decadent baked goods, there's nothing stale about this coffee shop — it's energetic and approachable. They brew with beans from Stumptown, Intelligentsia, Ceremony, and more. Ever the espresso perfectionists, managers put baristas to the test (err, haze them) by having them take down a cortado like a shot. Cortados are akin to cappuccinos, but cooler in temperature. If made correctly, there's no danger in tossing one back. If you want something less caffeinated, go with a "chaider," an epically fall combo of chai tea and hot apple cider.
Chinatown/Penn Quarter
Chinatown Coffee Company (address and info)
They're smart about beans at Chinatown Coffee Company — quite literally: they brew Chicago's Intelligentsia Coffee. They also have all-star baristas like Ian Thompson. Ask him to break out the big glass bong, errr cyphon, and brew you a cup. The method's been around a while, but is still somewhat rare. Owner Max Brown says you'll get a product that's cleaner, stronger, and more nuanced. Stick around long enough and your afternoon cup of coffee could turn into an absinthe happy hour backed by music that makes customers so happy they've been known to tweet about it.
14th Street
The Wydown (address and info)
You won't find an espresso menu as long as an essay at this relative newcomer to the coffee scene. That's because they've opted to perfect the traditional Italian espresso offerings instead of making frapa-whatevers. They've also chosen to leave things like skim milk off the menu, because it detracts from the way coffee drinks should taste (there's 2% though, so don't freak out). Stop in for a sip, a well-made scone, and embrace the Wi-Fi-free atmosphere, because you might make a friend. If you're a serious roasting nerd, ask to peek at their 1970s Faema espresso machine that they've tricked out to look modern.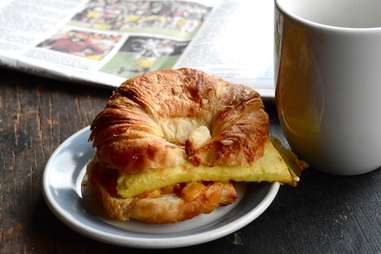 U Street Corridor
Blind Dog Cafe (address and info)
If you start your day with a buttery croissant piled high with chorizo and cheese, plus Blind Dog's signature drink — a "Black Moses" — your day is bonded and insured to be the best. The "Black Moses" combines three shots of espresso in a chai chocolate cappuccino. Located inside Darnell's neighborhood bar, BDC is an example of a "plop-up." That's when a pop-up is so awesome that it makes it 2+ years. You're drinking Vigilante Coffee and noshing on what they jokingly call "above-average cookies," baked fresh throughout the day. Pay attention to the day of the week if you're a music lover; there's Country Western Mondays, local music Tuesdays, and Reggae Thursdays, for example.
Eastern Market
Peregrine Espresso (address and info)
Pay attention to the latte art at Peregrine Espresso. Owner Ryan Jensen's work is so precise that he once led a workshop on it at Costa Rica's Instituto del Café (a real thing!). But all coffee drinkers know taste is more important than interpretive foam. That's why Peregrine exclusively brews Counter Culture Coffee. You'll find a basic espresso menu and single-origin filter drip coffee, both of which change seasonally. Lazy java junkies dig Peregrine because they'll actually deliver freshly roasted beans by bike. The beans come with a tight little coffee bio describing the single-origin coffee that arrived at your doorstep — preventing you from having to put on pants.
Mount Pleasant
Flying Fish Coffee and Tea (address and info)
You'll never go back to a certain mermaid-brandished coffee company's pumpkin spice latte after one sip of Flying Fish's take on the cultish beverage. That's because they use actual pumpkin and cinnamon sticks while brewing it. This drink speaks to their philosophy of making everything possible in-house, including addictive malted caramel-walnut bars. Your standard espresso drinks are made using Counter Culture beans, and for something extra tasty, try an iced coffee made Japanese pour-over-style. The best time to visit is Wednesday mornings — Owner Mike Visser, who just launched Biscuit Lab, bakes two-dozen buttermilk biscuits just for the Mt Pleasant shop.
Chevy Chase
Little Red Fox (address and info)
Pry your eyes away from the shelves stacked with goodies and the tempting sandwich board at this hyper-local market in Upper NW to focus on the coffee for a minute. The market is inspired by Portland, OR, so it's no surprise that they roast beans from the city's Coava Coffee Roasters. Paired with local Trickling Springs milk, you've got one hell of a mug to unwind with. Now back to those sandwiches. For breakfast you're getting the "Portlander" with fried egg, house-made apple butter, Gorgonzola spread, arugula, and bacon on ciabatta. Important: breakfast goes to 4pm on the weekends.
Petworth
Qualia Coffee (address and info)
It's all about single-origin coffee at Qualia. So much so, that they offer free coffee tastings the 2nd and 4th Sunday of every month at 2pm, to help customers learn to appreciate and differentiate one cup from another. They're held in the roasting corner of the café, where you'll find owner/head roaster Joel Finkelstein hanging out. The café's cat mascot Stewey (he has a big head) is likely to back there too, chilling on a coffee sack. Their retail operation means you can also try Qualia Coffee at Chez Billy, Daikaya, and Dino's Grotto, to name a few.
Bloomingdale
Big Bear Café (address and info)
There's a lot to love about this cafe that seems to have its own culture. As in, lumberjack-chic is the style and people plaster ironic bumper stickers all over their laptops because they don't drive. They brew Counter Culture Coffee and have some unique offerings, like Cascara Coffee Cherry Tea — made from the skin of the coffee cherry. That being said, the food feels like something you could whip up at home for less, and the crowds can make your weekend visit less relaxing. The best part about this place is the vine-entangled patio with ample seating. Stick around long enough, and the coffee shop morphs into a cocktail-pouring dinner spot.
H Street NE
Sidamo (address and info)
Slide into a table flanked by burlap coffee sacks and embrace DC's Ethiopian side by ordering a cup of single-origin coffee roasted in-house. Or take advantage of their top-notch tea program, which includes this chai tea leben — a creamy concoction of Masala chai tea, brewed with milk and honey. You can also pick up a bag of beans and use the grinder to bring a little taste of Ethiopia back to your pad. They may not be the quickest baristas, but they're thoughtful. If you're aiming to stick around, the short wait is worth it.
Dupont Circle
Filter (address and info)
The Filter team selects the best beans from Annapolis roaster Ceremony Coffee and uses them several different ways. Their pour-over bar is the centerpiece of the Dupont Circle set-up, and it looks a little like a science lab. But, you can also order off a traditional espresso menu or try French press coffee. Filter's so tight with Ceremony Coffee, that they are the occasional exclusive carrier of certain coffees like the Finca Nueva Linda from Mexico. If you're geeky over single-origin coffee, this is your spot.
Adams Morgan
Tryst (address and info)
Earmark this spot as a neighborhood institution. They're as welcoming to the dude that drops 50 bucks on cocktails and dinner as they are to a single cup-buying law student who plans to camp out for as long as it took to film The Firm. They brew Counter Culture Coffee and aren't afraid to have some sugary fall fun. Their salted caramel affogato, for example, combines espresso, caramel, and kosher salt over vanilla ice cream. Or, there's lavender hot chocolate served with whipped cream to pair with your favorite build-a-bagel.
Sign up here for our daily DC email and be the first to get all the food/drink/fun in town.