After years of scouring coffee shops in every quadrant of DC for the best spots to post up for the day, I learned that vetting your local cafe as a workplace and not just a java joint can get complicated. Of course, good coffee is key. But depending on what your day has in store, you might need Wi-Fi or big tables for a meeting, and you'll definitely need a stocked menu for when afternoon cravings inevitably kick in.
There are a lot of things that can make or break your local coffee shop and a full workday is just too high stakes to throw away if you land at the wrong place. Luckily the options here are curated and ready to go for every type of work from "home" day.
Best foodie coffee shop: Elle
Mount Pleasant
Cafes this cute don't usually come with room to roam. But this cafe-by-day, restaurant-by-night stretches further back than you'd think and has plenty of nooks and crannies to perch at for the day. The sunny counter nestled between the barista's workspace and the front window is my personal favorite. Elle doesn't have Wi-Fi for guests (so make sure your hotspot is charged) and the cafe closes at 4pm so staff can switch gears for dinner service. But you'll quickly forgive them after sipping your expertly made latte or digging into breakfast and lunch options that include a perfect buttery biscuit, lovely scones, and lots of other rotating pastries, plus sandwiches and pizza once mid-day rolls around.
Adams Morgan
You've seen it on Instagram. The dreamy pillows on the front steps. The tilted mirror positioned with selfies in mind. The dramatic chandelier made from the organ that occupied the space when it served as a church. But the gorgeous digs in this trendy hotel lobby also happen to be a great place to post up for meetings or work with a quiet buzz bouncing off the vaulted ceilings. For those working alone, there are long shared tables reminiscent of a chic library and, if you're with a group, you can brainstorm on minimalist couches winding around the middle of the space. After coffee from The Cup We All Race 4, you can treat yourself to a glass of wine or slice of cake from Brothers and Sisters. You've earned it.
Best hipster hideaway: Tryst
Adams Morgan
This 15-year-old coffee shop has become a de facto living room for the hip freelancer set in DC. While it's located on the main drag in Adams Morgan, the eclectic furniture and cavernous vibe make the spot feel hidden but you'll quickly realize why it's become such an institution. Tryst has varied seating options and Wi-Fi all day during the week. All of the beverages come adorned with an animal cracker or two, but if you want something heartier, the cafe has a full menu of pastries and breakfast, lunch, and snacking staples.
Georgetown
Whether you have to head off to your 9-to-5 or just want to get an early start, First Bake is the place to be. The waterfront restaurant opens its doors at 7:30am Monday through Friday to serve cheap breakfast staples like cinnamon rolls, breakfast tacos, and poached eggs in toast dubbed birds in a nest for just $2.50. Plus, the large dining room remains relatively quiet for spreading out with your laptop, hopping on the Wi-Fi, and getting some real work done.
Best for the afternoon imbiber: The Royal
LeDroit Park
Carve out a nook in this effortlessly cool Latin spot and snack on empanadas, arepas, and fries with a side of Peruvian yellow chile mayo. The Royal is one of the few coffee shops in town slinging both quality coffee and top-notch cocktails while housing plenty of seats for working on the free Wi-Fi. Even better than the sprawling food menu is the happy hour that includes some food specials, select cocktails, and a High Life and shot combo. Plus it lasts nearly all day on Mondays (noon-7pm) and runs 3-7pm every other day.
Georgetown
Sometimes you just need to plop down and not log off the free Wi-Fi at your temporary desk all day. For that, you have Grace Street Coffee. Get there early if you want a good seat because you won't be the only one in town with this idea. But if you find a high chair or bench at this three-in-one fancy food court, you can comfortably stay all day fueled by coffee and pastries from Grace Street Coffee, a sandwich (one of the best in America!) for lunch from Sundevich, and an acai bowl from South Block as an afternoon snack.
Park View
You won't be alone pulling out your laptop and settling down to a stool at Colony Club. If you're regimented enough to stay inside on the first floor, you'll find the minimalist decor provides an ideal backdrop for getting work done. But when you're ready to reward yourself for meeting your latest deadline or just want to call your work day a wash, Colony Club has the perfect setup for that, too. The outdoor patio has picnic tables for soaking up the sun and pretending to work or meet with coworkers, and an old-school Ping-Pong table upstairs to really entertain yourself. You can also wander next door to sister restaurant/bar No Kisses and Sonny's Pizza for a break, not to mention some of the best pizza in the city.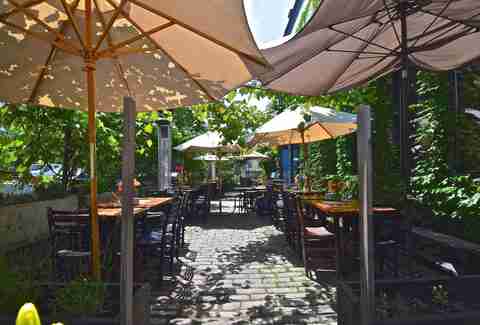 Best outdoorsy coffee shop: Big Bear Cafe
Bloomingdale
This affordable, all-day cafe has a menu that spans breakfast, lunch, and coffee shop fare. Most menu items are under $10, so Big Bear Cafe's Bloomingdale outpost makes a great place to spend the day working on their free Wi-Fi. Inside, the exposed brick, warm wood features, and laid back atmosphere create a homey vibe. But when you walk out onto the gorgeous vine-entangled patio you'll quickly realize that this relaxed spot could easily be gussied up for a wedding, so spending a workday here is a real treat.
Best for 'serious' studying: Reading Room at the Library of Congress
Capitol Hill
Even taking Buzzfeed quizzes or making memes looks fancy in the Library of Congress' golden reading room. After passing through security, the entry gives way to grand architecture, work spaces, and sooo many books. The reading room sits with a giant dome overhead in the center of the library with a classic desk layout of hearty oak tables and a lamp at each seat that mimics the design of the nearby Capitol Building. You can bring your laptop in, but you may feel more at home surrounded by books with a simple pen and paper setup. It may be the second largest library in the entire world, but there are few seats and they go fast.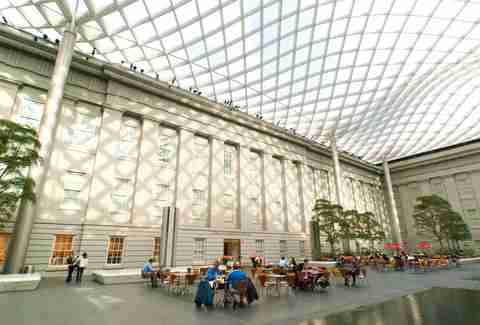 Penn Quarter
Connecting the National Portrait Gallery and the Smithsonian American Art Museum, Kogod Courtyard is easily one of the best spots to hunker down in the city. You get natural light courtesy of an elegant, undulating glass canopy overhead that brightens up the space even on dreary days. Plus, you'll feel like you're outside among trees, shrubs, and shallow pools of water. The high ceilings and wide-open space somehow absorb the sound so, even with the space is packed with people (and it will be), the courtyard feels quiet with plenty of space to set up at a table or stretch out on an oversized marble bench in the 28,000-square-foot courtyard. There's a cafe with coffee, snacks, and other refreshments, but you don't have to buy anything to turn this free museum with Wi-Fi into your office for the day.
Best one-stop workshop: Maketto
H Street Corridor
Maketto contains multitudes: a 60-seat Cambodian and Taiwanese restaurant by Erik Brunner-Yang, a retail store featuring brands from Adidas to Comme des Garçonnes, a dreamy tropical rooftop lounge with plants galore and wicker accents, and a minimalist patio cafe with plenty of space to sprawl all work day long.
Best coffee shop for everyone: Emissary
Dupont Circle
This spot is equal parts people Instagramming their avocado toast and K Street lobbyists sipping coffee in their best suit, which makes it an almost impossibly perfect find in the heart of Dupont Circle. The front of the subterranean coffee shop offers natural light ready for photos and light-hearted meetings while the two rooms in the back have a cozier, more private feel. You can linger well into the evening but once the lights are dimmed and the candles appear on every table, you'll have to stay in the front room for free Wi-Fi while patrons in the back enjoy a more traditional bar vibe stocked with beer, wine, and cocktails.
Sign up here for our daily DC email and be the first to get all the food/drink/fun in town.