The 11 Best Dive Bars in DC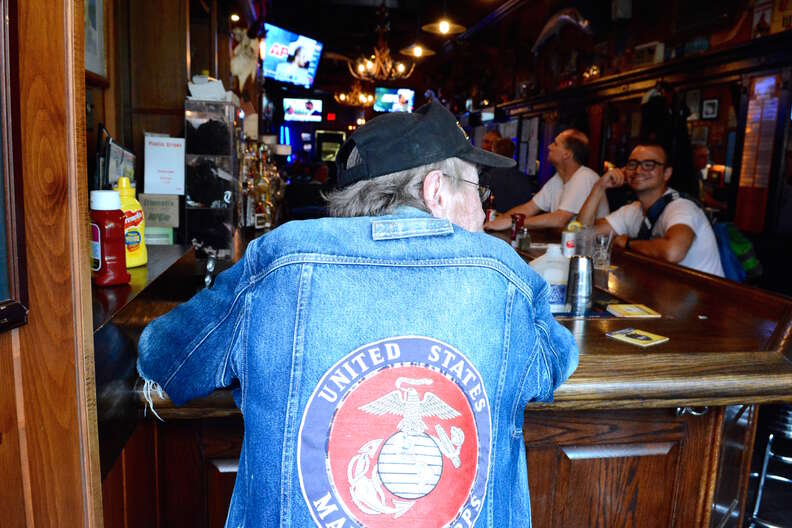 Tune Inn Restaurant and Bar

| Laura Hayes/Thrillist
Tune Inn Restaurant and Bar

| Laura Hayes/Thrillist
Like many things in Washington DC, what is and isn't a dive bar is a matter of great debate. The qualifications from some of the most orthodox dive bar enthusiasts are time, grime, and dime: how long it's been there, how dirty it is, and how cheap. (But one bar owner, when asked how long his establishment had been open, told us, "The first 10 years were a blur, so I really have no idea." Obviously, that place qualifies.) Others swear a dive has to have a jukebox -- and not one of those pesky digital ones. Of course, the very word dive itself implies it's subterranean.

The one thing we can agree on is that there is a spectrum of "diviness." And we've included 11 bars that fit somewhere on the scale. Not all of them are below ground, filthy, or dangerous. While those may well define the perfect dive, there are other qualities we admire, too, including a gruff personality, canned beer, and a host of regulars. Each one of these bars deserves a spot for being a dive, or pretty damn close.
Mt. Pleasant | Est. 1935
The Raven Bar & Grill is undoubtedly a dive. Applauded for its bold face-lies, it neither serves food as the grill sign suggests nor fancy cocktails as the neon cocktail sign promises. A fixture in the district since the 1930s, the Raven doesn't really do fancy. I once heard a bartender refuse to serve a hot toddy due to lack of spices, hot water, lemon, and proper glassware. But, he replied, we do have whiskey.
Adams Morgan | Est. 1965
There are many signs that Dan's is a dive bar. First, the sign itself is handmade and the window is covered, both of which announce what kind of bar you're entering. Then the décor inside doesn't get much more complicated. You can get a drink but your first order should be a squeeze bottle shot. Worn and irreverent, Dan's makes the cut for genuine dive.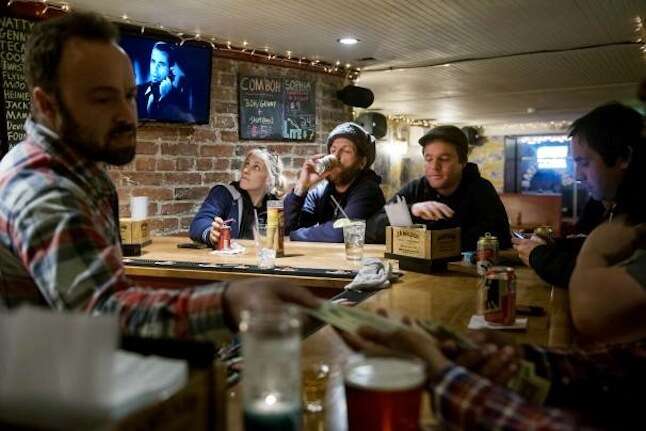 Bloomingdale | Est. 2007
The controversy here is that Showtime is relatively new. But if it walks like a duck and quacks like a duck -- well, you know. Showtime checks every necessary box in the definition of a dive bar aside from age, including a cash-only policy, a $5 beer-and-shot combo, and murals that already look well-worn. It also has Granny & the Boys playing Sunday, and the jukebox has CDs and is absolutely free.
Shaw | Est. 2013
There have been very few times that I've wanted a hot dog, a shot of Jeppson's Malört, and to talk Detroit or Chicago baseball. But, oh boy, when I did, Ivy and Coney was there in spades. Ivy and Coney is new, too, but its owners have established not only a great dive bar -- they're also first class trolls. On the bar's door is printed "7th Street Small Plate Daiquiri Mojito Speakeasy Cupcake Shared Plate Organic Farm Table Snout to Tail Emporium Newest Spot on 14th St." Now, that's some DC attitude.
Congress Heights | Est. 1972
A strip-club-turned-dive-bar-turned-catering-business, Player's Lounge has had many identities since it opened in the '70s, and we get the feeling it's not done yet. Still, Tiffany lamps over booths, loyal regulars, and pool tables all add to the dive bar vibe. For now, a dive bar it is.
H Street Corridor | Est. 2005
There's a rock-and-roll attitude that permeates The Pug, which is cluttered with soccer scarves, boxing gloves, and beer signs. The vibe is relaxed, but it's clear from the get-go that they don't entertain idiots, shots, specials, or politics (which it clearly spells out on its website, too). There is a slightly better beer and spirits selections than most dives and creative brunch cooked from behind the bar on Saturdays and Sundays. Otherwise, no frills all the way.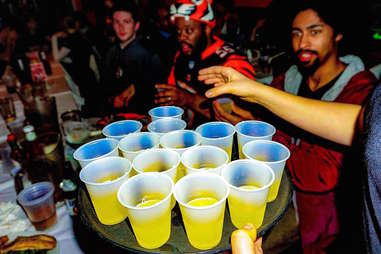 Dupont Circle | Est. 1979
The Bottom Line is downstairs, the only one on this list. But that's not all that gives this space character: It celebrates Cincinnati teams (Reds and Bengals), starts serving at 11:30am (except Sunday when it starts at noon), and has an eclectic following. Don't let the tablecloths fool you -- this 40-year-old spot is a dive at heart.
Capitol Hill | Est. 1947
The Tune Inn is still touted as a dive bar long after it outgrew its strictest dive bar bonafides when it was refurbished following a fire in 2011. The question arises: Once a dive, always a dive? When you enter, long time regulars often turn their heads and that is the clearest example of its status. It's a dive that got cleaned up and will manifest as a full dive bar again in 2030. In the meantime, order a burger and a beer and enjoy this Capitol Hill staple.
Petworth | Est. 2007
Canned beer is king at Red Derby and that, in itself, adds an air of diviness. Though it ended its cash only police and has a rooftop, there are ashtrays lining the bar, which brings it up a few notches on the dive bar scale. Red Derby is a great bar but, as far as a dive bar, let's say it's a mixed bag.
Petworth | Est. 2014
Lyman's is stacked with trinkets behind the bar and along the ceiling, cameras and old cocktail kits. What may demote them is the trinkets appear to have been dusted some time in the last year. Plus, they have a plethora of pinball machines and actually make some pretty great food. Lyman's is equal parts neighborhood bar and dive bar in the making.
Capitol Hill East | Est. 2006
In many ways, Trusty's is more neighborhood bar than dive. But the loyal and constant regulars push it over to the divey edge. Plus, it has a school bus bar, complete with lunch box lights and thermos chandeliers. Normally, we'd count food against a place like this, but Trusty's nachos, burgers, and sandwiches provide us ample sustenance to keep on drinking. And we can't be mad at that.
Sign up here for our daily DC email and be the first to get all the food/drink/fun in town.
Derek Brown has seen his fair share of dives, escaping the seriousness of being a writer, author, and spirits and cocktails expert. For his best dive stories, you'll have to ask. Follow him on Twitter and Instagram @ideasimprove.