Ahhh, yes. Fall is here, so you're probably already getting the tailgate gear ready, talking serious football trash with your buddies, and going through catalogue after catalogue to find just the right rake for vigorous leaf pickup. Or wait, no... drinking beer! Yeah, definitely drinking beer. And to help you do that last non-rake thing, we asked five Cap City beer aficionados to give their picks for the 10 best brews to drink this Fall.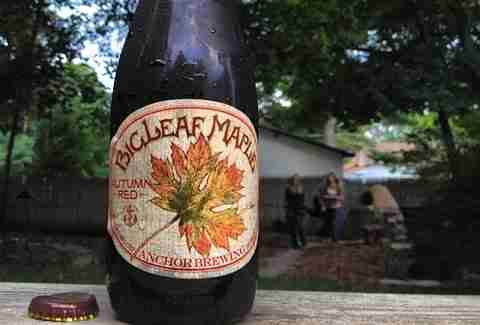 Nahem Simon, Jack Rose Dining Saloon
Anchor Brewing Bigleaf Autumn Maple Red Ale (American Amber/Red Ale, 6% ABV)
Nahem says: "It is an American Amber that has all the malty goodness that you would want to enjoy on a cold day, with a perfect sharp and spicy hop kick that is mellowed out by the echo of sweetness left by the Big Leaf maple syrup."

Ommegang Scythe & Sickle Harvest Ale (Bière de Garde, 5.8% ABV)
Nahem says: "Unlike other harvest ales, this beer is a traditional Northen France style: Bière de Garde. Meaning 'beer for storing/ keeping', these beers were brewed in early Spring and stored in cold cellars until the warmer months, when they would be consumed. Similar to the Belgian 'Saison', they differ in that their 'cellaring' gives them a more well-rounded, malty profile, [that is] less bright and spicy than Saisons. The Scythe & Sickle also uses oats, wheat, and rye, as well as using barley, so you end up with a fantastic malty beer with flavors of grains -- slightly creamy from the oats and wheat, and spicy from the rye malt -- and it finishes with a delicate and subtle hop finish."
Max Kuller, Wine Director at Estadio and Doi Moi
Devils BackBone Vienna Lager (Vienna Lager, 4.9% ABV)
Max says: "My first favorite start-to-Fall beer is one we have on the list at Estadio. It's the Devils BackBone Vienna Lager brewed in Roseland, VA. It's a great beer for people who drink crisp lagers in the Summer and want to continue drinking cool, refreshing beers in the Fall. It's toasty, with cereal grain and caramel notes, and has a very clean finish. It's well balanced, and, with an alcohol percent of 4.9%, is the perfect session beer for watching October football."

Beerlao Dark from Lao Brewery Co. (Euro Dark Lager, 6.5% ABV)
Max says: "My second choice is Beerlao Dark from Lao Brewery Co. in Laos. We serve this at Doi Moi, and I love its toasty notes. It's got a great backbone and roasty flavors that hint of coffee, but it's still refreshing enough to stand up to our hotter Autumn days."
Chris Van Orden, Co-Editor of DCbeer.com
Union Craft Brewing's Blackwing (Schwarzbier, 4.9% ABV)
Chris says: "Blackwing is a rock-solid take on Schwarzbier, a German style that marries a relatively light body with all those darker malts that you don't see much of in the warmer seasons. Blackwing pours a dark mahogany with a pillowy head that shows off noble hop aromas alongside some roastiness. The flavor is mostly chocolate with a hint of coffee, but the carbonation and attenuation keep things from getting too rich. Lots of flavor on a light chassis: the perfect transition beer to start the Fall right."

DC Brau's On the Wings of Armageddon (American Double/Imperial IPA, 9.2% ABV)
Chris says: "This beer could be considered the inverse of Blackwing: all of the bright, bold hops you've been binging on all Summer turned up to eleven and nailed to a considerable caramel backbone. I can't handle something this big in the heat without sweating bullets, but as soon as it dips into the seventies, I crave the huge hop hit. The big, sticky head tells you what you're in for: citrus, toast, toffee, and resin in high doses."
Rob Day, Regional Beverage Director for Richard Sandoval Restaurants
New Belgium Fat Tire (American Amber/Red Ale, 5.2% ABV)
Rob says: "Fat Tire because it's nutty, caramel-y, drinkable. I still love this beer and drink it often..."

Rogue Hazelnut Brown Nectar (American Brown Ale, 6.2% ABV)
Rob says: "... and Rogue Hazelnut Brown Nectar because it's buttery, hazel-y, nutty, and an unbelievable beer."
E. Jay Apaga, Black Jack and Pearl Dive's Bar Manager
Shipyard Brewing Pumpkinhead (Pumpkin Ale, 4.7% ABV)
E. says: "When I think of pumpkin beer, this is the the beer I compare all other pumpkin beers to. It's not so sweet that it tastes like dessert, and it's not too high on alcohol, so you can knock back more than a few."

Southern Tier Harvest Ale (ESB, 6.7% ABV)
E. says: "I like refreshing but hearty beers in the Fall. Harvest Ale fits the bill in both of those regards. People forget about the ESBs, and I think they're especially great in the Fall."