The Best Beers From DC-Area Breweries This Fall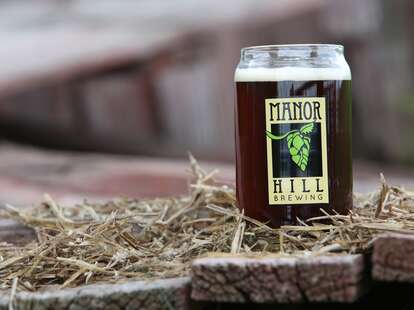 Courtesy of Manor Hill Brewing
Of all the seasons, autumn is arguably a brewer's biggest muse. The colors of the leaves, the yield of the harvest, the change of the weather -- these things inspire a wide range of beers, whether based in brewing traditions or modern innovation. In general, fall seasonals tend to be a bit maltier, a tad heartier, and a little boozier; they're the gateway between the clean lagers of July and the spiced winter warmers of December, and there's a lot of room to play between those poles. We selected 10 of the DC-area beers that do it best.
Dunkelweizen, 4.5% ABV
Washington, DC
There are two things to know about Dunkelweizen. First, the rustic Bavarian wheat ale is the love child of nutty dark malts and the spicy Hefewizen yeast strain. And second, nobody for hundreds of miles produces one like Hellbender Brewing. That's not hyperbole; the Riggs Park brewery uses a rarely found (in the US, at least) Belgian mash-filter system that allows head brewer Ben Evans to use significantly more wheat than other brewers in his recipes. In the case of Hellbender's Dunkelweisse, he's cranked the wheat content all the way to 100%. That's a lot of wheat, and the grain lends the beer a rich mouthfeel, full body, and quenching hint of tartness. Those qualities compliment the flavors drawn from Dunkleweisse's open fermentation. "When there's no pressure in a vessel, the yeast tends to make a lot more esters and phenolics," Evans says. "This beer has layers of clove, banana, and a mildly earthy spiciness that wouldn't have been produced in a closed vessel."
Most of Hellbender's beers aren't open fermented, but they're almost invariably dry, from the kolsch to the coffee stout. That's certainly the case with Dunkelweisse, which keeps you coming back for more. It's a great alternative to the glut of saccharine pumpkin ales and subpar Oktoberfest beers that can sit heavy on your palate or send you into sugar shock. "On these temperate nights, it's a refreshing dark beer that finishes more like a light beer," the head brewer says of his seasonal offering. "It just feels like a fall beer on account of those spicy notes, which remind me of the things we're starting to eat and drink this time of year."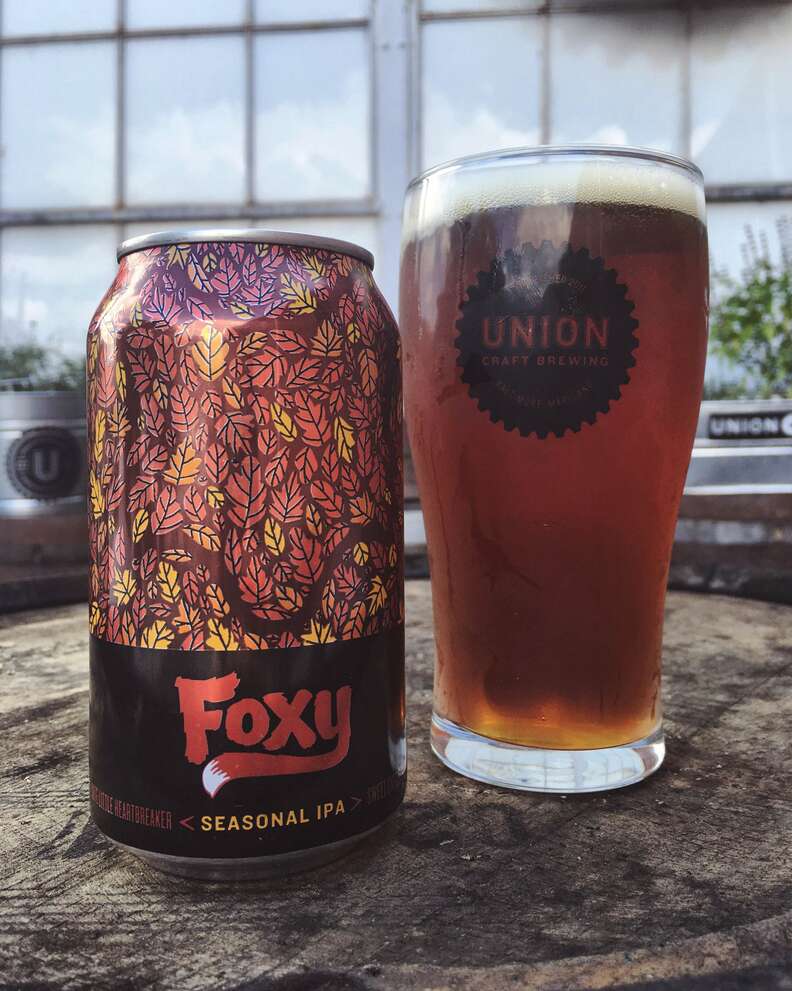 Red IPA, 6.5% ABV
Baltimore, MD
As we said back in June, Baltimore's Union Craft didn't want to make a single IPA, so it made three seasonal ones. And as you might be able to tell from the red, yellow, and orange leaves splashed across its can, Foxy is the fall installment. The beer within that container, meanwhile, is a fittingly autumnal ruby red. But while it may look like an amber ale, there's no mistaking Union's intent. "We call Foxy a Red IPA, so the hops are the star," head brewer Kevin Blodger tells us. "After you get that great hop burst, though, it should be like, 'Wow, there's a really rich malt flavor in there, too.'"
That rich malt flavor comes from five grains, notably the biscuity, British barley called Maris Otter. As for the star of the show, Foxy is an evolving hop IPA -- meaning the hops change year to year. It's a tradition that Blodger has carried over from his time at the now-defunct Frederick Brewing Company, where he brewed the similarly sneaky Hopfest Brown Ale to celebrate each harvest. The hop profile of this year's Foxy combines Columbus, Centennial, Mosaic, and Cascade, and settles somewhere between citrusy and dank. Where Foxy roams next year is still anyone's guess.
Amber ale, 4.6% ABV
Ellicott City, MD
Manor Hill head brewer Ben Little approaches a traditional style of beer with one question in mind: If this staple were invented today, what would it taste like? In other words, a modern day brewery doesn't face the limitations on ingredients and production techniques that existed 200 years ago, so why not utilize everything that's available when channeling the spirit of a well-worn style? Why not color outside the lines when producing, say, a kolsch or a grisette?
With Mild Manor'd, the Ellicott City brewery applies that thinking to the English Mild. A style that's relatively rare in the US, the traditional dark ale is typically a tad malty, a tad sweet, and almost always low in alcohol. Manor Hill's version can't be summarized as neatly. The biggest difference is the grist complexity; Little's recipe combines no less than nine different malts from Scotland, America, Germany, and Belgium. This array of grains imparts a rich swirl of toffee, roasted, and dark fruit flavors, with an unexpected hint of chocolate in the background. In the hop profile, meanwhile, the traditional Golding varietal meets old school Liberty hops from the US. And the ABV is decidedly more American, too: in fact, at 4.5% Manor Hill can't really call its beer a mild, so it's settled on the Amber Ale designation. The truth is that Mild Manor'd is somewhere between the two. It's complicated. "Mild Manor'd is what an English Mild would be if it was brewed with new world ingredients in the U.S. today," Little says. "I wanted to take that classic style, and bring all of its fantastic flavors forward, and maybe even elevate them a little more."
Cranberry saison, 5% ABV
Washington, DC
Three years ago, 3 Stars Brewing decided it wanted to make a fall beer with a seasonal ingredient, something to honor the harvest and the holidays, but the brewery faced one problem: Neither head brewer Mike McGarvey nor his co-founder Dave Coleman cared much for pumpkin beer. The two stewed on alternative options before coming to a realization both unconventional and obvious. "We thought, 'What are you getting at your family meal this time of year?'" Coleman remembers. "And whether it's Thanksgiving and Christmas, those dinners often have cranberry involved."
Harvested in September and October, cranberries certainly fit the fall theme. And since 3 Stars had solidified its name with the refreshing Peppercorn saison and its summertime sibling Citra Lemon saison, the brewery unsurprisingly opted to utilize a light, effervescent farmhouse ale to showcase the tart fruit. The brewery doesn't skimp on the input, either; this year's Nectar of the Bogs is conditioned on a whopping 9lbs of cranberry purée per barrel. That's a fair amount of cranberry, but the brewery masterfully doesn't let it topple the beer. "The trick is in getting a beer that tastes like cranberry without being cranberry colored or overly juiced," Coleman says. "You can go too far with that."
Imperial pumpkin ale, 10%
Ashburn, VA
Believe it or not, pumpkin beer has a history in North America that goes all the way back to colonial times, when settlers used the gourd as a fermentable in their makeshift ales. Those early iterations, though, would have tasted far different from the modern day pumpkin beers we're all accustomed to, because pumpkin itself doesn't bring a whole lot to the table as an ingredient. That's why not a whole lot of pumpkin ales actually contain pumpkin. Rather, it's the spices commonly associated pumpkin pie that have come to define the style since its reemergence in the 1980s.
A few years ago, Old Ox sought to buck that trend with an old school pumpkin beer. The brewery made its Oxorcist stout with the pulp of the orange squash... but no spices. And according to Old Ox co-founder Chris Burns, that confused the hell of its customers. So, the following fall, the Ashburn brewery retooled the Oxorcist recipe, removing pumpkin, and adding cinnamon, clove, and nutmeg -- in moderation, of course. "We still wanted to show subtlety," Burns shares. "When you go over the top with spices, it ruins you for the rest of the night."
While Oxorcist II may not go overboard with those spices, it is not an otherwise timid beer. The imperial pumpkin ale sits at a mighty 10% ABV, though fermenting it at cooler temperatures and leaving some residual sugar in the mix hides a lot of those boozy notes. The spices, meanwhile, are balanced with vanilla bean and maple syrup. All in all, it's a dangerously smooth treat, likely to please both pumpkin beer fanatics and skeptics.
Märzen lager, 5.5%
Washington, DC
DC Brau is best known as the District's resident hop masters, a producer of vaunted double IPAs like Space Reaper and On the Wings of Armageddon, so it's somewhat ironic that the man behind those recipes often wants nothing more than to make lagers. "I love the subtle flavors and easy drinking of lager beer, and the way that they can hide and disguise the alcohol," says brewmaster Jeff Hancock. "It's not to say that IPAs aren't a thinking man's beer, but with lagers, you have to reach and find the nice characteristics. If you have a flaw, you can't hide it. They're a test of the brewer's skill."
While some of Hancock's lagers could be considered stylistic hybrids, like the hop-forward pilsner Brau Pils, DC Brau's Oktoberfest is a fairly traditional Märzen made entirely of German ingredients... with the exception of DC water, of course. The star of those European inputs is the malt bill, which boasts seven different grains and produces a crisp range of caramel, toasty, and biscuity flavors that will warm your soul faster than any bowl of chicken soup.
But while the dedication to all-German ingredients has remained constant, Hancock riffs on the recipe of his Oktoberfest from year to year. The 2016 version is almost a full percent higher in alcohol than its predecessor, which brings it more in line with traditional German Festbier strength. Hancock also sought to give the beer a fuller body and a "velvety" mouthfeel, and along those lines, he fermented it at a lower temperature to let the malts shine through. The brewmaster says he would drink Märzen all year if he could, but he'll settle for every fall. "It's just nice to show the community that we're more than a one-trick pony," he adds.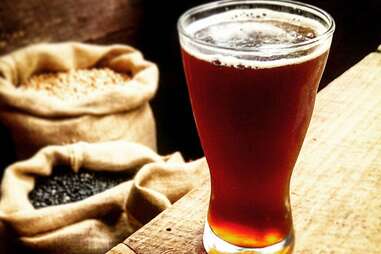 Belgian brown ale, 6% ABV
Washington, DC
Handsome Beer's Matt Humbard has a simple philosophy when it comes to brewing: Only make what you'd want to drink. Considering that Humbard had been homebrewing for over a decade prior to co-founding Handsome, this makes a lot of sense. He got accustomed to the freedom of brewing for an audience no bigger than his friends, his wife, and himself. It also begins to explain how Handsome's take on a brown ale, Strange Charm, isn't much of a brown ale. "Brown ales are probably one of my least favorite styles," the head brewer shares. "Most of the beers that I brew for my personal consumption are saisons, so when I try a new thing -- like developing the recipe for a brown ale -- I usually start with saison yeast strains."
Eschewing a traditional ale yeast, Strange Charm falls somewhere between a brown ale and a saison, though it is perhaps most distinguishable for Humbard's use of Special B malt. The darkest of the Belgian caramel malts, this slightly roasted grain is most often added to Quadrupel ales and imperial stouts, where in small amounts, it gives boozier beers notes of dried fruit and tobacco. Over several years homebrewing versions of Strange Charm each autumn, Humbard gradually increased the amount of Special B in his beer, finally arriving at a place that captured the uniquely leathery qualities of the malt. He says it reminds him of a belt or saddle. We've never tasted those things, but we know Strange Charm is lush and delicious.
It's also the maltiest beer that the "gypsy brewery" has produced to date, but that doesn't mean it's particularly sweet. Special B isn't a crystal malt, so it doesn't possess the saccharine quality of those more common grains. Combining it with the fruity character of Handsome's house saison yeast strain, Humbard has produced something that's perhaps best approached as a dark saison... and consumed quickly.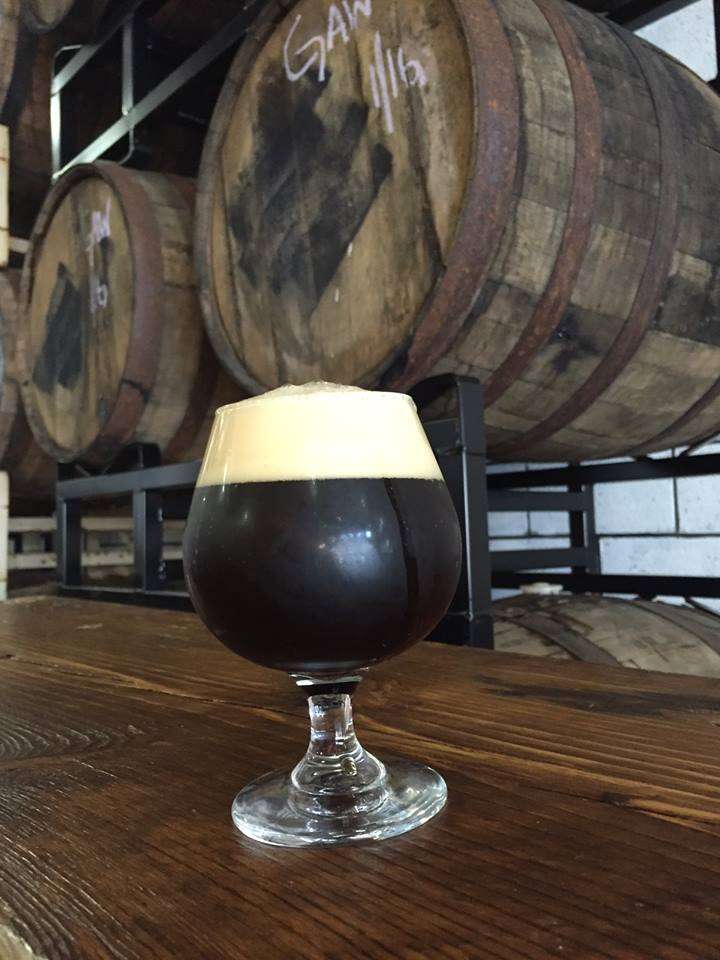 Bourbon Barrel-Aged Wee Heavy, 11% ABV
Dulles, VA
Ocelot's Gravity Always Wins isn't an homage, but it wears its inspiration on its sleeve. Let's step back in time. Back before he founded his Virginia brewery, owner Adrien Widman grew enamored with AleSmith's renowned Wee Heavy -- a very sweet, very boozy Scottish ale that avoids peated and smoked malts, unlike a lot of American renditions of the style. "I just fell in love with its texture, the alcohol level, the residual sweetness, everything," Widman recalls. "I always wanted to do a big Wee Heavy like them. In my mind, they were the benchmark of what one should be."
After researching the science of Wee Heavies, Ocelot brewed and released its own in the spring. The product of a wonderfully complex malt bill, a mix of simple and complex sugar, and the two-hour boil, the 11% ABV Gravity Always Wins was a doozy. "To my delight, one day somebody actually brought in an AleSmith We Heavy, and they poured it blind for me," Widman says with the onset of a grin. "They were very, very similar."
Not all of the batch went to market, however. A significant portion went into Heaven Hill bourbon barrels, where the beer would age for the next eight months -- until it had picked up not just the whiskey flavor but the wood notes, too. The result of this patient barrel-aging was to make an already decadent beer somehow more decadent. Or to paraphrase Radiohead's "Fake Plastic Trees," the song whose lyrics give the beer its name: It tastes like the real thing. "You can't drink this beer all night long, but you can enjoy a glass or share a bottle with somebody," Widman says.
Black IPA, 6.8% ABV
Alexandria, VA
Two hundred year ago, a woman died under mysterious circumstances inside Alexandria's Gadsby's Tavern. She was never publicly identified, but she was buried in the town's St. Paul's Cemetery with an elaborate tombstone. It's still there. Both the tombstone and present day historians refer to her as the "Female Stranger." And one day, by chance, former Port City Brewing brewer Josh Center came across her legend. "I've always been really interested in dark, macabre stories," he admits. "I'm a huge serial killer and true crime fan. To me, her story was fascinating with just the right amount of good historical tidbits."
At the time, Center and fellow brewer Adam Reza had recently piloted a black IPA, so they pitched Port City owner Bill Butcher on the idea of calling it Long Black Veil, a reference to the Female's Stranger's rumored garb. He bit on the name, and the idea of a Halloween release, too. It didn't hurt that the hop-forward ale was also great. "It was a very simple recipe," Center says. "We wanted to keep it a drier IPA."
One of the tricks of brewing Long Black Veil is the addition of a dehusked dark roast barley at the very end of the mash, which leaches dark color into the beer, without adding too much roasted character. The beer is then fermented with the same Belgian yeast strain that Port City uses for its Optimal Wit, adding a subdued fruitiness and spice. And, finally, it's dry-hopped with Centennial and Citra, which, respectively, give off floral and citrusy aromatics that play nicely with the roast. The process doesn't sound so simple, but maybe as with the Female Stranger, things aren't always what they seem.
Double chocolate milk stout, 8.3% ABV
Washington, DC
Starsky & Dutch is a chocolate lover's beer. The imperial stout sprang from the mind of former 3 Stars Brewing lead brewer Nathan Rice, who was tasked by co-founder Dave Coleman with developing a beer that tasted like a chocolate milkshake. Coleman had an unlikely source of inspiration: the deceptively boozy and easy sipping Grapefruit Crushes he drinks at the beach during the summer. He jokingly refers to these cocktails as "grown-up black out juice." And he wanted a fall version.
The challenge for Rice was developing a chocolatey beer that wasn't too cloying or malty. His solution was three-fold. First, he decided to add Dutch processed cocoa powder directly to the mash, which imbued the beer with an essence of chocolate, but none of the bitterness that would result from introducing it during the boil. Then, he balanced those chocolatey flavors with lactose (otherwise known as milk sugar), which brings a slight sweetness and creamy texture to the liquid. And, finally, he conditioned the Starsky & Dutch on cacao nibs and vanilla beans for one last layer of complexity. "I think it ended up as less of a milkshake than a brownie in a glass," Rice jokes. "That chocolate flavor really comes through."
It's always a good time for a chocolate milkshake, but Rice says the fall seasonal is ideal on a brisk evening. "One of my favorite things to do when the weather starts turning is to sit out on the back porch with a cup of hot chocolate," the brewer shares. "Starsky & Dutch is perfect for when it's still a little too warm for the hot chocolate, but you want that similar flavor. I kind of like sitting outside, watching the leaves turn, drinking my cup of hot chocolate beer."
Sign up here for our daily DC email and be the first to get all the food/drink/fun in town.