Washington DC DC's ever-evolving drinking scene means there's always a new bar to try, but why limit yourself to just one bar when you could try five?! There's something for everyone, ranging from a speakeasy that comes with an elevator attendant to approachable (i.e. no elevator attendant) neighborhood joints. Challenge: hit them all in one weekend!
Recommended Video
The Definitive Eggnog Recipe You Need for the Holidays
Chaplin's Restaurant & Bar
Shaw
Don't lie -- you've always wanted to throw back dumplings at a 1920s Charlie Chaplin-themed bar lit aglow by flickering black-and-white movies. Chaplin's menu features seven different kinds of ramen and even more dumplings (like one stuffed with NY strip that's been soaked in Yamazaki 12-year Scotch for a week). The cocktails are from the Wilder Brothers, and one gurgles with voice-altering helium gas. It gets better -- soon they'll launch an upstairs area dubbed "The Opium Den". 

Continue Reading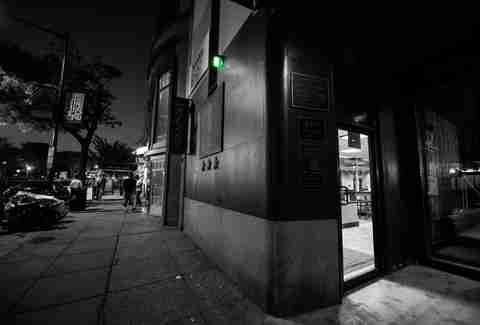 The Sheppard
Dupont Circle
In Great Gatsby fashion, a green light beckons you to The Sheppard. It signals the speakeasy from Spike Mendelsohn is open and ready to serve you snacks and steep cocktails ($12-$18). Named for Senator Morris Sheppard, who was kind of a schmuck for banning booze in DC in 1917, the bar is velvety and dimly lit. Drinks range from classics like a Blood & Sand to a "Pick Your Poison", where Jack Caminos customizes a cocktail based on your whims. Bonus: there are 1970s Playboy magazines by the bathroom. They're open Tue-Sat from 5pm-close at 1337 Connecticut Ave NW.
Smith Public Trust
Brookland
If The Sheppard has an air of exclusivity, Smith Public Trust is everyman's bar. It's what the owner calls a "progressive space", studded with conversation piece artwork (from artist GAIA) like floating heads of notables like Benny Franklin and rapper Meek Mill. The bar food is quite elevated: duck breast Spring rolls, pork belly banh mi sammies, jerk shrimp satays, and the like. In addition to $10 craft cocktails with crazy names, there are also 12 beers on draft, primarily of the Belgian variety. Go ahead and post up at the bar for a good time -- it's made out of old shipping containers.


A&D
Shaw
Any bar that has gummy bears on offer already has plenty going for it, but there are also shot-and-a-beer combos and cocktails at A&D. Debuting soon is the Millions of Peaches cocktail, inspired by The Presidents of the United States of America, with rye whiskey, a lemon shell, peach liqueur, and ginger beer. Their snacks are perfect everyman fare: Frito pie, French bread pizza, nachos, and soft pretzels. If you're too fancy for that, bring in a sandwich from SUNdeVICH -- it's next door and from the same owners.
The Pursuit Wine Bar
H Street NE
Those pursuing an interest in wine should pop in here. With close to 45 wines by the glass, you can treat this new H Street wine bar as a personal laboratory for figuring out what you like. Four of them are on tap, because that's a thing now. Not feeling it? There are also a handful of cocktails and beers, like a giant, 750ml Allagash Curieux. When you get hungry, you'll be building your own grilled cheese.