The nightlife neighborhood where you were once more likely to see a college junior slipping in his own sidewalk vomit than a decent plate of food has had a mega metamorphosis in the past year and change. From vinyl and sashimi to hot new happy hours and vegan BBQ, here are 12 reasons to spend your next few weekends on 18th St.
Recommended Video
Wine Workouts Are Just What We Need in our Fitness Routines
1. Even more music paired with tasty eats
We already told you about Songbyrd Record Café's charms, with its Mumbo Slice pizza and vintage Voice-O-Graph. Now, meet Songbyrd Music House from the same folks, combining burgers, cocktails, and DJs spinning tunes. Try the Madras Burger with a chopped mint and radish salad, mango chutney, and curry sauce, paired with a Ginger Buck cocktail (Green Hat gin, Gosling's ginger beer, and lime juice).
2. There's a new wine bar with a fantastic happy hour
Adams Morgan just got its first wine bar -- Jug & Table -- on the first floor of Roofers Union. Let's focus on the jug part because tables are boring. During the 5-7pm happy hour, you and your pals can score a jug of wine priced at $20-$25. The deal is so good that you'll find yourself questioning the bar's business plan. If you don't think you can glug a whole jug, there are also $5 glasses offered during happy hour. A rumbling tummy can be satisfied with gooey pressed sandwiches like the Americano with cheddar, tomato, and bacon jam.
3. Donburi's gone raw... and added booze
The crispy mixed katsudon at Donburi will always have a place in our hearts, but AdMo's beloved Japanese comfort food spot launched a new menu this summer and it stars sashimi. The kaisendon (pictured) is a loaded bowl filled with thick cuts of pretty much the whole ocean: yellowtail, tuna, salmon, scallop, eel, tobiko, shrimp, and sometimes, uni. The even better news is that you can now pair your bowl with a beer (Orion from Okinawa or Koshihikari Echigo) or some sake (Sawa Sawa or Rock Samurai).
4. Pop's SeaBar delivers on its laid-back promise
The owners really want you to feel like you're down the shore. That's why you can shoot oysters, crush some catfish, stick a candy straw into a lemon, and score a koozie, all while wearing shorts (you still need a shirt and shoes folks, this isn't really the beach). Things can get so buttoned up in town; it's thanks to places like Pop's that we can let our hair down.
5. There's finally a Mexican restaurant dishing out edible food
... not just passable margaritas. Johnny Pistolas serves tacos, rice bowls, enchiladas, and a whole lot of tequila, but the real star is the $24.99 weekend bottomless food fest called "Bruncharia." The owner tells us it's like a Brazilian steakhouse because they keep sending food out until you tap -- think bacon and egg quesadillas, churros, and huevos rancheros. Also expect live music.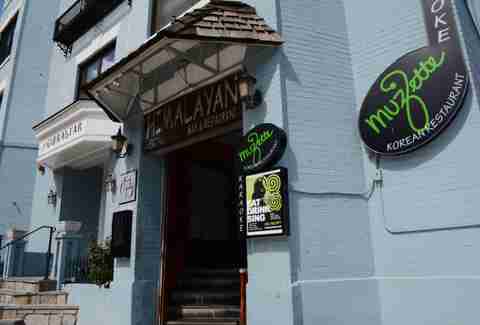 6. No more waiting for the latest hits at Muzette
The private room karaoke joint in Adams Morgan upped its game recently when it traded outdated equipment for top-of-the-line models. Instead of waiting three or four months for the song selection to catch up to what's on the radio, hits are available almost immediately. Though this doesn't matter if you only came to sing Journey.
7. The Libertine's advancing the drink-local movement with absinthe
Visit Libertine -- AdMo's absinthe bar -- to try the DC area's first regionally produced absinthe from Mt. Defiance Cidery & Distillery in Middleburg, VA. Opt for the traditional setup (that looks like a game of Mouse Trap) if you really love the taste of absinthe or tone it down a bit with a spot-on Sazerac. It's quite the complicated product combining grand wormwood; hyssop; lemon balm from Virginia; aniseed from Andalusia, Spain; and Fennel Doux from Provence, France.
8. There's a semi-secret bar serving Shinjuku Duos
Climb a set of stairs inside Rendezvous Lounge to find Dr. Clock's Nowhere Bar. It's as Alice and Wonderlandish as it sounds with wall art that looks like it belongs below a tunnel and funky furniture. Sure, there are cocktails to lubricate you enough to dance to DJ music (no cover!), but you're drinking beer and shot combos instead. Especially the Shinjuku Duo that marries Asahi beer and a shot of whiskey for $8. Its slogan never gets old: "A place *for* the vampires, spies, and alien beings *by* the vampires, spies, and alien beings..."
9. You can share a barrel
Maybe you've heard a server or two yammer on about communal cocktails lately. Too often, he or she is just trying to sell you on a pitcher -- or maybe even a pitcher disguised as a French press. But Bourbon is taking sharable drinks to a new level by offering groups of four or more their own 1L barrels filled with the makings of a barrel-aged Manhattan (Old Forester Bourbon, Angostura bitters, and Dolin Rouge sweet vermouth). The $100 barrel typically yields 10 cocktails.
10. An AdMo OG got a sweet makeover
Cashion's Eat Place was slinging good food in Adams Morgan before it was the thing to do. But that's not to say it hasn't stayed so fresh and so clean clean. In celebration of the restaurant's 20th birthday, the space got a cool makeover, including this mural and church pew seats that date back to the 1820s. It's also brought back a crowd favorite -- the late-night "Decades of Cocktails" series celebrating different eras of imbibing.
11. There's a BBQ joint that doesn't shun vegetarians
Adams Morgan has always been a bit crunchy, so it's a smart move for Smoke & Barrel to dish up 'cue that never had legs, like smoked vegan wings, veggie chili, vegan spare ribs, and a sweet potato & oat burger. Extreme vegetarians can also close out the meal with vegan vanilla ice cream. No wonder we think it's underappreciated.
12. You can find out if vaping is your thing
Take the stairs down to DC Vape Joint to figure out what all the fuss is about. It sells starter kits, hardware, and a solid array of juice flavors (including one that tastes like red Gushers candy). People who have been vaping before it was (kind of) cool might find the selection a bit small, but there's plenty on hand for novices to latch onto. Pro tip: call to make sure it's open before heading over.
Sign up here for our daily DC email and be the first to get all the food/drink/fun in town.