Whiskey wars: sizing up 4 new brown liquor bars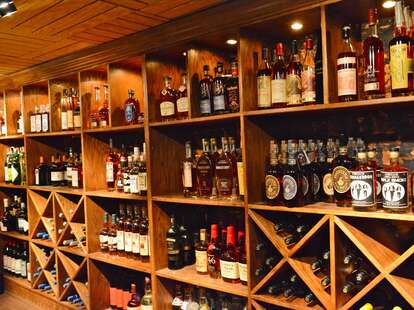 All Photos: Laura Hayes
All Photos: Laura Hayes
Four new whiskey bars have debuted in DC -- some as recently as this week. Of course, you should probably try them all, but assuming you're an "adult" who has to "prioritize his leisure time", here's a handy tipple sheet so you can figure out where you want to head first.
*Note -- the "whiskey count" includes all spirits in the whiskey family.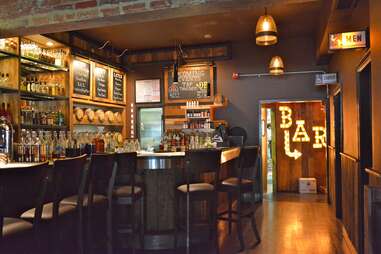 Eastern Market
Quick take: A boisterous, Charleston, SC-inspired neighborhood bar, full of friendly people tossing back bourbon, that prides itself on being approachable and open until legal last call.
Slogan: "Bourbon, with Balls"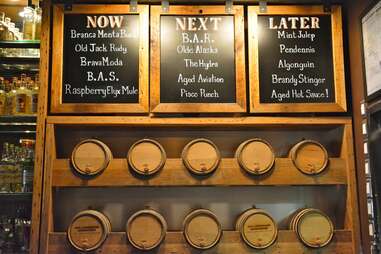 Highlights: Their cascading barrel age program is bomb. They're always thinking six or more months ahead about which flavors should bleed into the next.
Space: The upstairs bar is modern with a couple cool art features and three flat screens. Downstairs, the "Elixir Bar," looks a little Colonial and features a separate craft cocktail menu as well as a private dispensary.
Food: A small, but seriously well-executed menu of bar fare like Carolina BBQ pork sticky buns and even lobster served in a saffron citrus broth with cuttlefish noodles.
Whiskey count: 149
Sweet rarities: Besides every type of Pappy's, there's Booker's 25th Anniversary and two stunners from the Orphan Barrel series (Old Blowhard 26 and Barterhouse 20).
Recommended cocktail: The Bucket, made with Elija Craig 12, pepper ginger syrup, and bitters.
Deals: A generously long happy hour! Visit from 4-7pm Mon-Fri for a $5 ale, lager, bourbon or cocktail. Plus, snacks priced at $5-7.
Mt. Vernon Square
Quick take: This hotel bar inside the brand-new Marriott Marquis is where you go to celebrate a milestone with a proper pour of something stiff, or to have a serious conversation with your father.
Slogan: "Great Minds Drink Alike"
Highlights: It's all about atmosphere here. There's no bad seat in the house. Plus, they'll soon launch a sweet outdoor space.
Space: A super sleek spot (if you forgive the ketchup-and-mustard color scheme) that makes you feel important just by being there. The story-high leather banquets are dramatic and there are cozy corners with fireplaces to lounge in.
Food: A little sparse, but the intention isn't to serve you dinner. Get snacks like flatbreads, warm olives, and grilled cheese bites.
Whiskey count: 82
Sweet rarities: Jefferson Presidential 25 and Pappy 23
Recommended cocktail: Their cocktails are all named for a president's favorite spirits, so try Grover Cleveland's Sazerac, FDR's Mint Julep, or Lincoln's Old Fashioned.
Deals: None yet.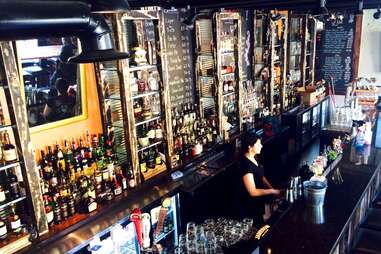 Dupont/Adams Morgan
Quick take: A younger, more raucous, and slightly frat-tastic (calm down Delta Sigs, it's not necessarily a bad thing) bar with a killer patio and almost as many beers as whiskeys. It's named for the 18th Century moment in time when farmers rebelled against Alexander Hamilton's proposed distilled spirits tax. Americans have been passionate about their booze since way back.
Highlights: The prices and the patio. Nine signature cocktails sell for $10 and happy hour is a marathon (3:30-8pm Mon-Fri). Yes a $10 cocktail is cheap in these parts.
Space: The downstairs bar is appointed with reclaimed wood from the A. Smith Bowman Distillery in Frederick, MD. But downstairs doesn't compare with the upstairs deck overlooking 18th Street.
Food: Typical bar food like burgers, ribs, and wings, plus some surprises like a true Kentucky Hot Brown with turkey, smoked bacon, and Mornay sauce on brioche.
Whiskey count: 154
Sweet rarities: Lock, Stock and Barrel 13, a whole lot of Pappy, and Booker's 25th Anniversary.
Recommended cocktail: The Legacy, which they call "Al Capone's favorite cocktail". It's Buffalo Trace with simple syrup, balsamic vinegar, and ginger beer.
Deals: Mondays = zipcode night. Present your DC license that says 20009 and get 10% off your bill.
Georgetown
Quick take: A separate bar located in the upstairs space of Rí Rá Georgetown that's best for Irish whiskey fanatics, or people looking for a little guidance as they begin their brown water exploration phase of life (what took so long!?).
Highlights: A certified and super-smart Scotch sommelier, Rachel Ewing, will drop by your table to help you find the perfect Scotch (or whiskey) for your palette using a series of questions. Or, you can just pick her brain. Plus, they offer whiskey duels to see if you can discern the difference between whiskeys aged in port vs. Sherry casks.
Space: Warm orange lighting floods the first room that is constructed of materials salvaged directly from Dublin. A back room is a little more modern and features portraits of presidents who dig/dug whiskey.
Food: Irish small plates that pair well with whiskey.
Whiskey count: 200+
Sweet rarities: Knappogue Castle 1951 (Irish whiskey) and Port Ellen 34 Year (Scotch).
Recommended cocktail: Keep it simple with a Manhattan or Old Fashioned.
Deals: None yet.