DC's 5 best places to work outdoors
Laura Hayes
Laura Hayes
For those days DC gets lucky with weather that doesn't lead to your shirt sticking to your back in an interpretive Rorschach blot of a sweat stain (is that Pharrell's hat?), we've rounded up the best places to get work done outdoors. Just bring SPF, a fully charged battery, and your MIND. Oh, and remember your laptop, in case you're the kind of weirdo who goes places with just a laptop battery.
Georgetown
Listen to a fountain gurgle as you toil away in a secret garden setting on Le Pain Quotidien's back patio in Georgetown. The Wi-Fi signal out there is as strong as the coffee, so not to worry (the coffee is quite strong). Tartines, which is fancy French talk for open-faced sandwiches, will keep your brain fueled. For best results, get the prosciutto & ricotta, or any of the seasonal specials.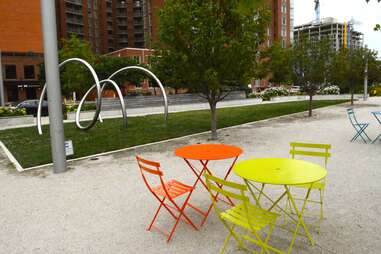 SE DC
This new park in Southeast is high tech enough for you to make it your office for the day. Snag a shady table, or better yet -- a bench that's fully equipped with electrical outlets. Instead of worrying about losing your charge mid-Gchat, you can focus on more pressing things like avoiding bird poop and sunburn. There are strong Wi-Fi networks available, but you must login through your service provider. If you get hungry, the park has a café serving wood-fired pizzas, sandwiches, beer, and wine, which always help with the creativity.
Adams Morgan
If you could take a popsicle break every time you accomplished something big, wouldn't you? Of course you would. Grab a bench outside Pleasant Pops and alternate between your to-do list and flavors like Mexican chocolate, Carolina sweet tea, and watermelon mint. If you work up a bigger appetite, there are salads and sandwiches too, along with endless cups of Joe. Their Wi-Fi signal remains super strong all the way to their outdoor picnic tables.
Bloomingdale
You'll feel like a Tarzan (or a Jane!) on this storybook patio in Bloomingdale. That's because it's entangled in vines that create optimal shade for you and your laptop (or paper and pen if you fetishize old-timey stuff, which is very much the vibe here). Pound a pork belly pastrami sandwich or apple-studded grilled cheese (just wipe your hands before you fire Gmail back up). Coffee, beer, wine, and cocktails are all available, so drink whatever suits your purpose. If you're planning on working late, know that the Wi-Fi shuts off at 6pm.
Petworth
Grab a seat on the front porch or rustic backyard of this Petworth coffee mecca, both are within Wi-Fi range of the café. The focus here is on the beans, so you will always be fueled and focused. Bonus: those desiring four-legged distractions can feel free to bring their dogs to these outdoor areas. Note: the last weekend of every month, Qualia shuts off the Wi-Fi, you know, so you can spend some qualia (!) time actually talking to people.
This list -- and all the rest -- look even sexier in our iPhone app. Get it now!