The Best Speakeasy-Themed Bars in DC
For whatever reason, cocktail bars love referring to themselves as "speakeasies." The term was originally coined during Prohibition for those businesses slinging illegal liquor. Now, though, it's got nothing to do with legality. Instead, the speakeasy-style bar has come to embody a laundry list of tropes of the hipster drinking scene and the modern cocktail revival. Think unmarked, hard to find, and dimly lit. Unlike Washington's boisterous sports bars, the seating is usually intimate, with reservations recommended to keep the atmosphere at a quiet hum. They are more elegant and well-appointed than dive bars, with booze-forward (and often expensive) drinks designed for drinkers looking for everything from weirdo flavor combinations and rare liquors to a classic old fashioned or martinis. Here are 10 of the best such bars in the city.
U Street
It's easy to miss this U Street neighborhood bar, accessed through a plain unmarked door on bustling 14th Street. The Gibson is a stable of Washington's speakeasy-ish scene, popular for the bar seats and booths in its cozy main lounge as well as its back patio and second-floor nooks. Signature drinks come and go to match the flavors of the season and the inclinations of the bar staff. Current offerings include the Thermal Leggings, Mohair Sweater (dark rum, Zerbenz liqueur, lime, grenadine and ginger beer) and the Nordic Spa Treatment (Old Tom Gin, grapefruit, Becherovka, Combier Bleu and sparkling wine). Or pick a bottle from its large selection and let your imagination guide you. Reservations are recommended.
Shaw
This is perhaps the most inconspicuous bar in DC, as you're unlikely to just stumble into the basement of this Shaw rowhouse without purpose. There's no signage, no phone number and a digital footprint limited to a Facebook page. Hell, even its name is just its street address. It's hard to get more low-key than that, especially in a neighborhood that seems to gets more saturated with bars and restaurants each week. Cocktails are named based on primary spirit -- think rye, vodka, etc -- and rooted in the classics.
Downtown
An unmarked door alongside some bookshelves leads to this literary-themed bar inside the Eaton Hotel. Cocktails take on names inspired by famous books and orders of spicy nuts and herbed popcorn make for addicting bar snacks. Choose a spot at the bar or opt for a seat in the small lounge, outfitted with both couches and more intimate tables. If the vibe is too low-key, take a trip around the hotel's other options, such as chef Tim Ma's American Son restaurant or the Wild Days rooftop bar.
Old Town Alexandria
Cocktail guru Todd Thrasher puts his spin on cocktails at this 1920s-style bar on Alexandria's historic King Street. Stepped up dress is encouraged (no T-shirts are allowed, among other stipulations), making it a natural spot for a date night. The drinks are no joke here, whether it's a riff on a Manhattan or a gin and house-made tonic with lime bitters. The reserved seating limits the space to 25 people at a time, further cementing its intimate atmosphere.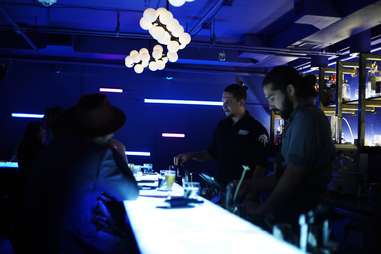 Shaw
Tucked underneath Shaw's Sugar Shack doughnut shop, this adventurous cocktail bar glows with hues of blue and indigo. Nocturne's current cocktail and snack menu is inspired by ingredients and flavors from four regions of the world: the Middle East, Scandinavia, the Americas and Western Europe. Order up drinks individually or create a tasting flight of three. Reservations are accepted for parties of five or less. Nocturne also has a sister bar -- Captain Gregory's in Alexandria (also located inside a Sugar Shack).
Georgetown
The cellar of Georgetown's Graham Hotel houses The Alex, a "speakeasy" with mentions of prohibition printed across its newspaper-themed menu. It advertises its cocktails as coming from "farm-to-glass," (so hip!) and using fine ingredients and booze. Try a simple Brown Derby with bourbon, lemon and honey or opt for an original creation like the Brujeria with mezcal, Calvados, dry Curaçao, Madeira wine, saffron dark chocolate and walnut bitters and applewood smoke. This is the spot for a true DC power tipple.
Chinatown
Escape harried Chinatown with a trip to this chic art deco-style retreat. Denson's menu riffs on traditional cocktails, giving them unexpected twists. Examples include the Oaxacan Milk Punch (joven mezcal, vanilla, cinnamon, orange juice and sugar) and the Devil's Pie (Civic vodka, spiced apple syrup, honey and lemon). Peckish customers can snack on small plates ranging from a pot of house-made pickled vegetables to burrata or artichoke hummus. There's also a selection of grilled cheeses and more substantial bites like crab cake sliders or short rib tacos.
14th St.
An unmarked door -- and yes, as the name implies, it's the one to the left of the building's entryway -- leads to the stairway to this 14th street neighborhood bar that's on the radar of both regulars and those inside the bar industry. The menu here isn't afraid to take some chances and get creative. That said, bartenders are as knowledgeable as they come and adept at mixing up the classics from the cocktail rolodex. Seating is limited, so expect a tight fit during peak hours.
Mt. Vernon Square
Unlike most bars going for the speakeasy vibe, Morris American Bar wants to be found. It's brightly-lit signage beckons to those wandering the streets around the Washington Convention Center. Owner David Strauss, a veteran of the DC cocktail scene, has created a space with an airy interior painted in pastel blues and greens. That said, the friendly bartenders, hand-cut ice and classically-inspired cocktail menu make this hangout a place to spend an hour or two lost in conversation and fine liquors. The cocktail list features eight to 10 drinks that change regularly, and staff are happy to mix up a "bartender's choice" to suit pretty much any whim. A few local beers and some wine round out the options.
Eastern Market
The hidden door is one of the most overplayed cards in the make-your-bar-look-like-a-speakeasy game. Harold Black is no different. Anyone who wants to drink at this Eastern Market bar must slide open an unmarked door and navigate the snaking hallway to reveal the bar on the other side. Harold Black has its own cocktails to pick from and also whips up concoctions with flavor and spirit input from its guests. Munch of light fare of cheese and charcuterie or a couple of its other small plates and desserts. There are a couple of mocktails, too, for those who want to enjoy the speakeasy vibe without the alcohol.
Sign up here for our daily DC email and be the first to get all the food/drink/fun in town.