Finding the rooftop to devote your summer to is serious business. If only there was Roof.com to help you find your match. Until someone wisely takes up that sound business idea, this comprehensive list of DC's rooftop drinking scene should help narrow your search.
Capitol Hill
The full menu is available in this small, but mighty space, as is an array of drinks. It feels right to order refreshing ones like the Chairman's Mule, pisco sour, or Cucumber Gin.

Capitol Hill
Head to the rooftop pool and lounge for free after 5pm, especially on weekdays, when happy hour is offered until 7:30pm. Or, create an all day fake escape by grabbing a $25 day pass. One more way to up the ante? Rent a cabana.

Capitol Hill
The sheer size of this sunny rooftop ups your chances of getting a table without a margarita-fueled brawl. Frozen drinks like strawberry daiquiris should remind you of swim-up bars.

Capitol Hill
This handsome retreat that's part of DC's Balkan food and drink authority has its own bar, so you'll never be without rakia. Unless you want to be, in which case there are barrel-aged Negronis.

Capitol Hill
First get your fill of saying this restaurant's name out loud -- it's pretty fun. Then settle in on the roof for bad-week-annihilating sake bombs and affordable sushi.
Adams Morgan
Given the name, the rooftop is a predictably chill place to kick back with pizza and beers under the stars.

North Dupont
The rooftop at Jack Rose has two personalities, kind of like Nicki Minaj. Experience both by visiting the open-air terrace Wed-Sun to have a relaxed meal of burgers and fried chicken skins paired with stiff pours of whiskey. Then, return on a Friday or Saturday night after 8pm for Tiki bar access.

​Adams Morgan
Known best for its drag queen brunch, Perry's should get equal accolades for its excellent rooftop bar and seasonal terrace. It's so romantic you'll be feeding each other sushi with chopsticks in no time.

​Adams Morgan
Frozen drinks and oversized punch bowls overlooking 18th St? Yes please. Also expect to nosh on sausages, chicken wings with sriracha honey, burgers, and skewered meats and veggies.

​Adams Morgan
Soul food, starry nights, and sloppy make-outs at an Adams Morgan institution sound about right. Madam's Organ's rooftop and Tiki lounge is a nice place to come up for air, either from open mic night or that sloppy make-out session you had in Big Daddy's Love Lounge.

North Dupont
This relative newcomer to the whiskey scene has a sweet roof deck with its own bar. Those with expensive tastes can work their way through the bar's bourbon list, which is about 50 lines deep. Or, hit its generous 3:30-8pm happy hour for $5 wine and rail drinks, or $3 domestic cans.

Adams Morgan
You won't be the first to claim brilliance by busting out Beastie Boys lyrics on the laid-back rooftop at Brass Monkey. So don't do it. Instead, order some cold beer and let the bar handle the music.
Dupont Circle
Sauf Haus takes the whole beer garden thing and puts it on the roof, complete with 2lb pretzels, German brews, and the smell of sunscreen.

Dupont Circle
The roof deck at Public Bar is so hot that they had to install cooling fans, making it a sweet, shaded spot to camp out. Stay connected to the world via four flat-screen TVs, though we imagine you climbed the stairs to escape the UFC Fight Night or Raiders game going on below.

Dupont Circle
This rooftop wins the superlative for best looking. A sparkling pool, brightly colored couches, and cabanas add to the feeling that you are no longer in the city. Find a spot and try bites and sips from new restaurant Station Kitchen & Cocktails. Pro tip: visit after 5pm when it's free.

Dupont Circle
Beacon's usually bumping -- in fact, you can hear the party beckoning you from a few blocks away. Head to the top of the hotel off Dupont Circle for sugary booze and snacks like sliders.

Dupont Circle
Dive bars can bring rooftop game, too. The Big Hunt's enclosed rooftop patio with picnic tables protects you from the elements while still providing summer breeze.

Dupont Circle
Each room inside the Eighteenth Street Lounge has its own breed of cool, but the deck bar takes it to the house. The outdoor chandeliers remind you that you're having a classy evening, and sometimes the deck gets its own DJ.

Dupont Circle
If crowds and bouncers don't throw you off your game, feel free to take on a night at Ozio. A serious selection of cigars is on offer, as are cocktails involving triple sec.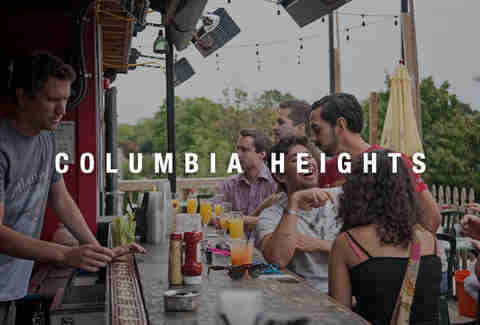 Columbia Heights
Working your way down a beer list 70+ suds deep sounds like a good little Sunday. Or Saturday. Or well, always. Do it on Red Derby's roof. Toss in bacon cheddar fries or chicken tenders to add to the baseball game vibe.

Columbia Heights
An afternoon of Mexican corn on the cob and frozen margs in the sun is now officially part of your summer plans. Just try not to go every day, people will notice.

Columbia Heights
Pizza, wings, and $8 cocktails are yours at this raw dance spot that has a more relaxed, tree house-like rooftop patio.
Logan Circle/14th Street
Feel like you're above it all at Masa 14 because you pretty much are, especially if you're visiting during rooftop happy hour when cervezas, cocktails, and wine are $5 from 5-7pm. Another good time to roof it is during "Aftermath" on Sundays from 3-7pm when a DJ reminds you it's not quite time to return to work.

Logan Circle/14th Street
It can get a bit cramped up there, but people on the prowl certainly don't mind. Fortunately, mango margaritas and caipirinhas have the power to cool you down. It too has a rooftop happy hour from 5-7pm when you can find deep discounts.
U Street/Shaw
Visit the Marvin roof on Wednesdays for Reggae on the Deck starting at 8:30pm for a midweek outdoor treat, or head up there any time for drafts and country fried chicken & waffles.

U Street/Shaw
Hit the Lost Society rooftop happy hour on Fridays for $2 drafts and $1 oysters from 5:30-8pm. Spend the whole time ogling all the beautiful people, because there will be beautiful people. And the view.

U Street/Shaw
Sure, it may be one of our Bad Decisions Bars, but it's also a good time. Consider heading up there during brunch when an entrée or pizza plus bottomless drinks will cost you a slim $23.

U Street/Shaw
This is the perfect place for a buzzy happy hour overlooking U Street made even buzzier by beat-the-clock weekday drinks specials. Yeah, there's a dance floor up there too.

U Street/Shaw
The Brixton is another expansive beauty overlooking U Street, but sharpen your elbows because getting yourself in front of a bartender to order can be tricky. Visit before 5pm on Saturdays and Sundays for all-day happy hour and sun worshipping.

U Street/Shaw
If you're doing it right, eating juicy burgers outdoors should remind you of a happy childhood. Make it happen on DC9's rooftop bar when you need some fresh air between shows.

U Street/Shaw
Hideaway is one word that still gets used to describe this laid-back rooftop option, even though it's clearly no longer a secret. Hang with a hip crowd as you nosh on truffled deviled eggs and big fat burgers.

U Street/Shaw
You can't miss this tangerine-colored restaurant bar whose rooftop is historically less crowded than its neighbors (until now). You'll be happy pounding portobello fries up there or dancing the night away.
H Street NE
Swanky seating and an unmatched view to take in H Street make Avery's Bar & Lounge worth an al fresco visit. The grilled chicken wings help too.

H Street NE
An elevated roof deck positions German beer drinkers to people-watch the heck out of the biergarten below. It's kind of like being on the outside of the cage at the zoo, only with more wursts.

H Street NE
Tenting means you can get your rooftop on even if it's rumbling and raining this summer. Plus, everyone knows guacamole tastes better outside. For best results, brunch up there from 11am-3pm Saturdays and Sundays.

H Street NE
Music's definitely the main attraction at the Rock & Roll Hotel, but the fact that you can pop up for fresh air after a show is a mega-bonus, especially when there's a DJ up there.

H Street NE
This pub's pint-sized rooftop isn't just for stolen cigarette breaks. You can also catch a soccer match.

H Street NE
Taking down slice after slice of pizza shaded by sweet umbrellas on the Red Rocks rooftop is pretty blissful, especially if you toss in an order of arancini.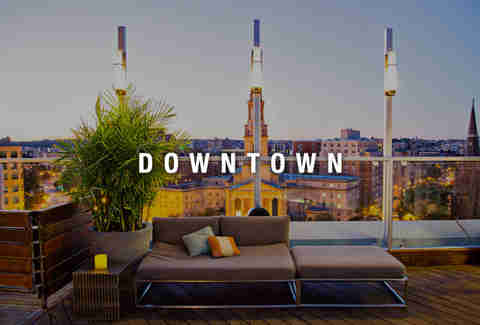 Downtown
Heading up to the top of The Donovan used to be a treat reserved for after work and weekend nights. But now, you can get brunch up there. Adding to the fun? A pool and a view of Thomas Circle.

Downtown
The patriotic makeover POV received last year sexed up this drink-with-a-view champion. Sure, there's bottle service but you can skip that and just sip on cocktails and wait for the late-night menu to come into play because... pork belly steamed buns.
Georgetown
The refined rooftopgoer will appreciate this swanky place to post up outside. It has a partnership with JR Cigar, meaning you can light up something awesome alongside a bourbon shandy (a real thing) while ticking off how many sights you can see.

Georgetown
Game-watching and people-watching are both possible on Old Glory's rooftop deck. Proximity to the smoker also guarantees you'll leave smelling like a campfire. Make your al fresco time count by ordering burnt ends served with Texas toast.
Sign up here for our daily DC email and be the first to get all the food/drink/fun in town.