The 10 Best Winter Beers From DC-Area Breweries Worth Bearing the Cold For
Port City
Port City
'Tis the season for the strongest, spiciest, most malty beer offerings. Whether it's a stout, super saison, or triple IPA, there's something on tap at a nearby brewery or bar that will warm your soul on the most frigid of days (and are still quite enjoyable when temps go above the 60s). Below, we've rounded up 10 of the very best DC-area beers for the cold months -- and talked to the brewers who made them.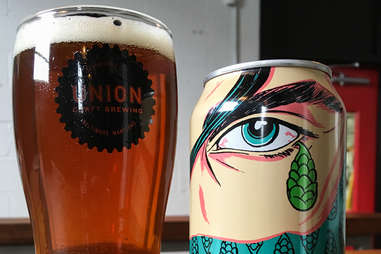 Rye IPA, 6.7% ABV
Baltimore, MD
As more breweries turn exclusively to West Coast and New England-style IPAs that are lopsided towards hops, Kevin Blodger continues to fight the good fight for malt balance. It's not that the Union head brewer doesn't love a good hop bomb, too -- look no further than their Double Duckpin -- but the Baltimore company's cold weather IPAs have become a showcase for how well rich malt flavor can complement a great hop burst. "I always say that Kevin is incredibly good at handling malt, and extraction, and using grain really effectively in our beers," says Union co-founder Jon Zerivitz. "That gives them great backbones and mouthfeel, and all of these things that are starting to become overlooked in beer production."
On the heels of autumn's Foxy Red IPA, the winter brings us Rye Baby, an IPA whose name -- and can -- nods to Baltimore native John Waters' cult classic Cry-Baby. As for the liquid itself, the orange-hued beer is brewed with German pale malt and, naturally, plenty of rye. "We think of rye as a winter grain, so we wanted to put it in our winter IPA," explains Blodger. "Plus, Maryland is known for its rye whiskey."
Like a lot of good rye cocktails, Rye Baby pairs the grain's spiciness with citrusy, orangey notes -- in this case, from the Chinook and Simcoe hop varietals. The combination is time-tested, and with improved clarity and more pronounced rye flavor than in the past, this year's Rye Baby is better than ever. "It's a maltier IPA than most IPAs are, sure, but I think those notes help make it the IPA that it is," Blodgers adds contentedly.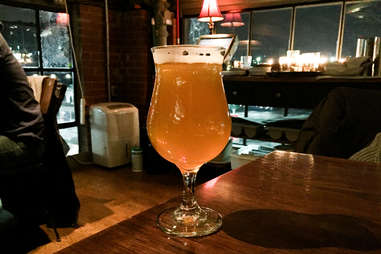 Super Saison, 7.8% ABV
Washington, DC
It's always a good time for an effervescent, refreshing saison, but you're probably more inclined to reach for a spiced, boozier "super saison" in the wintertime. That was part of Bluejacket's thinking when it decided to brew Houses in Motion, a 7.8% farmhouse ale brewed with a touch of spelt and spiced with coriander, black pepper, and ginger. "We wanted to make sure that we had some stronger Belgian stuff," says Bluejacket beer director Greg Engert. "A bigger saison felt right for the season."
Like the best of Bluejacket's farmhouse ales, Houses in Motion has been fermented bone dry by an emphatic house yeast. This particular strain gives the rustic beer a certain grassiness and peppery quality that plays well with those spices. Here, though, Bluejacket was cautious to employ a deft touch. "I've always been wary of over-spiced beers," Engert says. "I don't want a beer to taste like potpourri or coriander soup. We're trying to utilize spices in the same way that you utilize hops -- to work in with the malt and the yeast character in such a way that you can't pin it down and say, 'This is ginger. This is coriander.' The total should be greater than the sum of the parts."
The last of those parts is the beer's wonderfully herbal hop presence. Houses in Motion received healthy kettle and whirlpool additions of spicy, floral hops from continental Europe (Styrian Golding, Saaz), Britain (Challenger), and the States (Crystal). Later, during the brewery's patient maturation process, Engert thought that hop character could use a boost, so Bluejacket decided to dry-hop it with more Crystal and the earthy, citrusy "new world" varietal Amarillo. "We never just make a beer and say, 'That's it. It's done,'" he explains. "We're analyzing the flavor profile during the process, and then talking about where we should take the beer from there. In this case, we decided to dry-hop it, then we waited, and then everything coalesced into harmony."
Belgian Export Stout, 7% ABV
Washington, DC
Matt Humbard isn't a big fan of coffee. The stuff's too bitter for the Handsome Beer head brewer. He doesn't like its burnt flavor, either. This presents a challenge when it comes to constructing a stout. After all, the style -- rich with black malts -- is often associated with the taste of bitter, roasted java. After over a decade of homebrewing, though, Humbard has figured out how to make stouts work for him, and this on ample display in each pint of Handsome's first dabbling in the dark arts, Export Stout.
Like Handsome's White Ale, Export Stout is a complex beer with a deceivingly boring name. As a style, an export stout is typically a thinner-bodied but more alcoholic spin on the Irish version. And outside of Guinness' ubiquitous take on the offering, it's not a style that you see too often in DC, which is part of what made it so appealing to Humbard. "An export stout is sort of a weird style that people aren't really familiar with, so you can get away with things that you wouldn't normally do in a regular stout," the head brewer shares. "It doesn't have to be as dark, and you can put all sorts of interesting flavors into it, too."
Humbard's version of an export stout is built on a grist of lightly roasted malts. More notably, it's fermented with an Abbey ale yeast, which adds a refreshing fruitiness to the dark beer. Finally, it's conditioned with sage grown in the brewer's backyard garden. The Belgian yeast and the perfume-like quality of sage aren't meant to hide the stout's roastiness but rather complement it. "Sage provides a culinary context for that tannic bitterness," explains Humbard, who likens Export Stout beer to a strawberry-and-basil fruit salad. "This beer has an herbaceous, sweet-fruit, sugary aroma, but because it's pretty low in gravity, there isn't any of the heavy, syrupy thickness of a traditional breakfast stout or coffee stout."
Triple IPA, 11% ABV
Dulles, VA
Each February, the West Coast hop masters unleash their triple IPAs. There's Beachwood's Hops of Fury, Knee Deep's Simtra, and, most notably, Russian River's legendary Pliny the Younger. These beers are massive in hop character and equally generous in alcohol, often pushing well beyond 10% ABV. Generally, the brewers eschew more than a dash of biscuity crystal malts, and then use sugar to dry out the beer -- it's all about the hops. So, it's not hard to figure out why Ocelot might be interested in producing its own take on a West Coast triple IPA. Plus, California is long way to travel for a drink. "I've never been able to go to Russian River for the release Pliny the Younger, so I was like, 'Well, I want to make a triple IPA, too," Ocelot founder Adrien Widman jokes.
Brewed in collaboration with Columbia Heights beer bar Meridian Pint, Ocelot's Talking Backwards has become the white whale for local hopheads -- an 11% IPA erupting with citrusy and tropically fruity aromas but somehow still dry and easily approachable. "We were very aware when we were designing this recipe -- the whole mash regime and fermentation -- not to make an American barleywine," says head brewer Mike McCarthy. "That's what a lot of triple IPAs turn out to be -- just a very, very hoppy barleywine. And those can very tough to drink because you almost get more perceived bitterness coming through than hop flavor and aroma."
Like the first iteration, this year's Talking Backwards was brewed primarily with the British pale malt Maris Otter, and then hopped with almost 5lbs per barrel of Simcoe, Citra, and Mosaic. (These sought-after varietals are sometimes referred to as "Gucci hops" for their price and scarcity.) And while Ocelot usually doesn't make the same exact beer more than once, Talking Backwards is officially going to be a February tradition. "The positive response that we got from the first Talking Backwards was definitely abundant and quick," says McCarthy. "We realized within a couple days that this was a winner for us."
Smoked Nut Brown Ale, 6.2% ABV
Washington, DC
The first thing you notice about Grampus is that it doesn't look like a typical nut brown ale -- it's much darker. The beer doesn't taste quite like one, either, as there's some nuttiness from British brown malts and a distinct milk-chocolatey character, along with a touch of subtle smokiness. Grampus is delightfully hard to pin down, much like the amphibian it (and the brewery itself) was named after, the hellbender salamander. "Most of the time, we don't necessarily want to follow style guidelines," says head brewer Ben Evans. "When we think of flavor combinations, we just go with will taste really good in a beer. At the end of the day, that's the most important thing."
The former neuroscience researcher has been refining the recipe for Grampus since well before Hellbender was even the faintest of dreams. Evan's homebrew recipe started as a hybrid of a porter and a nut brown ale, a combination of his two favorite Samuel Smith beers, the Taddy Porter and Nut Brown. Years later, when he and Hellbender co-founder Patrick Mullane were developing recipes for the brewery, they added some applewood- and cherrywood-smoked malts from Virginia's Copper Fox Distillery to the mix. "Those malts give you a fruity, campfire, warming smokiness," Evans explains. "It was already one of my favorite beers, and that just kicked it up another level. You can't get that same character from basic smoked malts produced by the bigger malting companies."
At 15% of the grist, those smoked malts make their presence known without overwhelming the beer. The same can be said of the floral Cluster and Willamette hops that balance Grampus. Patrons ask for the beer year round, but it only emerges for a batch or two in the colder months. "A lot of people tell us it's like s'mores in a glass," Mullane has said. "You get the chocolate and the smoke, and it just handles it really well. I absolutely love it in the fall and the winter."
Belgian Blonde Ale, 7.8% ABV
Alexandria, VA
Back when he was brewing at Sterling's Sweetwater Tavern over a decade ago, Jonathan Reeves would occasionally visit a local spice market in search of inspiration. It was there that he first had the idea of brewing a light-bodied, light-colored Christmas ale with some of India's flavors -- a little cardamom, fresh ginger, a dash of coriander, and plenty of honey. Years later, as the head brewer of Port City, he would revisit this idea with Tidings Ale, a Belgian-style blond ale brewed in time for the holidays.
The beer shares a few similarities with the Alexandria brewery's most popular offering, Optimal Wit: a base of raw Virginia wheat and Pilsner malt, grains of paradise, and the aforementioned coriander. This is by design, of course. Reeves says Tidings was also envisioned as a grand cru of the award-winning white ale. Or, in the words of Port City lead brewer Adam Reza III: "It's like a bigger, more bad-ass version of the Wit."
Between an intensive step mash and juggling the additions of honey, sugar, and spices, Tidings is arguably the most challenging beer for Port City to produce. In fact, Reza states that if a brewer can master Tidings, he or she can make anything at the brewery. The irony is that this laborious process results in a beer that's dangerously easy to drink at 7.8%. "It packs a punch," says Reza. "I can only have two and I'm done. But that's what you want from a good, warming winter beer."
Oatmeal stout, 8% ABV
Baltimore, MD
Since the release of Samuel Smith's Oatmeal Stout in the 1980s, the titular style of dark ale has become increasingly easy to find. For many, the appeal of a good oatmeal is evident -- the taste and aroma of espresso and dark chocolate paired with the creamy texture that comes from oats. Still, when Union Craft was mulling a winter seasonal four years ago, it noticed an opportunity in its backyard. "There weren't many oatmeal stouts on the shelves when we would go to the beer store," says co-founder Adam Benesch. "So, we thought it would cool to make one here in Baltimore."
Head brewer Kevin Blodger wasn't content to produce a traditional take on the style, though. Inspired by Surly Brewing's Darkness, a Russian Imperial Stout with a massive dry-hop, he wanted to pack a hop punch into his version. "A lot of people take oatmeal stout and they'll age it, but with Darkness you wanted to drink it all right then because it was so hoppy and rich," Blodger explains. "There are a lot of stouts, but I wanted something to make ours more special."
Clocking in at about 75 IBUs, Snow Pants boasts plenty of green, dank aroma from two old-school Pacific Northwest hops, Cascade and Columbus. At 8% ABV, it's on the heftier end of the spectrum, too, so proceed cautiously. Or not. There's no wrong way to appreciate Snow Pants. "If you want to drink it immediately, you're going to appreciate that hoppiness," Blodger says. "If you age it, you're going to lose some of that, but the malt character will pick up for you."
Brett IPA , 6.7% ABV
Washington, DC
Every Right Proper beer name means something, even when it means nothing. Such is the case with Runcible, a new Brett IPA from its Brookland production house. "Runcible" is a nonsense word, the invention of English poet Edward Lear, who famously used its eight letters to describe a spoon in 1871's "The Owl and the Pussycat." One hundred forty-five years later, Right Proper's Nathan Zeender was drawn to the word because he views the labels placed on his beers -- like "farmhouse radler" or "country alt" -- as a different kind of playful nonsense. "I don't really care about styles at all," the head brewer explains. "We're calling Runcible a Brett IPA, but it's hoppy beer fermented with our house-mixed culture. We just had to call it something. I don't get too bogged down with that stuff. So, for its name, I used a fun word that I really like that doesn't have any meaning."
The majority of Right Proper's beers fall into two categories: "clean" beers fermented in stainless steel tanks with a brewer's yeast, and "rustic" ales fermented in oak foudres with a continually evolving house-mixed culture of saison yeasts, wild Brettanomyces strains, and the bacteria lactobacillus. Like this fall's fantastic farmhouse ale Maslow, Runcible falls somewhere in between. The ale was brewed with grist of Pilsner, pale ale, and Munich malts, plus wheat and oats, all of which develop a fuller mouthfeel and touch of color in an otherwise lean beer. Instead of going into the foudres, though, Runcible was fermented with that distinct culture in stainless steel, then dry-hopped. "It's something we had done a lot back at the brewpub," Zeender says of the process. "It was a real workshop. We were constantly working through all of these different hops to see what works well with our yeast."
This time around, its yeast was paired with the floral Centennial, citrusy Cascade, and Hallertau Blanc, a German hop that strongly evokes the aroma of white wine grapes. Runcible is generously hopped with these varietals, but by focusing on late additions and dry-hopping, Zeender has produced a beer that isn't particularly bitter. At 6.7%, it's also generous in the alcohol -- at least for Right Proper's sessionable standards. "It's winter, so we wanted something a little stronger, a little bit heartier for people," the head brewer shares. "Hopefully everything blends together to make a pretty dry, drinkable, hoppy beer."
Belgian strong ale, 8.2% ABV
Washington, DC
When a batch of Town & Country is born, it's copper brown, smelling of banana and bubblegum from the character of its yeast strain. And then all of the Belgian strong ale goes into a dozen or so French oak wine barrels, where it ages for a year and changes completely. "The idea of aging a big, malty Belgian beer is that as it matures, you kind of get all of these different flavors developing," explains Atlas Brew Works head brewer Daniel Vilarrubi. "In this beer, I get a lot of raisin, fig, dates -- those dark, dry fruits -- along with the red wine character from the barrels. It makes a really nice, complex beer."
The liquid that emerges on the other side of the aging process is stained dark red from the remnants of Bordeaux varietals that previously inhabited the barrels. With this distinct color and vinous character, Town & Country is unsurprisingly one of the Ivy City brewery's most popular offerings. And it's just as popular within Atlas, where brewers get to monitor its maturation throughout the year. "Some of my favorite days here are tasting barrels of Town & Country, and seeing how it's progressing," Vilarrubi shares. "We have a lot of fun on those days. I've drank it warm and flat, and cold and carbonated, and it's good in any condition."
At 8%, the warming beer is especially suited for the colder months. And while you may be tempted to buy a few bottles to keep you company through February and March, set at least one aside for next winter, too, because Town & Country is a beer that will continue to mellow with age. The same can be said for Atlas' other winter knockout, La Saison de Brett, a dark saison aged for a year with wild yeast in old Town & Country barrels. "I normally lean Saison de Brett, but I'd say we're split 50-50 as a brewery," Vilarrubi says when pressed for a favorite. "Everyone's favorite Atlas beer ends up being one or the other."
Coffee milk stout, 7% ABV
Ellicott City, MD
Most of us like to drink certain beers seasonally, but for Ben Little, it's all about brewing seasonally. In other words, Manor Hill's head brewer doesn't want to make a beer before he'd want to drink it. And for that matter, he's not inclined to guess what such a beer might be. "It's only when the weather turns that I really draw my inspiration from things," Little says. "When it gets cold, that's when I start brewing something that talks to me."
In 2015, when autumn's chill descended on the Ellicot City farm brewery, he and his team began discussing what beer might warm them up. Little is best known for soft, aromatic IPAs like Citra Splendor and Taylor's Row, but he wanted to go down a different road. Instead, the brewer settled Latte, a milk stout conditioned with Orinoco's robust Velvet Hammer coffee and spiced with whole-cut ginger, cinnamon sticks, nutmeg, clove, and vanilla beans. "It's a beer built around mimicking a latte, even down to the bitter espresso aspect of it," Little explains. "It's definitely not as spice-forward as you would expect, though. We look for the aromatic aspect of that, as opposed to that heat you might get from cinnamon or ginger."
The lactose boosts the jet-black beer's silky mouthfeel and imbues an underlying sweetness, not unlike the cream in your coffee. And at 7%, it's a treat, but not one that will wreck your morning. "I love finding a satisfying beer that's not 9% or 10% alcohol," shares the head brewer. "We wanted to come into that 7% range, while still finding all of the enjoyment and satisfaction that comes from a much bigger beer. To me, one of the hallmarks of a good coffee is not necessarily something super over the top -- it's something that has that great feel to it."
Sign up here for our daily DC email and be the first to get all the food/drink/fun in town.